Sterk: '(It's a) fun time to be an Aztec'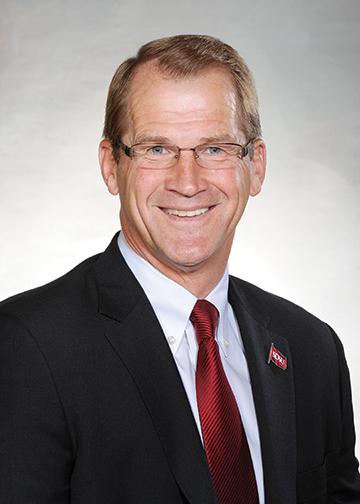 by Domenick Weinbrenner, Staff Writer
April 30, 2015
Hang on for a minute...we're trying to find some more stories you might like.
Sports are one of the most attractive forms of entertainment. They have been around for as long as mankind has, and they bring the world together.
Joy and entertainment are so deeply rooted in sports that "doing something for sport" means to do it for pure fun. It's no wonder we love to watch and cheer for our favorite athletes as they compete.
But, for all the attention athletes receive for their talent and work, there is an equally hard working team behind the scenes. This is where we find San Diego State Athletic Director Jim Sterk, a man that lives and breathes Aztec sports. While Sterk's home will always be the Pacific Northwest, he's found himself leaving quite a mark here in Southern California.
When Washington State University, Sterk's previous school, came to town to play in the Holiday Bowl, Sterk instantly fell in love with sunny San Diego. It was no surprise, then, when the opportunity arose, Sterk took the job as AD at SDSU.
Now nearing the end of his fifth year, Sterk has already found incredible success. From 2011-2015, he has had the most successful four-year span of any athletic director in SDSU history, winning 24 conference championships.
"(It's a) fun time to be an Aztec," Sterk said.
He said that success within the Mountain West will lead to national recognition for SDSU, which is why he and his staff are in the process of implementing "The Rise for 25." This campaign is a push for Aztec football to break into the national spotlight and obtain a national ranking.
Sterk has big ambitions for the university on the Mesa, and even more so, faith that SDSU will achieve it. He admitted that it's about changing the culture and creating a mentality for improving the student-athlete experience. And for Sterk, every student-athlete experience is important. This is why, he said, one of the tougher aspects of the job is disciplinary issues with the athletes.
"I tease the student-athletes that this is the principal's office. 'Oh you haven't been to the principal's office?'" he said.
His excitement for SDSU sports seems to radiate as he jokes about the high school comparison. Sterk is clearly an athletic director that loves what he does and loves Aztec sports even more.
Beyond all the numbers and statistics, Sterk is a dedicated and admirable athletic director. He attributes his success to a team-player attitude and his coworkers. He may receive most of the credit as the head of the department, but he emphatically said his fellow directors and coworkers are the reason he's excited to get up for work.
"They're competitive folks that are good at what they do," he said. "I try to create an environment where they have that ability in their respective sports where they can push and drive. I have a little motto: win it right."
His enthusiasm for the people around him, though, is what makes certain parts of the job difficult for him.
"When you have to make changes, it's a hard thing to do. It really bothered me for a while … but for the good of the overall organization, sometimes it has to be done," he said.
For Sterk, reaching for success is important, but what is more crucial than achieving success is earning it the right way. It's not just about reaching the pinnacle; it's about reaching it with pride.