Aztec lacrosse bids farewell to founding members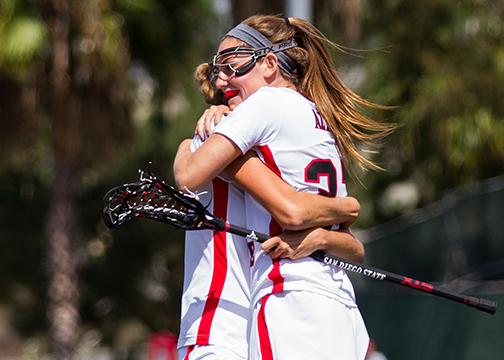 Hang on for a minute...we're trying to find some more stories you might like.
On Saturday, April 25 at around 8:45 p.m., the final buzzer sounded on a 16-4 loss for the San Diego State lacrosse team to the University of Southern California.
This was not the team's first loss to USC, and it will very likely not be the team's last.
But there was something very special about this game, more than any other game that the team may ever play.
On this night, 10 seniors completed a journey that they started four  years ago, when they took a chance on a new program and a new coach.
Twenty-eight freshman, living in the Tenochca residence hall, were trying to figure out how to "do" college and how to be student athletes.
That was a challenge in itself, but even more than that, these girls had the responsibility of being the first class of the San Diego State lacrosse team.
"We didn't have any upperclassmen, only one sophomore," said senior midfielder Christina Ricciardulli, a San Diego native and one of the original 28.
Imagine that.
Being on an NCAA Division I athletic team and having no upperclassmen to show you how to act, how to play or how to prepare.
Redshirt-junior midfielder Sophie Koubek talked about  her crazy experience of freshman year.
"It was the best and worst of times," she said. "The best because everything was new, and we didn't have anything to follow, so it was exciting.
But it was also really hard because we had no one to look up to, so we had to figure everything out for ourselves."
These girls were all up for the challenge. They understood what was ahead of them and what they would mean to the history of the school and the lacrosse program.
"That's a major reason why I wanted to come, was to start the program and be a part of that legacy," said senior attacker Lauren Maack, also a San Diego native, who started playing as a sophomore in high school.
Needless to say, the first year was a hard one for the team.
It went 5-10, and was outscored by three goals per game. But this was just part of the growing process.
As the second year rolled around, the team got a new crop of recruits, and the former freshman now had an understanding of how to be student-athletes.
The challenges of the first year took their toll on personnel.
"Some people couldn't handle the whole Division I thing, and they left," senior captain Michaela Jarvis said.
The loss of the players, however, didn't mean a total loss for the team.
"But the girls that stayed, we are just so close now," she said.
The second year was better. It was the first .500 season as the Aztecs went 8-8 and made huge strides in all-around play.
SDSU lacrosse's third year again spelled much improvement for the team, and although the 7-10 record didn't reflect this, the team was very close to a breakthrough.
Senior defender Lauren Paul believes the chemistry of her team, seniors and new players alike, is what allowed the program to grow so much year after year.
"Each year we get closer because we've known each other the longest," she said. "But when the new classes come in, we treat them just as we treat the other inaugurals, just because thats the way our program has grown."
Back to the cold April night against USC, the final game for the 11 seniors that had worked so hard to get SDSU to a winning season.
This year, that group earned its first winning season, going 9-7, and receiving the fifth seed in the Mountain Pacific Sports Federation tournament with a chance to make the conference semifinals.
The idea of this team getting to this point this quickly is incredible.
"I feel like it's history," senior defender Jade Jones said. "This team is like our baby where we've put our blood, sweat and tears into it. And now that it's finally an established, four year, every class program, it's our sense of pride because that's what we helped create."