Transfer student finds fulfilling work in management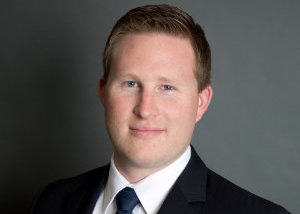 Hang on for a minute...we're trying to find some more stories you might like.
A conversation with Josh Vaughan is like watching "The Bachelor" because of how often he incorporates the word "amazing" into his vocabulary. But who can blame him? The senior business management major at San Diego State has led an amazing life.
Vaughan didn't always have a clear-cut vision of his professional future, like he does now. He transferred to SDSU after time as a community college student and a sergeant in the U.S. Marines. He started off studying architecture. Then he switched to pre-medicine and psychology before finally settling on management – something he felt would be useful no matter what he did.
His involvement on campus at SDSU steered him toward management.
"During orientation they were talking about getting involved, and it's been the best advice I ever took," Vaughan said. "You meet new people. It's a great way to network and to find what you enjoy doing."
The Aztec Student Union Board brought him on as vice commissioner of operations last fall, in which capacity he discovered he loved operational work. Vaughan has also been involved in the Student Veteran Organization and Society of Human Resource Management at SDSU.
From the first time she met Vaughan, Associated Students Executive Director Christina Brown was impressed with his engagement and interest in helping students, and she continues to work with him frequently.
"There are so many projects that he's working on for the student union that are really exciting, and so we're working together on some of those," Brown said. "He definitely is an example of so many students on campus who don't – they're not doing it for their own self, they're doing it for the betterment of the school, the betterment of students and to find their passion."
With the help of connections made as vice commissioner, Vaughan landed a faculty design and construction summer internship with Scripps Health.
"It's actually really amazing because once you find something you really enjoy, it doesn't feel like work," Vaughan said. "I feel like that's kind of a saying that people, especially professors, tell us but it's actually true. I'll be sitting down working, or actually at a construction site and doing a walk of the site or talking to contractors, and the next thing I know it's time for lunch or it's the end of the day."
He was also involved with closing out Scripps' Prebys Cardiovascular Institute tower.
"It's just an amazing achievement to be a part of it," Vaughan said. "You're able to look at this giant accomplishment and feel like a part of you will always be in San Diego."
Though Vaughan has learned a lot through hands-on experience with Scripps Health, he's also been able to use knowledge gained from multiple management courses at SDSU.
One professor that stuck out to him is management lecturer Bill Sannwald, who described Vaughan as an outstanding presenter in his business ethics and corporate governance class.
"He was able to command the attention of everybody in class," Sannwald said. "He didn't just cling to the podium. He kind of moved around, established eye contact and was just a very persuasive speaker."
In the years to come, Vaughan hopes to continue to work in operations and return to school later to earn a master's degree. His ultimate dream is to become a chief operating officer some day.
Vaughan used to want to have a career in architecture or medicine. Now he's combining both with hospital construction at his current internship.
"I guess it has a funny way of working out sometimes," he said.