Aztec football opens fall camp seeking better quarterback, receiver play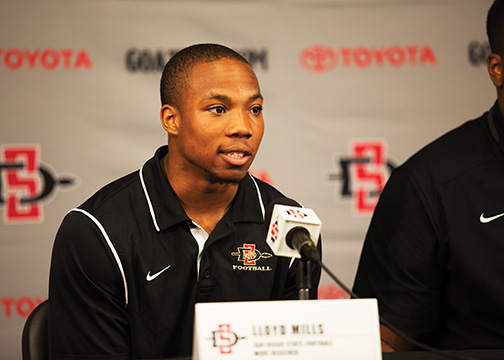 by Patrick Carr, Sports editor
August 5, 2015
Hang on for a minute...we're trying to find some more stories you might like.
Thirty-one days from today, San Diego State football will open its 2015-16 season against University of San Diego.
But before that happens, head coach Rocky Long and junior wide receiver Lloyd Mills agree the receiving corps, among other things, needs to improve from last year.
"I was disappointed in their aggressiveness," Long said.
He and Mills alluded to receivers not going up for the ball, not blocking on the perimeter and not running good routes.
"If we pick up our slack, we should be a tough team in our conference to beat," Mills said.
SDSU wide receivers caught just six of the team's 10 passing touchdowns last year. No Aztec wideout had more than 500 receiving yards, either. Mills, himself, said all he wants to do is get better.
Various circumstances have picked the receivers off this year's roster one by one. Leading receiver Ezell Ruffin graduated, junior Larry Clark was kicked off the team and incoming four-star freshman recruit Desean Holmes will not play for SDSU this year after going "MIA" for nearly a month.
Fortunately for Long and offensive coordinator Jeff Horton, one receiver appeared to stick out to his teammates during spring practice.
"Mikah Holder. He's the most consistent guy and the one who made the most plays," Mills said. "He's matured and about to have a good season."
The next item of business for the coaches will be picking three new starters on the offensive line, one that paved the way for 2,844 rushing yards last season.
Who will start at quarterback?
But before Holder and company know who'll be blocking Maxwell Award Watch List candidate Donnel Pumphrey, they'll have to find out who their starting quarterback will be.
The quarterback battle has whittled down from five players in the spring to just two heading into fall practice.
"Christian Chapman and (Maxwell) Smith are going into fall camp on an equal basis," Long said Tuesday ahead of the team's start of fall camp, which begins Wednesday.
On paper, Smith appears to be the overwhelming favorite. He's a graduate transfer from the University of Kentucky who started 11 times in the difficult SEC. 
Smith is 6-foot-5 with a good arm and "good touch." He was called the most accurate thrower in spring practice.
Nothing about Smith has surprised the SDSU coaches, either, because they recruited Smith out of Birmingham High in Van Nuys, California.
In the other corner, Chapman redshirted last year after graduating from nearby Carlsbad High. Long had high praise for Chapman, calling him a good athlete with a quick release.
But Chapman's disadvantage is that he's five inches shorter than Smith at 6 feet.
That would making throwing from behind the projected starting offensive line, the average height of which is nearly 6-foot-6, more difficult.
Jake Rodrigues, a junior transfer from the University of Oregon, is listed at third on the depth chart, while sophomore Nick Bawden is transitioning to playing fullback.
SDSU unveils new football uniforms
In a move that wasn't publicly known until just this week, SDSU's athletic department unveiled new home and away uniforms for the football team Tuesday.
The home uniforms feature a black jersey with red letters and red shoulder pads that have a detailed Aztec calendar design on them.
The pants are black, as well, with a red three-inch stripe running down the leg that also has Aztec designs.
Equipment attendant Sonny Sanfilippo came up with the initial idea for the design from all the years of walking by the Aztec calendar stone outside the Piedra del Sol apartment complex at SDSU.
"I was like, 'Wow, that's pretty cool, I think it'd be really neat to incorporate it into the uniform design,'" he said.
The road uniforms feature a white jersey with black lettering and the same Aztec calendar shoulder pads.
The helmets perhaps feature the most dramatic change, as they no longer display the generic SDSU logo on the sides.
Instead, a wide black stripe runs down the middle with red Aztec calendar designs on both sides of the helmet. The logo now moves to the back of the helmet inside the black stripe.
Coach Long's take on the new uniforms?
"I've been told it's cool, I have no coolness about me," he said.
He prefers a black top, black pants and a black helmet.