#AztecFB camp report: Aztec punters take center stage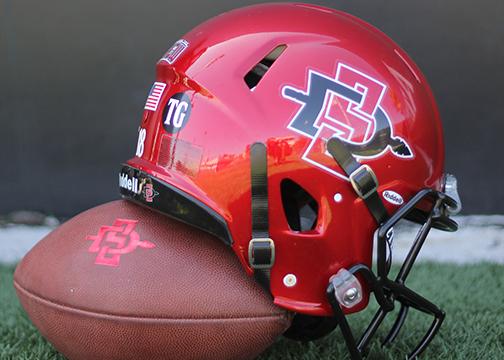 by Patrick Carr, Sports Editor
August 15, 2015
Much attention has been focused on who will start at quarterback, center and other positions for San Diego State football in 2015.
During Saturday morning's practice, though, the two punters squared off as they fight to claim the starting spot Joel Alesi held last year.
And unlike the quarterback battle where there's a clear favorite, senior Maxwell Smith, and center, junior Arthur Flores, the punting competition is neck and neck.
In one corner is Tanner Blain, a junior transfer from El Camino College right off I-405 in Torrance. He, like Smith, went to University of Kentucky, but didn't play a snap.
Blain's interesting in that he was an all-around athlete at Lake Community High in Lindenhurst, Illinois, a small town with a population of around 15,000 near the Wisconsin border.
He played wide receiver, cornerback, kicker and punter for the football team, was a shooting guard on the basketball team and did jumping events in track and field.
Freshman Jon Weilbacher stands in the other corner. He's from Westlake, California, was named most underrated player in the San Fernando Valley and has his own business startup at the Zahn Innovation Center on campus.
Neither punter showed they were better than the other on Saturday, as both struggled to punt more than 40 yards due to a wobbly ball flight. On the rare occasions they punted very well, the ball traveled at least 50 yards on a tight spiral akin to that of an NFL quarterback.
Whether the good punts actually stayed in bounds for the whole 50-plus yards would be a question to ask a referee. In the end, both punters gave themselves a good shot at the starting job.
Injury report
Junior quarterback Jake Rodrigues threw lightly in the morning, but sat out the afternoon practice. He's still dealing with a left-hamstring strain.
Sophomore linebacker Tyler Morris is continuing his return from a knee injury last year. He sat out morning practice because of swelling after heavily favoring the knee yesterday. Doctors have routinely taken fluid out of Morris's knee; two weeks ago they removed 80 cubic centimeters.
Two days ago, they only removed 40.
#Quotable
"Stay in school as long as you can. It's not the same in the outside world," head coach Rocky Long said.