#AztecFB camp report: SDSU quarterback battle is 2-man show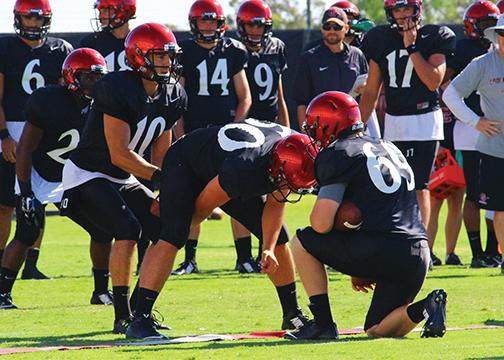 by Patrick Carr, Sports Editor
August 19, 2015
Hang on for a minute...we're trying to find some more stories you might like.
Maybe the quarterbacks are tired. Maybe they're not that good. Maybe the defense they're playing against every day is way better and way more confusing than anything the signal-callers have ever seen.
During Wednesday morning's San Diego State football practice, one thing was clear: The defense had the passing game figured out.
SDSU quarterbacks threw four interceptions Wednesday with three more passes that should also have been picked off. Junior cornerback Damontae Kazee had three interceptions and junior safety Malik Smith had the other.
Add all the dropped passes, batted balls at the line of scrimmage and times the pocket collapsed, and it wasn't a good day for the quarterbacks.
But head coach Rocky Long wasn't ready to pin the shaky performance solely on his quarterbacks.
"Sometimes they throw interceptions because the ball's too far forward or too far behind the receiver, other times they throw interceptions because the receiver did not win," Long said.
The receivers were in prime 2014 form: nonexistent. They dropped balls when they were wide open, often weren't in the correct position and flat-out lost to cornerbacks in one-on-one situations.
There's also the defense to consider. What exactly can be made of the quarterbacks' mediocre performance against an excellent defense — the likes of which the offense won't see in a game all year?
No other defense uses that many weird stunts, blitzes and coverage schemes, so if the Aztec quarterbacks aren't winning in practice, what does that say?
"The vast majority of blitzes they run is just crazy, something I've never seen before," graduate transfer quarterback Maxwell Smith said.
And consider that the defense knows there's only so many plays and formations the offense is going to run in practice. The defense is already good without having seen the offense run those same plays for two weeks.
Junior Jake Rodrigues, now the No. 3 quarterback, turned in the most up-and-down performance of practice. He started off 0-4 with an interception, a dropped interception and two dropped passes.
On his final throw he found freshman wideout Jabril Clewis for a 56-yard touchdown down the left side.
Quarterbacks talk to media for first time
Long had prohibited quarterbacks from talking to the media at fall camp until Wednesday, a day after it was apparently decided the quarterback battle was a two-horse race between Smith and redshirt-freshman Christian Chapman.
Both remarked they're making progress despite the lackluster showing on Wednesday.
"It's been good, a lot of learning throughout the camp," Chapman said.
An argument against the younger Chapman is that he might be too nervous to prevail in a battle against the more seasoned Smith. Chapman's reply?
"I'm loving it," he said. "You've got to play football if you love it and I love the dang sport."
Smith talked about changing from a spread offense, which he played in at the University of Kentucky, to SDSU's pro-style offense.
"I love pro-style; I'm a pro-style guy, you know I'm not exactly running a 4.5 (40-yard dash) out here," he said.
Defense routinely beating offensive line
Despite what Smith, Chapman and Long say about the offensive line's progress in camp, the line still has a long way to go until it can even compete with Mountain West defenses.
On more than a few occasions, the quarterbacks were forced to scramble out of the pocket because it didn't hold up for more than two seconds.
One of Smith's first passes was batted down at the line.
Chapman had some difficulties with the snap in the shotgun formation. Junior center Austin Maass snapped one ball too high, then snapped the next one on the ground, forcing Chapman to flee on a broken play.
A few plays later, Chapman, while handing it off to junior running back Donnel Pumphrey, nearly tripped over the left guard who was pulling to the right.
After practice, Chapman and Maass both stayed and worked on snaps.
But it's a work in progress with the offensive line as it attempts to deal with what Smith called an "exotic" defense.
"It's really good for our O-line to have to pick up all that stuff, so that when teams just rush four or five guys, you feel pretty confident that you're going to have time to get one off," Smith said.
Injury report
Sophomore fullback Nick Bawden didn't practice Wednesday due to an apparent left-ankle injury he suffered Tuesday.
Senior defensive lineman Christian Heyward didn't practice, either, but his right-knee injury from Tuesday doesn't appear to be serious. Long told reporters that Heyward's knee swelled up, but that he should be fine. Thankfully for Long, the injury wasn't to Heyward's left knee, which has been operated on twice.
#Quotable
Smith on a conversation he had with Pumphrey earlier in the week.
"I said, 'The first time I saw you I was like, YOU'RE the running back?' He kind of laughed at me and I was just like, 'You're so little.' But you see him play and he doesn't play little at all."