Long praises backups at SDSU football scrimmage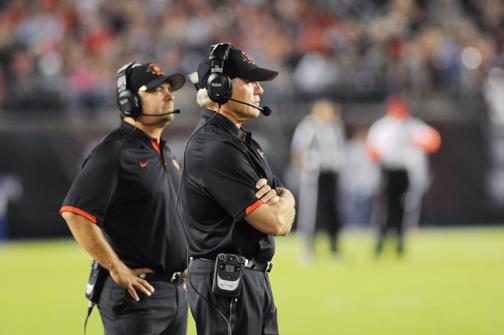 by Patrick Carr, Sports Editor
August 22, 2015
The 1,000 or so fans who went to Aztec Football Fan Fest on Saturday at Qualcomm Stadium might have been disappointed in the football part of the event.
The Black team beat the Red team 20-7 in a low-octane scrimmage that had a running clock in the second half.
Head coach Rocky Long called it an average performance, saying he thought the No. 1 and No. 2 defense looked good, but the offense was, well, "average."
That being said, he was pleased with some of the backup players, such as redshirt-sophomore linebacker Tyler Morris. He made several plays at the scrimmage, including a tackle for loss on fourth down against freshman running back Juwan Washington.
"I thought he did some good things. He's been hurt a little bit during camp, too, and he's a little hurt now," Long said.
Morris also sacked junior Oregon transfer quarterback Jake Rodrigues toward the end of the first half. Morris tore an MCL in one of his knees during last season's opener against Northern Arizona University and sat out the rest of year.
Sophomore running back Rashaad Penny also impressed out of the backfield. He was used mainly as a kick returner last year with 25 returns for 500 yards.
"I thought (he) ran the ball pretty well," Long said.
Penny had 10 rushes for 45 yards and also had two catches for 66 yards, including a 59-yard screen pass and run from graduate transfer quarterback Maxwell Smith. The very next play, Penny ran into the endzone from six yards out.
But Penny struggled a bit in the passing game. He dropped one pass and had another one go off his hand and right to senior defensive back Pierre Romain, who took it 63 yards for a touchdown that briefly put the defense up 7-6.
Long also praised Romain, who took a lot of reps with the first-team defense in the absence of senior cornerback J.J. Whittaker, who didn't feature as much in the scrimmage.
The No. 1 defense only played "around 18 plays," Long said.
In two weeks, SDSU will host University of San Diego in the first game of the year at 6 p.m. at Qualcomm Stadium.
Quotable
Long talking about how all the rule changes in football are made to benefit the offense and not the defense.
"TV pays and TV wants."