SDSU men's soccer opens with 3-1 win over Grand Canyon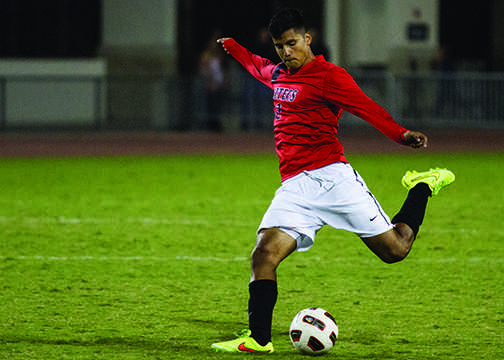 As the full moon rose on Saturday night, the shouting from the bleachers and field became louder on the San Diego State Sports Deck.
The SDSU men's soccer team entered the field against Grand Canyon University with the goal of gaining momentum.
"We felt we needed to win," junior defender Matt Callahan said. "We needed to push the tempo. It's our home field. We needed to protect this field."
SDSU's determination was proven early on as Callahan scored in the ninth minute off a cross from junior defender Sergio Enriquez.
GCU became anxious and frustrated as they repeatedly attempted to shoot for goal, but fell off short.
In the 24th minute, junior midfielder Casey Macias scored off a cross from freshman defender Aleks Berkolds.
"The pre-season game against University of San Diego really helped us prepare more for this game," Macias said. "I've been here before and I feel like this is the most prepared we've been."
The Aztecs kept their defense tight as the Antelopes continued to fall short with multiple free-kick attempts. However, SDSU became too comfortable in the 32nd minute and GCU got on the board with an own goal.
Despite the goal, the Aztecs strengthened their defense and ended the second half leading 2-1.
"Our defense was really good," Head Coach Lev Kirshner said. "The goal that was against us was an own goal, so we also played well offensively."
SDSU continued to show its strength and desire to come out on top as senior forward Rene Reyes shot for the goal twice within two minutes of starting the second half.  GCU's junior goalkeeper Kendyl Day blocked both attempts.
Reyes continued to push forward and scored in the 52nd minute off an assist from Berkolds and a throw-in by Callahan.
The Aztecs continued to dominate the field, intimidating the Antelopes whose passes started failing.
The rest of the second half was a back-and-forth battle between defenses and the Aztecs prevailed 3-1.
With the trio of Callahan, Macias and senior defender Casey Phillips, SDSU's communication and passes improved throughout the game.
"I think it's going really well having three captains," Callahan said. "We have eyes everywhere. There's also a lot more voices on the field. You could tell by the second half, we were talking more and we were more into it."
Kirshner is also very impressed with how the captains are leading the team on the field.
"The captains have been phenomenal," Kirshner said. "They keep our Aztec culture going. I think it's really great that they have a constituency to work together, so it's been a pleasure having them as leaders."
With the hope to continue the momentum, the team plans on working on the skills they're lacking.
"I thought that we were a little lethargic in the first half. We have to understand that we have to play for the 90 minutes in the Division I game,"  Kirshner said. "We have to get at it right from the start."