SDSU women's soccer travels to Arizona, loses Gulczynski to ACL injury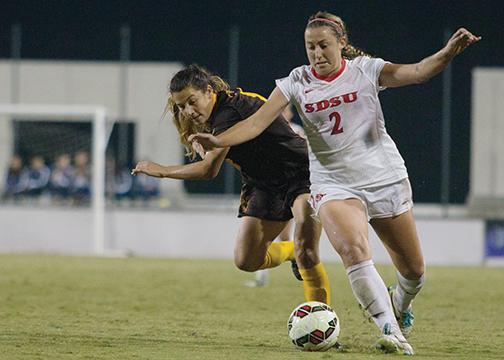 San Diego State women's soccer (2-1-0) will travel to Arizona for the second time this week. This trip, however, the Aztecs are hoping to actually play soccer.
On Monday night, SDSU's game against Arizona State was cancelled due to a monsoon. The teams were able to play 16 minutes before lightning, rain and heavy wind caused a delay that lasted 1 hour and 34 minutes before the game got cancelled.
Due to conflicting schedules, the match will ultimately not be made up and will be left unplayed.
However, the storm has passed, and after a few days of soaking up the comfortable Southern California weather, the Aztecs will head back to Tempe for a match against the University of Arizona Wildcats (3-0-0) in the Sun Devil Desert Classic on Friday.
"There will be some more challenges, obviously, with travel and heat and they're a very good team." head coach Mike Friesen said of the Wildcats.
Friesen spoke highly of Arizona sophomore midfielder Gabi Stoian.
"She's a good player, but I feel like we match up pretty well with her." Friesen said. "I think both teams aren't going to rely on a single player. They'll both be great as a team."
Stoian leads the Wildcats with eight points. In 2014 she racked up 13 goals and 33 points, which both stand as the second-best single-season totals in school history.
SDSU will end the weekend at home when they host the Florida Gulf Coast University Eagles (3-0-1) on Sunday night.
In the first four games of the season, FGCU has yet to surrender a goal as the Eagles have outscored their opponents 11-0. Their best outing came against Long Island University, Brooklyn, when they won 7-0.
Junior forward Tabby Tindell, who is responsible for three of FGCU's 11 goals, leads the Eagles' offense.
Friesen mentioned how his team is looking forward to playing on the SDSU Sports Deck in front of the Aztec faithful for the first time in two weeks.
"To get another home game will be great just to be here with the beautiful weather in San Diego, and on our home field." Friesen said.
As far as the Aztecs' play on the field, Friesen is confident heading into the weekend after a great week of practice.
"We have to play with a little more rhythm than we have been. We had a really good training session yesterday." Friesen said. "I think for our team just keeping it simple is when we play the best."
Keeping it simple will have to come with some growing pains.
The Aztecs lost senior defender Meggie Gulczynski for the season due to an ACL injury she suffered against Utah Valley University on Aug. 21. However, Friesen's confidence in his players' ability to step up will not fade no matter what.
"(Gulczynski) is a very experienced player and a very good player for us, and it's caused us to have to go with newer players," Friesen said. "(Freshman defender) Taylor Russell has stepped up and played well in the few games she's had there." 
After all, soccer is a team game.
"We've had different contributors in every game," Friesen said. "Our back line did a nice job the first couple of games. Our two center backs (sophomore) Stacie Moran and (senior) Ashley Hauke have stood out. It's nice to have (junior midfielder) Victoria Barba back on the field, and our two freshmen Leah Pruitt and Milan Moses have done really well."