Tasty Tuesday: Kick back at Kensington Café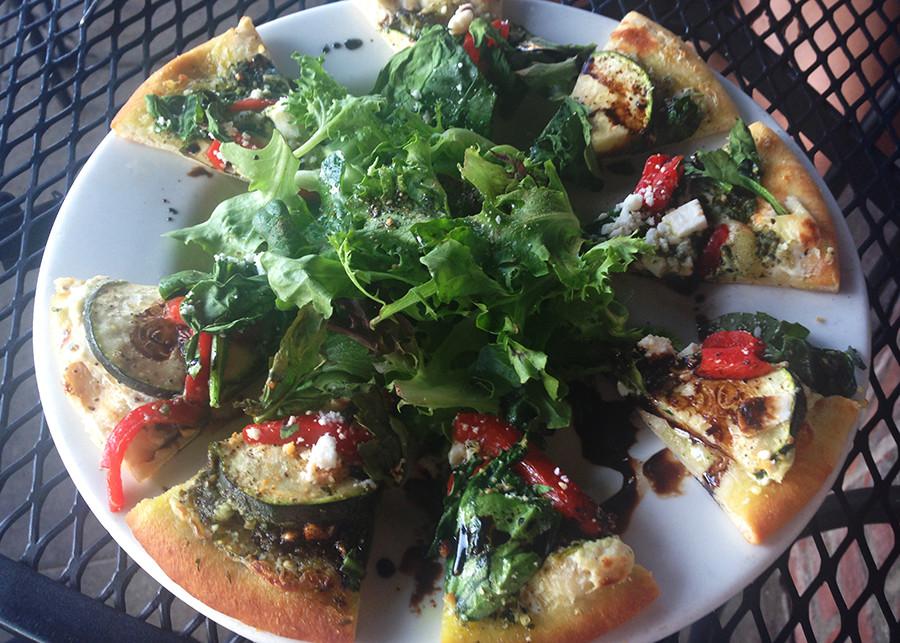 by Kalah Siegel, Staff Writer
September 22, 2015
While San Diego State provides all the amenities to learn, dine and live, sometimes getting off campus is a much-needed change of pace. With midterms on the horizon, one ideal getaway is cozy, close to campus and features incredible eats – Kensington Café.
Located just off of Montezuma Road and Fairmount Avenue is the charming neighborhood of Kensington. From the outdoor patio at Kensington Café, one can enjoy the people (and dog) watching while indulging in a tasty treat and off-campus "me time."
While the café is known for its savory brunch items like egg scrambles and breakfast sandwiches, it serves up the same quality and atmosphere that diners crave at dinnertime.
"I love coming here because it's a refreshing getaway from school, but still super close to campus," urban studies senior Sydney Langeler said. "There's a wide variety of great food options, too."
For dinner, essentially anything with cheese is a must-try. The feta cheese and house pesto on the veggie flatbread are the perfect combo to appease any appetite for a Mediterranean meal. The baked Brie small plate is a cheesy delight for an appetizer or snack.
A heartier option that rivals grandma's cooking is the braised pot roast. The mashed potatoes and red wine au jus compliment the roast and create flavorful bites of childhood nostalgia. For more mashed-potato madness, try the mashed-potato quesadilla to experience a unique Kensington twist on the Mexican favorite.
Of course, no dinner is complete without a mouthwatering dessert to top off the meal. Kensington Café obliges with their gluten-free, house-made flourless chocolate cake and Haven's Cave S'mores served for a tabletop but created with traditional campfire flare.
Even more enticing than the food are the nightly specials that make this moderately priced gem even more affordable for college students. Enjoy half-off bottles of wine on Monday, take advantage of $3 tacos all night on Tuesday, savor burgers galore on Wednesday and finish the week off strong on Thursday with $10 flatbread and a beer.
Like any worthy close-to-college establishment, the café has a decent happy hour Monday through Friday from 4- 6 p.m. which features food and drink specials.
Whether home is College Area or somewhere else in town, Kensington Café is worth a visit for good eats with friends, quality time with a pup on the patio or simply to relish in a refreshing place to study with a cup of Joe.