Law to require student vote on success fee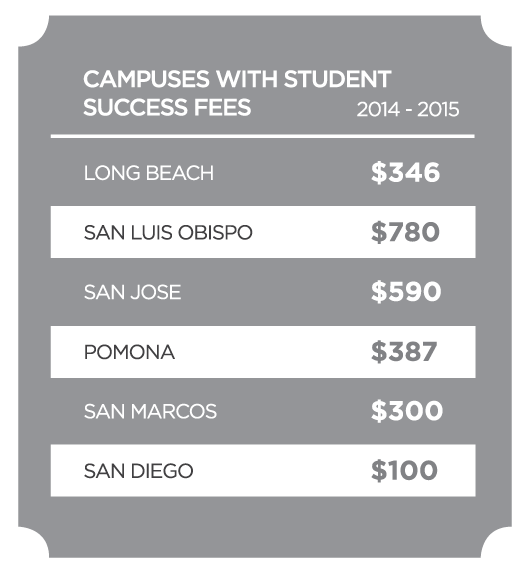 The California legislature passed a new bill this month that would require California State University students to vote on student success fees at some CSU campuses.
The state law awaits approval from Gov. Jerry Brown.
The student success fee is an annual mandatory fee for all students at a CSU campus. It's different for each CSU school and ranges from $35 at CSU Dominguez Hills to $780 at Cal Poly San Luis Obispo.
San Diego State's student success fee is currently approved to be $200 by the 2017-18 academic school year, according to Associated Students' student success fee presentation. Currently, the fee is $100 per semester.
The money from SDSU's "student success fee" will go to 80 tenure-track faculty members and 360 additional course sections. Ten percent of the annual income will go toward supporting academic programs.
The fee goes toward such expenses as enhancing academic programs, hiring new professors or extending library hours at each university.
So far, the fee has been implemented in 12 of the 23 CSU campuses.
CSU Public Affairs Specialist Stephanie Thara said the CSU Board of Trustees issued a recommendation for how each campus should implement the fee. 
The board's recommendation includes four main points:
1. The CSU campuses should require a binding student vote on the implementation of any new proposed fee.
2. Each campus should have a transparent online accountability protocol that states the decision process and distribution of fees. The university needs to inform the students on the use, impact and cost of this new fee before the students vote on it.
3. All students eligible to vote in student government elections are eligible to vote on the student success fee proposal.
4. The fee should terminate at the end of a fixed period unless it is renewed.
These recommendations were voted on in January and now all four provisions have been approved.
Once a student success fee is passed, it will remain in place until specified needs are met, or until six years have passed, unless the fee is renewed.
"Regardless of any subsequent vote to resist the fee and even with approval of students to rebind the vote referendum, the fees are continued on approval by the campus president and the chancellor," Thara said.
Gov. Brown issued a moratorium stating that no additional student success fees can be implemented until Jan. 1, 2016.
Many SDSU students don't think the success fee is a way to produce better academic results for students.
Television film and media studies sophomore Danielle Cohen said the money to improve academic success should come from sources other than the students' pockets.
Communication sophomore Victor Gbenjo agrees and said the cost of education is already too high.
"Coming as an out-of-state student, if we have to pay another fee on top of the fees we already pay, who's to say that won't lead to an increase of students taking out loans so they can afford the school they're attending?" Gbenjo said.
Some students, like Pauline Geluz, a sophomore communication major don't know exactly where that money is supposed to go.
"From the emails and other updates we've been getting from SDSU, everything is pretty vague," Geluz said. "Where is this money going toward, and why do we need to give it?"
However, not all students are against the "student success fee."
Marissa Zuniga, a comparative international studies junior, is in favor of it as long as it benefits every student on campus.
"The fee is called a student success fee so it should benefit the whole student body and help every student become more successful in their academic endeavors, not just some," Zuniga said.
Take our online poll to voice your opinion of the student success fee.