Notebook: SDSU pass rush leads the way against Wyoming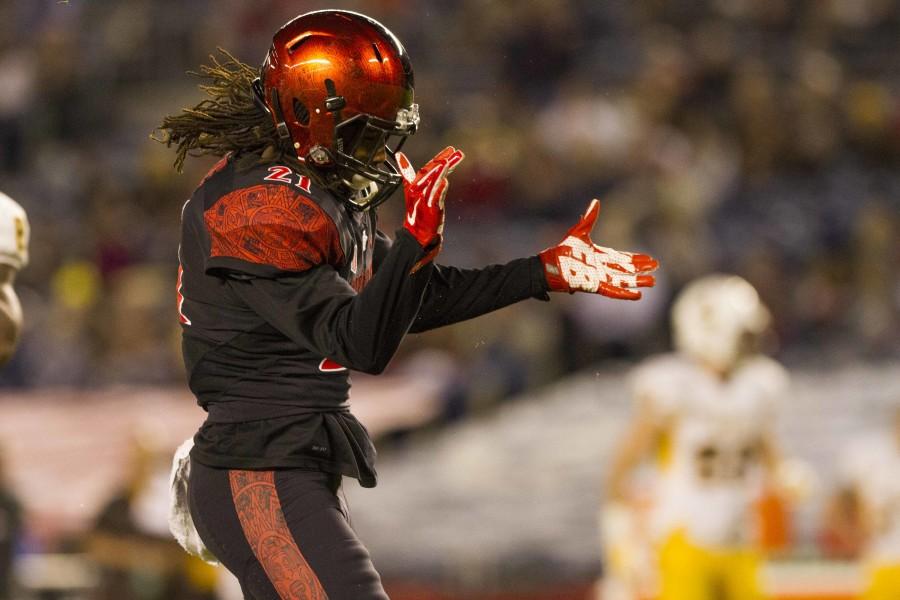 by Patrick Carr, Sports Editor
November 15, 2015
It seemed like every time University of Wyoming senior quarterback Cameron Coffman dropped back on third down, he had to pick himself up off the ground after the play.
That's because the San Diego State pass rush plowed Coffman to the ground four times in the first half and five total for the game. Three of them were on third down. Junior safety Na'im McGee got his first career sack, senior defensive tackle Christian Heyward got one and then junior defensive end Alex Barrett had two.
"We were blitzing a lot, we were getting after them, guys were just getting off blocks and making good plays," junior linebacker Calvin Munson said.
Senior defensive end Jon Sanchez and senior linebacker Jake Fely combined for a sack on Coffman in the fourth quarter.
The Aztecs had 10 tackles for loss, as well.
That alone inhibited Wyoming's offense, minus the Aztecs secondary, which once again had a good game, grabbing two interceptions.
Homecoming irony
SDSU wide receivers took the most flak in the offseason for poor play last year. Receivers coach Hunkie Cooper was hired to change that.
Although it hasn't been a dramatic change, there's noticeable improvement, particularly in sophomore wideout Mikah Holder, who caught two touchdown passes in the first half Saturday night against Wyoming.
The last Aztec receiver to catch two or more touchdowns? Ezell Ruffin in last year's homecoming 35-21 win against the University of Idaho.
Fun fact(s)
The gametime temperature was 60 degrees Fahrenheit, the coldest temperature for an SDSU game since Nov. 23, 2013 against Boise State when it was 58 degrees. This prompted thousands of fans to wear scarves and beanies in an attempt to stay warm in San Diego, something that people don't often have to think about.
There was also new twist at Qualcomm Stadium for homecoming night. The end zones were painted red and black, a task that probably wouldn't have happened if the Chargers weren't on a bye week.
Say goodbye to bye week woes
Coming into Saturday's game, SDSU was 1-6 coming off a bye week in the Rocky Long era. Two of those losses were to Oregon State, one was to a nationally ranked Texas Christian University and another was against these same Cowboys in 2012.
Naturally, Long and the coaching staff would prepare completely different for the Wyoming game off a bye week, right?
"We practiced one day less, that's the only thing we did different," Long said.
"They let us know that we've been 1-6 coming off a bye week," Barrett said. "They were stressing it, keeping us on edge, they didn't want us to go out there and not show up like how we did in the first half versus Colorado (State)."
Running, running and running some more
It's also well-known that SDSU's rushing attack is potent. Much like the men's basketball team, though, there's a big streak going for the football team.
When the Aztecs rush for more than 200 yards, they've won 19 straight games and are 27-2 in the Rocky Long era.
Senior running back Chase Price actually led the way Saturday with 152 yards on 17 carries (8.9 yards per rush) and two touchdowns. Junior running back Donnel Pumphrey had 140 yards 29 rushes, but also had three catches for 29 yards.
Long fascinated by MW race
The MW uses a combination of four different rankings systems to form a composite ranking to decide who will host the MW Championship game. SDSU fans were invested in the University of Mexico vs. Boise State game for obvious reasons.
The Broncos are ahead of SDSU in the composite rankings, but after they lost to UNM, it might change.
It's a fascinating race and Long was just as intrigued, so much so that he and athletic director Jim Sterk were watching the last few seconds of the frenetic ending between UNM and BSU on a laptop while SDSU players were speaking at the postgame press conference.
"We've got to continue to win to win our side of the deal and let (the Mountain Division) fight it out," he said.
Paris attacks affect Qualcomm Stadium
The effect of Friday's terrorist attacks in Paris was felt at Qualcomm Stadium for Saturday's game.
Before the game, there was a moment of silence in solidarity with Paris as members from the Army, Marine Corps, Navy and Air Force were out on the field for the national anthem.
Fans and media members were subject to extra security in light of the attacks. That included a thorough bag search and pat down.
That resulted in long security lines to go with the increased traffic getting into the stadium. And that cascaded to the stands, which took awhile to fill in, but did so rather nicely by the start of the second quarter. The announced attendance was 36,688.