SDSU men's hoops gears up for potent No. 16 Utah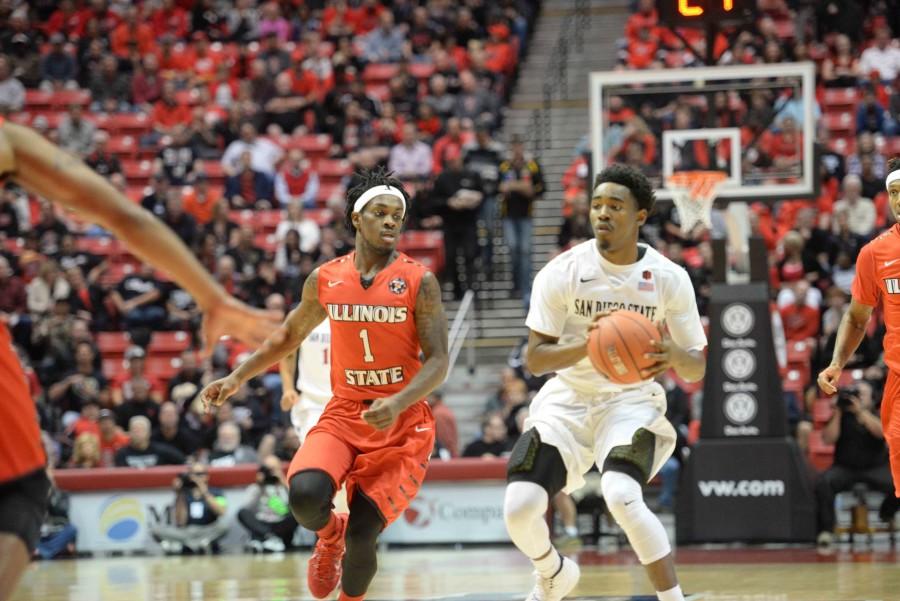 by Patrick Carr, Sports Editor
November 16, 2015
SALT LAKE CITY — The Jon M. Hunstman Center is perched near the top of University of Utah's sprawling, Autumn-colored campus in Salt Lake City. The arena resembles something like a spaceship — a wide, gray half-sphere.
The campus itself is perched on a hill overlooking downtown to the west and flanked by the snow-speckled Wasatch Mountain range behind it to the east and southeast, a prime location that affords beautiful views of the afternoon sunset as it disappears beneath the Great Salt Lake out on the horizon.
On Monday night, San Diego State men's basketball takes on No. 16 Utah in Salt Lake City in the return leg of a home-and-home series that began with SDSU beating the Utes in a largely unwatchable 53-49 win in last year's ESPN Tip-Off Marathon.
Like last year, this game is the second of the season for the Aztecs and is part of the Tip-Off Marathon, only this year the game doesn't disastrously occur on a Tuesday afternoon in the middle of classes at a commuter college.
It'll happen at 6:30 p.m. PST in front of what's expected to be a sellout crowd to watch a team that has legitimate hopes at a deep run in the NCAA tournament.
So where do these two teams stand?
History says the Utes should be easy favorites. They own a 53-19 series advantage over SDSU, but more recent history suggests the Aztecs will pull one out after winning the last six meetings between the two schools by an average of 11.3 points per game.
Utah is coming off an 82-71 win over Southern Utah University in which its front court justified the preseason national ranking, but the back court took a back seat. The trio of redshirt-sophomore forward Kyle Kuzma, junior forward Jordan Loveridge and sophomore center Jakob Poetl combined for 73 of the Utes' 82 points.
The trio made 28 field goals. Utah as a team made 30. Poeltl had a double-double (26 points, 11 rebounds) and Kuzma had 23 points and 12 rebounds in his first career start.
Their guards were atrocious. Sophomore guard Isaiah Wright and senior guard Brandon Taylor were a combined 0-for-16 from the field and 0-for-13 from beyond the arc. That doesn't mean the guards are bad. It's hard to count on two guards going 0-for-16 night after night.
What will be interesting is the matchup down low between Poeltl and senior center Skylar Spencer, specifically if Spencer will be able to contain the 7-foot Austrian who has high NBA draft potential.
If Spencer gets into foul trouble, senior center Angelo Chol will step in and bring a bigger threat on offense, but at the sacrifice of defense.
For SDSU, it's the first big test of the non-conference schedule, one that could see the Aztecs play four ranked opponents (Utah, UC Berkeley, University of Kansas and possibly West Virginia University).
It's also the first big test for a unit that's still gelling and meshing with each other, and a team that suffered through a foul-marred game in last Friday's regular-season opening win over Illinois State.
The hero from that 71-60 win, freshman point guard Jeremy Hemsley, might actually hold the key to Monday night's game.
"Jeremy's a good player. He's unafraid," head coach Steve Fisher said to reporters after the game. "We have a good player and everyone knows that."
Hemsley is a pass-first point guard, which will create problems for Utah — stop Hemsley or try to contain sophomore guard Trey Kell, senior forward Winston Shepard and sophomore forward Malik Pope outside.  Utah head coach Larry Krystowiak acknowledged Southern Utah's potency on offense Saturday.
"They exposed us with a lot of dribble drives," he said after Saturday's game. "We were confused in the first half, certainly playing hard without playing smart. We were allowing back cuts, getting beat off the dribble and did some things that were out of character."
Where Hemsley differs from Kell and the graduated Aqeel Quinn is that Hemsley forces the issue. He drives the lane, he attacks. Neither Kell nor Quinn would do that and force the defense to collapse, thus opening up the wings for open shots. The rare times they did drive, they weren't looking to pass.