'Creed' is a knockout success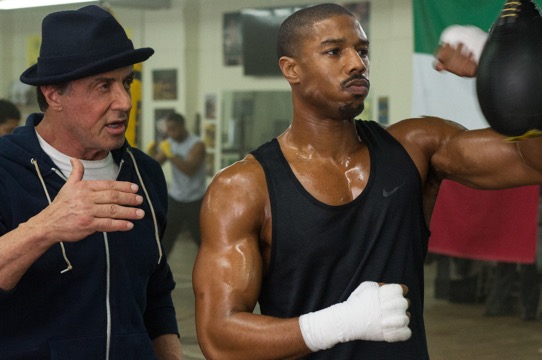 by Kalah Siegel, Staff Writer
December 7, 2015
Hang on for a minute...we're trying to find some more stories you might like.
The stakes are always high in Hollywood, and for sequels the box office is a bloodbath of requirements. Original die-hard fans demand appeasement and studios demand cultivation of a new following. "Creed" delivers on both.
"Creed" hit theaters exactly 40 years after its award-winning predecessor, "Rocky." The original film attempted to exceed viewer's expectations since its release, collecting six megahit sequels.
Fortunately for "Creed," America loves an underdog story — and empathetic entertainment.
"Even without seeing any of the original 'Rocky' movies, I enjoyed the film and think it will appeal to a diverse group with varying interests," audience member Christina Katsiyaninni said.
Sylvester Stallone is back for round seven as Rocky Balboa. Rocky's days in the ring have long passed, and Stallone is tasked with portraying the unglamorous yet inevitable effects of aging.
Enter Michael B. Jordan as Adonis "Donnie" Johnson, the illegitimate son of Rocky's legendary opponent and friend, Apollo Creed. Though Donnie never met his late boxing-champion father, he undoubtedly inherited his knack for fighting.
The story begins on the border of cliche: young Donnie's in a Los Angeles juvenile correctional facility, fighting and between foster homes, until his father's widow offers to take him in. Fast-forward 17 years, Donnie, unfocused and unhappy, jets off to Philadelphia in search of boxing mentorship from Rocky Balboa.
Then it gets real, and the shadow of a cliche is gone. "Creed" uncommonly mastered the feat of going beyond its sports-film label by relaying heavily emotional messages audience members could connect with.
Donnie's love interest, Bianca (Tessa Thompson), easily wins over viewers. It's refreshing to see an athlete's girlfriend have her own dreams, challenges and flaws. Thompson depicts the notion beautifully. She puts Bianca's soul on display, invoking a deep connection with the film.
Rocky, himself, is more loveable and relatable than ever. Stallone shows sides of Rocky viewers previously weren't acquainted with. His raw vulnerability and insight into old age provides a strong sense of authenticity and a newfound appreciation for Stallone's on-screen abilities.
Praise is also due to director Ryan Coogler for his ability to encompass the energy and independent goals of the characters, as well as contrast their genuine emotions with the ostentatious world of boxing.
Even a "Rocky" film, the ultimate ode to boxing, admits and illustrates the fabricated element of performance in the sport.
In the final fight, Donnie's opponent "Pretty" Ricky Conlan (Tony Bellew) makes an entrance complete with fire-breathing entertainers and his entourage holding his titles high with immodesty. The scene is filmed as though it's a legitimate HBO special, but viewers don't need the HBO logo on the screen to think, "a showy, egotistical boxer facing prison outside the ring? Sounds familiar."
Coogler doesn't shy away from the stereotypes and concerns centered around boxing. In addition to addressing the sport's showmanship, talk of brain damage and elements implying a boxers' predisposition to aggression and violence are incorporated.
While the ghost of a cliche re-emerges at the end of the film, it doesn't take away from the strong performances and overall plot. The cast and crew can mark the seventh "Rocky" film as a sequel mission accomplished. As for another follow-up film, it'll be a knock-down, drag-out fight to top this one.