SDSU men's basketball beats a very good Biola team 73-53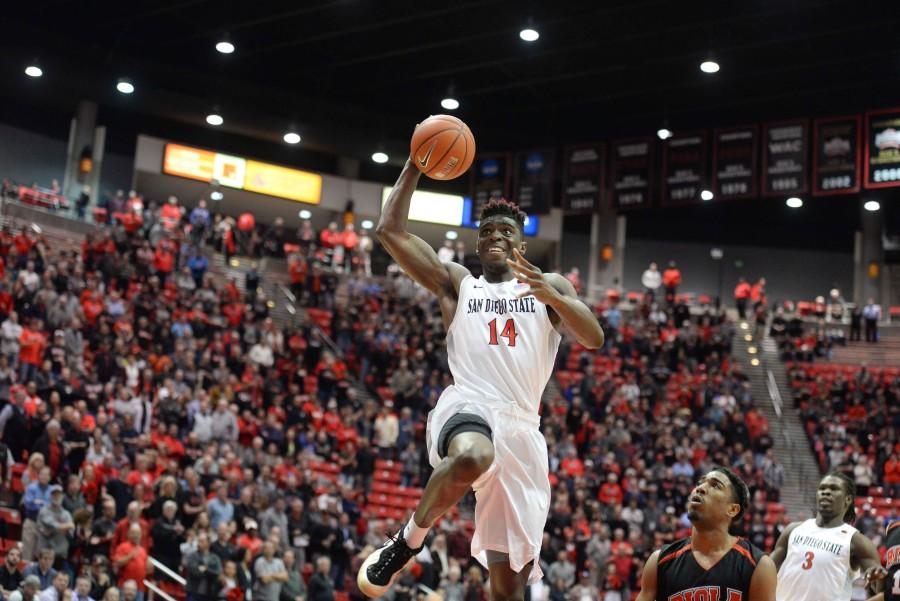 by Patrick Carr, Sports Editor
December 7, 2015
When the players ran out for warmups, the crowd didn't roar as it usually does.
When the student section performed the "I Believe" chant, it didn't raise the neck hairs of the fans inside.
For the most part on Monday night, the crowd in Viejas Arena sat and quietly observed the game instead of ravenously cheering, wondering if they were going to be watching the first falling bricks of the Aztec empire on hardwood.
Biola University, a 10-1 NAIA team, was Monday's opponent for the San Diego State men's basketball team. Biola is a small, private Christian school from Southern California with an enrollment under 8,500 — kind of like the other team eight miles down the highway SDSU was trying to get out of its head.
The Aztecs glided their way past the Eagles on Monday night, 73-53, but the loss against University of San Diego resounded so much to the players and was so fresh in their minds that they opted to talk about that game first, instead of Monday's win.
"First off, that game yesterday was very embarrassing," freshman point guard Jeremy Hemsley, who finished Monday's game with 16 points, said afterward.
After the loss in November to Little Rock, head coach Steve Fisher and his players talked about how they came out with no energy, and how that kind of zombie-walking performance wouldn't happen again.
After Sunday's loss in front of a very pro-SDSU crowd, in which that exact same thing did indeed happen again, Fisher openly criticized his players' effort against USD.
At least one player got the message.
In pregame shootaround, a typically casual affair where players try to refine shots uncontested, redshirt-freshman forward Zylan Cheatham went out and contested shots by sophomores Malik Pope and Trey Kell.
"At the end of the day, we take this game so serious. We've been playing the game since we were younger, I mean it's a really serious game," Cheatham said. "I just try to have some fun, pretty much. Obviously we were all disappointed in a loss. Our locker room after the game, it hurt my heart to see my teammates that down."
Cheatham's effort was on display in the game when he chased down a loose ball off a turnover that he forced on the press and got a standing ovation from the crowd.
His confidence was flowing so much that he attempted a 3-pointer in the first half and made it on his way to setting a career-high in points in the first half.
He tried another 3-pointer with the clock winding down in the first half and air-balled it, only for senior center Skylar Spencer to fortuitously palm it in before the buzzer to give SDSU a 45-28 lead at the break.
Cheatham finished with 16 points and five rebounds while sitting most of the second half, which saw the Aztecs put the game in cruise control.
The Eagles kept themselves within arm's reach of SDSU by going 6-of-9 from 3-point range in the first half. They finished at 9-of-21, still a very respectable 42.9 percent.
"Teams seem to make 3s against us and it's not always because they get hot by the time they play us," Fisher said. "We've got to do a better job of guarding the 3."
Fisher didn't take away credit from Biola, whose head coach, Dr. Dave Holmquist, had 901 career wins coming into Monday.
SDSU went 16-of-27 from the floor in the first half, driving the lane and using its size advantage for easy buckets and layups.
Another aspect of Sunday's lack of effort that Fisher vented about was the lack of offensive rebounds (just one in the first half against USD). SDSU made up for that Monday, edging the Eagles 12-4 on the offensive glass and 38-20 overall.
SDSU is now 6-4 and has just one winning streak, that of two games in November. The Aztecs haven't been able to find a rhythm yet, and Monday's game was just a rebound.
"Every time we get a win, it seems like the next game we're always bouncing back," Cheatham said. "Pretty much, we just wanted to take some steps forward."
The next opportunity to step forward is three days away on Thursday against Nicholls State, but with the Aztecs being susceptible to sleepwalking in games this season, there's no such thing as an "easy" win anymore on the Mesa.
The next question is, will SDSU take another step forward or backward? Just like after the Little Rock game, Fisher and his players said they'll go forward, but…
"If I'm a fan, I'm going to say 'Show me, prove it,'" Fisher said.
Notebook
The Aztecs forced five shot clock violations in the first half against the Eagles, likely a result of Biola playing with a 35-second shot clock in the NAIA.
Kell (knee) was held out of the second half on Monday for precautionary reasons.
Freshman guard Ben Perez still hasn't recovered from a concussion sustained in practice on Thursday. He didn't play Sunday against USD and didn't attend Monday's game either.
"They initially told me it was a mild concussion, but Ben is still not back with us, so we're following protocol," Fisher said.