SDSU intramurals should not use the softball field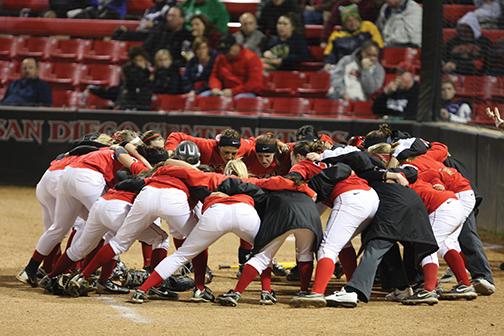 by Brendan Price, Contributor
February 3, 2016
Hang on for a minute...we're trying to find some more stories you might like.
Spring semester is over two weeks old, which means intramural spring sports are about to get started.
Basketball, indoor soccer and volleyball are hosted at the Aztec Recreation Center. Bowling is hosted at Aztec Lanes in the Conrad Prebys Aztec Student Union. Outdoor soccer is hosted on football practice fields and the field by the Exercise and Nutritional Science building.
Softball, however, is hosted at the San Diego State University Softball Stadium, home of the SDSU softball team.
Practically, the use of the field isn't a major issue.
The objection to it is more symbolic than practical.
Playing intramural sports at the softball stadium is something that, however clearly unintentional, disrespects the hard work put in by head coach Kathy Van Wyk, her staff and her players.
The softball program has made eight straight NCAA tournament appearances, and having an autonomous playing surface is key to continuing that success.
"I want to be as cooperative as anyone, but I believe that for us to be a highly-competitive program, this field should not be shared by an outside entity," Van Wyk said.
Moving the games from the softball stadium over to the fields buttressing Peterson Gym, which are more than adequate enough for softball, could be a reasonable solution for all.
Logistically, it would not require much.
A three-to-four hour block once or twice a week for a month to six weeks at most during the fall semester seems doable.
Student-athletes put forth an effort and a sacrifice that can't be understood by a regular student because they have demands and require efforts that are different than the general student population.
The softball stadium is a tangible reminder for the players, the coaching staff and the grounds crew of their sacrifice. 
After countless workouts, injuries, practices, road trips and struggles, the team gets to play at their home in front of their fans. The grounds crew works to put the field in pristine shape, both as part of their jobs and as a sign of respect.
"There are guys that work grounds around here that work really hard and take pride in that and the students won't," Van Wyk said.
"It's a different level of understanding and they won't understand that."
Other sports venues around campus are treated with nothing short of reverence, because of the success of both the teams and players that have passed through.
It's a reverence that stems for our respect and awe of their achievements.
The softball program is meritorious of the same reverence, and the fact that they don't get it is incomprehensible and unjust.
However, Van Wyk points out the arrangement is, for now, just the way the ball bounces.
"It's a philosophical problem … I have almost come to the conclusion that I would be better off to not waste the energy and put my energy towards other things and then just keep an eye on things," Van Wyk said. "I don't think it's fair, I don't think it's right, but it's something we have to live with."
If this situation involved basketball, football or any men's sport, I find it hard to believe that an arrangement like this would exist.
Sharing Qualcomm Stadium for intramural football or Tony Gwynn Stadium for intramural baseball seems ludicrous, so why doesn't this?