SDSU lacrosse suffers 2 losses in season-opening road trip to North Carolina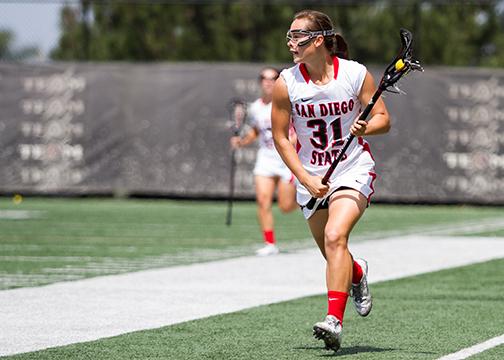 by Ashley Washburn, Contributor
February 15, 2016
The San Diego State lacrosse team headed across the country to North Carolina to open its season this past weekend and came back home with an 0-2 record after suffering an 11-7 loss to Elon University on Friday, Feb. 12, and a 20-7 loss to N0. 2 University of North Carolina on Sunday, Feb, 14.
Although the team dropped its opening matchup to Elon, if it wasn't for a couple mental mistakes it may have walked away with a win in the opening-day showdown.
"All it takes is a couple minutes of not focusing or taking a mental break and it can cost you the game," head coach Kylee White said.
The first half of the game was a back-and-fourth battle with the lead changing four times. Senior midfielder Alexa Comfort scored two goals to put the Aztecs in the lead after the Phoenix scored one quickly to start off the game.
The Phoenix answered back with another goal, but it wasn't long until the Aztecs took the lead again with a pair of goals from redshirt-senior attacker Katie Gill and freshman midfielder Jill Haight, making the score 5-3.
Elon then scored five more unanswered, but junior midfielder Vickie Porter scored just in time to cut Elon's lead to two. The score was 8-6 heading into halftime.
Elon pulled away in the second half, outscoring the Aztecs 3-1 and making the final score 11-7.
After facing Elon Friday night, the Aztecs traveled an hour south to face No. 2 North Carolina. The Tarheels were also national runner-ups last season.
The first half of the game was a little rocky for the Aztecs, with the Tarheels outscoring the team 14-1. Junior midfielder Alex Watson scored the lone goal, making a shutout for the Tarheels impossible.
Even though the Tarheels had a demanding lead, the Aztecs put up a strong fight in the second half. They held the Tarheels to six goals and scored six of their own. The final score was 20-7.
Despite a 20-7 loss, the Aztecs' second half was phenomenal. The Aztecs nearly outscored the the No. 2 team in the country, which left White and the rest of the team with a little silver lining as they headed back home.
"It was a very physical game and a tough one at that. I was extremely satisfied with the way we played the second half. It showed great depth in our team, as well as what direction were headed to," White said.
The SDSU lacrosse team was picked finish fifth in the Mountain Pacific Sports Federation (MPSF), which is the highest the the Aztecs have been ranked in the preseason in program history. The team will be traveling to the east coast again at 12 p.m. on Feb. 27 for a  matchup against Saint Joseph's University.