SDSU Dining Services serves up options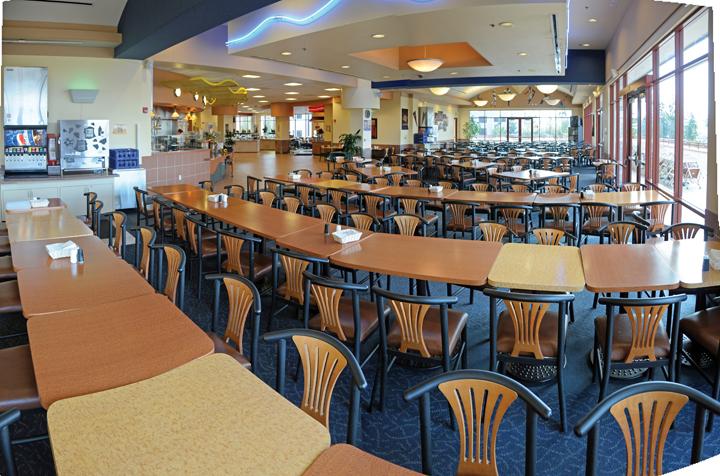 Kinesiology freshman Abraham Gallegos enjoys a bowl of fries in front of East Commons before heading to his 2 p.m. class.
Gallegos chose the TJ Fries bowl from So-Cal Chicken because he needed a meal that would fill him up for his next class.
"Personally I don't think there are enough healthy options on campus," Gallegos said. "And the few options available are kind of expensive."
There are more than 30 restaurant locations at San Diego State where students like Gallegos can pick up a bite to eat. Dining Services offers more than 1,800 items to choose from to eat or drink.
Paul Melchior, director of SDSU Dining Services, said in the process of selecting restaurants for campus, they look for differentiation in menus and rely on student input.
"Part of the process of providing healthy options is getting the message out to our customer base so that they can find them," Melchior said.
Nutritional information charts or links for each location's website are available in the SDSU Dining Services website. Some of the charts allow students to input their meal information and get an idea of what the nutritional value in their meal was for that day.
English junior Jasmin Polloni remembers trying to make her Flex 5 meal plan stretch as much as she could during her first year on campus.
"Sometimes going to the market and getting a thing of fruit and a water bottle can be as expensive as getting a cheap hamburger, but it doesn't fill you as much," she said.
Polloni also said she believes most people consider the price when they're deciding what to eat, but those who are dedicated to eating healthy can do so on any budget.
Melchior mentioned SDSU Dining is a nonprofit organization based on cost in and cost out. He also believes the choice of spending money on a healthier meal compared to the cheaper meal is on the student.
"The dining room is the same price whether you eat healthy or not healthy," he said. "Students have to make the choice." 
Melchior said what is considered "healthy" can depend on what results a person is seeking. Someone looking to gain weight may have different needs than someone looking to lose weight. With that in mind, he said Dining Services looks to provide few processed foods.
"Healthy means different things to every person," Melchior said. "What I look at as overall totality of healthy is anything that we can make from scratch. That we can start with fresh ingredients and buy less processed food. That's what we consider healthy."
International business freshman Tim Wenning believes healthy meal options are available in places like Rubio's, Olive Oil, Oggie's or the Salad Bistro.
"I think it's up to the student to make the right choice," Wenning said. "If someone was so inclined I think it would be very easy to make a healthy lifestyle."