SDSU lacrosse nets first victory of the year at Saint Joseph's, 15-13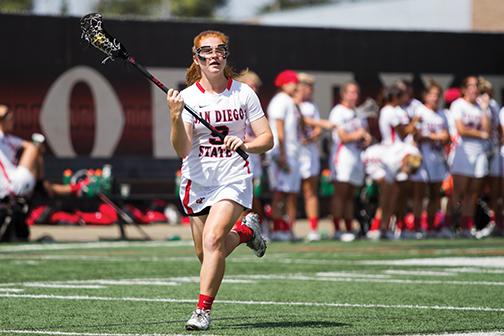 by Ashley Washburn, Contributor
February 29, 2016
The San Diego State women's lacrosse team headed out to the City of Brotherly Love this weekend to face Saint Joseph's University in search for its first win of the season, and came home victorious, 15-13, over the Hawks.
"We never gave up," head coach Kylee White said. "This was a game that went back and forth the whole time, and this is what we've been preparing for. We knew it was going to be a battle."
SJU scored the first goal of the game, but SDSU junior midfielder Vickie Porter answered back with her own nearly 30 seconds later. Senior Alexa Comfort followed Porter's goal with one with an assist from senior Felice Artuso, one of Comfort's six  goals scored throughout the game.
"(Comfort) was unreal, but we've been expecting her to do this for the past two years," White said. "This fairly well could have been her coming out game."
Five minutes into the game, the Aztecs had their first free position attempt, and sophomore attacker Katherine Smith capitalized to put the Aztecs up 3-1. SJU junior Nora McCallion, who averages nearly six goals a game, cut the lead to 3-2 after scoring 10 seconds later.
After a scoreless five minutes, Comfort scored once again, making the score 4-2.
Senior Mallory Grey scored and cut the lead to one for the Hawks, but junior midfielder Alex Watson and Comfort scored a pair of goals to make the score 6-3.
SDSU's biggest lead throughout the game occurred after redshirt-senior attacker Katie Gill scored one to make the score 7-3. SJU then went on a three-goal run, cutting the score back to 7-6.
Comfort scored for the fourth time of the season in the last 15 seconds to put the Aztecs up by two.
At the half, the score was 8-6 Aztecs.
To start off the second period, the Hawks scored on a free position attempt from freshman Sinead Bierley, and then from sophomore Aly Gormley. Only two minutes in, the game was tied again at 8-8.
Comfort scored once again, but SDSU followed this goal with a foul, allowing SJU to tie the score again.
SDSU went on a five-goal run to go back up 14-9. Junior Kristin Hickey, Porter, Artuso, Gill and Comfort each scored.
SJU scored three of its own to answer back and cut the lead down to two, but Aztec freshman Natalie Peel scored with 1:42 left, making the score 15-12.
The Hawks scored once more, but it was not enough to defeat the Aztecs with a final score of 15-13.
The Aztecs will be playing their first home game of the season at 7 p.m. next Tuesday night on top of the Sports Deck. They will be facing a top-tier opponent in University of Michigan (3-2).