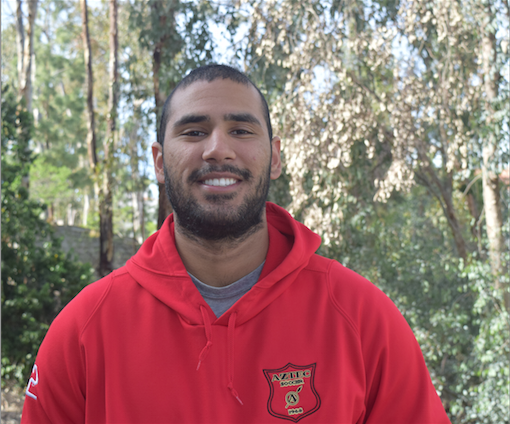 Natalia Xibille
Position: President
Name: Ahmad Sanatyar
Year: First-year graduate student
Major: Bachelor's degree in sociology and criminal justice with a minor in entrepreneurship. Currently pursuing Master's degree in business administration.
Why did you decide to run for A.S. President?
This is a position I feel I've been working on my entire four years here. It's something I've always wanted to do. I've always felt obligated to do my best to try and make a difference in this world and in the community and I believe that this is probably the opportunity to do so.
What would you like to change about A.S.?
There's a lot. To start off, I'd want to change these elections. A.S. is essentially the organization that represents and runs our entire campus and I feel like it could definitely improve a lot in its diversity. For one thing, I think pretty much every single candidate for the executive officer positions is from the Greek community, maybe with the exception of two and it's kind of a thing where year in and year out everybody that is running for these positions knows each other. I myself am part of the Greek community and I feel like we need to do a better job branching out to the rest of the community that is not too familiar about what A.S. even does. The first step in changing any organization starts with the recruitment. As long as we have the same people running for these positions every year, they're going to be attracting the same people, which are their close friends and who they are around, so I think we need to really focus our attention on different organizations.
What would you like to change about SDSU?
I think we can make our ARC Express more modern and sustainable. There are a few gyms that use the kinetic energy of the people exercising to run the gym. I'm also really for bringing a new Aztec Recreation Center. One of the main ways it was marketed when I first took a tour was that it was the No. 1 gym in all of San Diego, but right before that I visited Cal Poly and Chico (State), other schools from the CSU whose facilities just blew me out of the water. Hopefully one day membership fees will be covered in your tuition. I feel like students pay a ridiculous amount in general.
The last thing I was thinking about is that if I'm elected I plan to challenge President Elliot Hirshman and Vice President Eric Rivera by pledging to give my total annual salary as A.S. President to Aztecs Rock Hunger, if they match it and give the same amount. I believe in servant leadership and I feel like this is the opportunity to do so. I know that a lot different students are struggling all over. Whether it's with homelessness or students that are (hungry) and don't know where they're going to get their next meal from.
How did you get involved with A.S.?
When I first set foot on campus I joined Phi Kappa Theta fraternity. I had the same stereotypical images of the Greek community as everybody else did. When I walked through their house it was something that I was forcing myself to do, because I kept hearing if you want to make the most of your experience you have to go Greek.
This house kind of stood out to me in particular because it really did have that diversity and didn't have that stereotype at all. I didn't really know what A.S. was. I just saw a bunch of people wearing collared shirts and thought I'd like to get involved, but didn't really know how. With the help of Sean Guardian (a former A.S. member) I finally ran for a position, Associated Students College of PSFA representative.
What do you like and dislike about A.S.?
I like the organization and the impact it has on our campus community. I believe that there's a lot of great friendly people running it and striving to do their best.
I don't really dislike anything about A.S. I would just say that I have a different personality than most people in that I'm never really satisfied and I'm just always looking for improvement and that's the difference that I'm bringing to the table. I feel like we can improve pretty much every single category.       
What are some of your accomplishments?
I've had several different leadership roles in different organizations. I was Phi Kappa Theta's former chapter president, I'm a part of Alpha Kappa Psi Professional Business Fraternity, and I'm in a wide range of different organizations on campus, including Rotaract. In addition to that I've been a part of three separate colleges: Arts and Letters, PSFA and the College of Business while I've been here. I've also branched out and lived with athletes during my time here and I feel like this position is supposed to be not just the face of an organization but also the voice of the student body and I feel like I have a creative, diverse blend in my background to be able to truly represent that.