SDSU softball's late rally not enough to beat Ohio State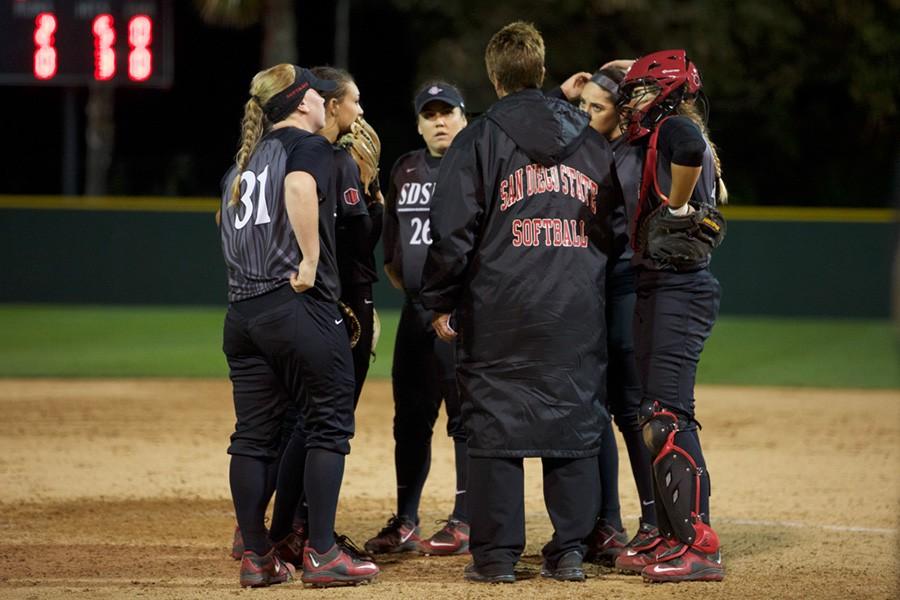 by Sydney Olmstead, Staff Writer
March 18, 2016
San Diego State softball left 13 runners on base in its 4-3 loss to Ohio State on Wednesday night. Each team had plenty of chances throughout the night to change the game, but combined to go 9 for 44 with runners on base and 2 for 24 with runners in scoring position.
The Buckeyes (12-6) took an early 2-0 lead in the first inning, when senior Cammi Prantl's triple allowed redshirt-senior Maddy McIntyre to score on a throwing error from SDSU. In the bottom of the inning, the Aztecs loaded the bases, but couldn't bring a run in.
SDSU got a run on the board in the second inning when junior Jaylene Ignacio scored on a groundout from senior Leia Ruiz, but the Aztecs still left behind three runners by the end of the inning.
OSU scored one run in the fourth and sixth innings, but also ended up leaving 11 runners on base by the end of the game.
The Aztecs rallied late in the seventh, starting with leadoff walks for both redshirt-freshman Katie Byrd and freshman Molly Sturdivant.
A pop-out down the right-field line from junior pinch-hitter Ashley Ercolano pushed Byrd to third base. A groundout from junior Sam Vlot moved Sturdivant to second. Ignacio then hit a ball hard off the glove of the OSU pitcher, bringing a run in.
Then, junior pinch-hitter Sydnee Cable hit an RBI single to the shortstop, making the score 4-3 before the inning was brought to a close by a groundout from senior Samantha Camello.
After leaving so many runners on base throughout the game, this rally was too little too late for the Aztecs.
"It's disappointing because we had plenty of opportunities and did not take advantage of them," head coach Kathy Van Wyk said. "We were trying to do too much. At the end we showed that you just gotta hit something on the ground and at least make them work for it a little bit. It was nice to see them battle to the end."
As SDSU approaches conference season play, Van Wyk feels it is important for the team to not get frustrated easily and to move forward feeling positive and confident with what they have accomplished up to this point.
The Aztecs (14-10) have five more tournament games over the next four days before starting conference play against UNLV next Thursday.