Meet the class of 2016: Clarice Mendoza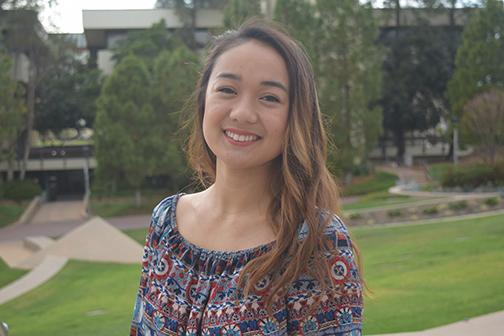 Hang on for a minute...we're trying to find some more stories you might like.
Biology senior Clarice Mendoza first picked up singing when she was a freshman as a stress reliever from studying science as a freshman.
"I'm a very kinetic person so I like to do things with my hands," Mendoza said. "Being on stage, you don't get to do that in biology. I'm sitting on a desk and looking at a textbook. It's just way to get out there and get moving."
Though she had no prior experience in a choir, Mendoza earned a spot in the campus a capella group SDSU Sunset Clefs. After a semester with the Clefs, she eventually earned a spot as the main beatboxer of the newly formed Sirens of State.
Mendoza worked herself up during her three years with the Sirens and led the group to success as president from fall 2014 to spring 2015.
The Sirens of State started in fall 2012 with eight members, about half the size of an average a capella group.
"Everyone had to be accountable," Mendoza said. "You couldn't skip rehearsal, and you expect someone to take your part because you're the only one on it."
When Mendoza took on the role as president, her main priority was improving the relationship between the Sirens and other a cappella groups on campus. When Mendoza first started in Sirens in 2012, the Sirens, Sunset Clefs and Preposterone had a falling out due to lack of communication with some of the singers splitting to start their own group.
"I don't want to see my friends and have everyone else behind me in my group see them as the enemy," she said.
Mendoza also had the task of leading eight new members who never sang a capella while half of the group left to focus more on school. It was initially tough to figure out how to mentor each of the new singers, but the fact they didn't know about the group's past made it easier for Mendoza to get them acquainted with the other groups.
The new talent eventually got the Sirens chosen to participate in the International Championship of Collegiate A Capella for the first time. ICCA wasn't a primary goal for Mendoza partly because the competition includes well established groups while the Sirens have been around for only three years. However, advisor Marian Liebowitz encouraged her to send an audition tape just to try the possibilities.
"I found out (Sirens were chosen) during my birthday week in Vegas," she said. "Luckily I was with my musical director (Ruby Frucendo) too so I (could) freak out with her."
After the group returned from winter break, the Sirens had two weeks to practice before the competition. Mendoza bumped up rehearsal time from two days of the week to all five weekdays with only day as a break.
The group made it up to the quarterfinals within the Southwest region.
Mendoza has left the Sirens during her last school year to to focus on her studies, but she still keeps in touch with the members in the group. She said she was glad to hear the current members go on a retreat with the other a capella groups on campus after the rocky past within the groups.
Mendoza plans to pursue her studies in plant genetics after she graduates from SDSU, but she hopes to keep the close bond she built with the singers in Sirens of State, past and present.