Vans global brand president comes to SDSU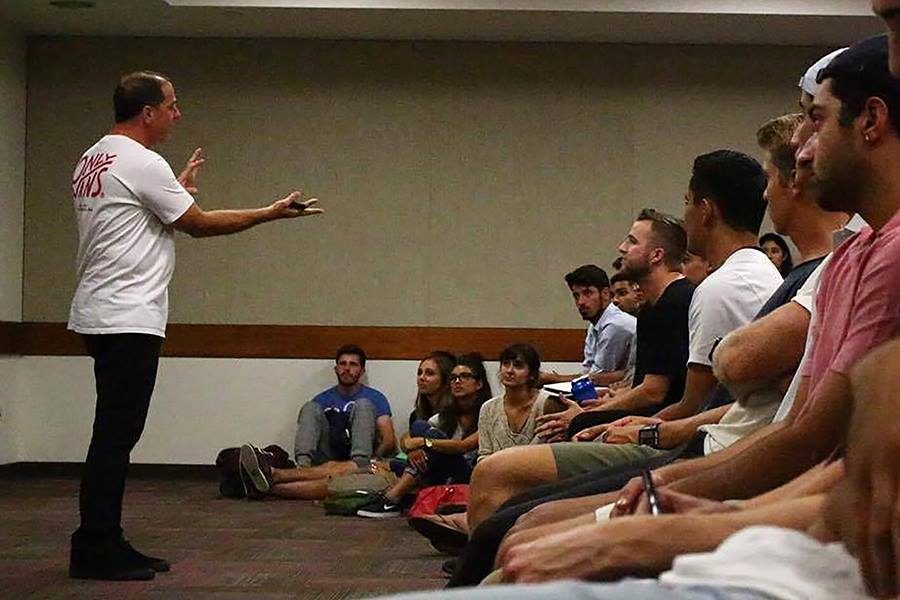 Global Brand President of Vans and San Diego State Alumni, Doug Palladini, returned to campus to talk about the key to a successful brand in the Conrad Prebys Aztec Student Union on Sept. 7.
The event was hosted by the Entrepreneur Society and attracted close to 200 students.
Junior and president of the Entrepreneur Society, David Shadi, said he took away two main messages from the discussion.
"One main point he hit was be relentless in your passion," Shadi said. "Another, is once you start your brand, the key aspect is branding loyalty, so people keep coming back to you, and then you have a connectivity aspect."
Throughout his speech, Palladini emphasized the importance of creative expression, emotional connection and storytelling.
"When you are creative and think about your career, you are following who you are as an individual," Palladini said. "Do whatever the heck you want, but make sure it's something you love because we spend a lot of time doing it."
Palladini graduated from SDSU with a major in journalism and a minor in sociology.
"Creativity is business," Palladini said. "We have to figure out what it means to us."
He said the words "off the wall" on the heel tabs of the shoe unlocked Vans' path to its creative expression. The phrase is about how someone views the world.
"It's about a state of mind," he said. "When you think off the wall, you see the world a little differently. When you skate down a road, you see it differently than people who walk to class."
Palladini highlighted the four pillars of Vans: art, music, action sports and street culture. Everything Vans does comes from one of those pillars, he said.
"Vans' mission is to be the global icon of creative expression in youth culture," he said.
Palladini joked that he knew he wasn't part of the youth culture anymore, but said he is still part of the Vans family because his state of mind is still with the youth culture.
He then stressed the importance of establishing an emotional connection with the consumers of a brand.
In order to build that connection, Vans has built skateparks it manages at its own expense, bought spaces and transformed them into a place that represents its four pillars .
Additionally, Vans has a custom culture project where high school art programs enter their best shoe design to a contest. The winner receives $50,000 for their art program.
"It's all about the experience," Palladini said. "It's all about proving to fans we are committed to these platforms that enable creative expression."
Junior economics major, Eden Cooper said he was surprised by the way Vans has grown.
"I never really knew Vans harnessed an emotional connection and built a brand through that," he said. "I think it was interesting how they really grew organically in that sense."
Palladini ended his presentation by talking about the significance of storytelling.
"My business card says 'Global President Vans,' but my job is to be the storyteller," he said.
Palladini said the connectivity of the cultures in their four pillars is the story of Vans.
"We are not a shoe company. We are a creative expression company that makes shoes," he said. "It's a fundamental difference. It allows you to be so much more."
Shadi said Vans is a brand all SDSU students can relate to, and that Palladini was able to give a the audience a lot to learn from.
"You have to think global," Palladini said."You can not do your job behind your desk. We need to be out here on campus at SDSU seeing what you guys are wearing, what's important to you and what kind of skateboards you're riding to class.
SDSU Entrepreneur Society will be hosting founders of Pura Vida, Griffin Thall and Paul Goodman, on Sept. 14 in the Park Boulevard in the Conrad Prebys Aztec Student Union from 7-9 p.m.