Marquis Campbell arrested again after SDSU incident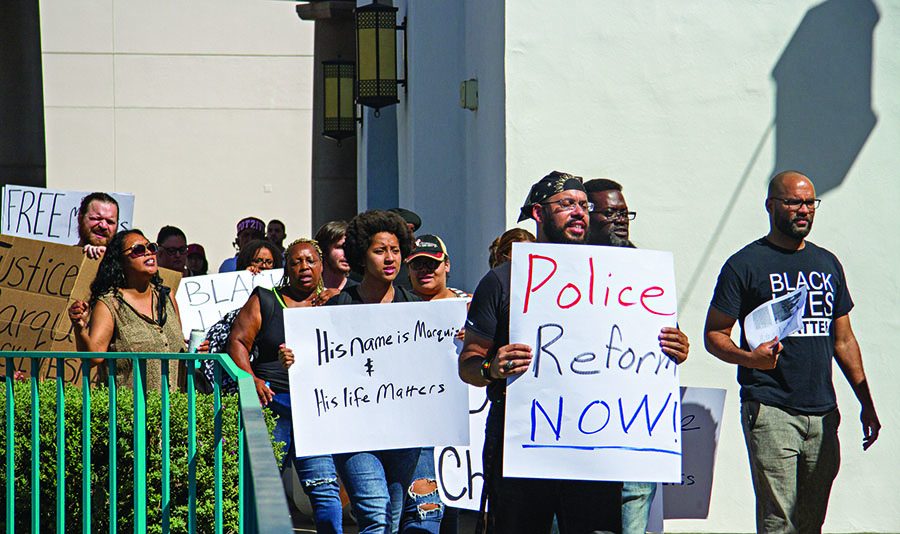 Updated on October 6, 2016, 12:16 PST
Marquis Campbell, whose Sept. 15 arrest at San Diego State sparked several campus demonstrations, was released on bail on Friday, Sept. 23. Three days later on Sept. 26, he was  arrested by the El Cajon Police Department.

Details of his most recent arrest are unclear, but Campbell is being charged with two misdemeanor counts of petty theft and six misdemeanor counts of resisting arrest, according to Barbara Medina, media specialist for the San Diego County District Attorney's Office.
These charges are in addition to the four misdemeanor counts of resisting arrest he was already charged with in relation to his Sept. 15 arrest at San Diego State Univeristy.
In El Cajon, he was charged with three counts of resisting an officer and three counts of resisting an executive officer. Before his El Cajon arrest, Campbell was charged with two counts of resisting an officer and two counts of resisting a San Diego State University Police Department executive officer.
Geography graduate student Lydia Wood said on-campus supporters raised money to bail Campbell out of jail.
"We all talked about how much money we could donate," she said. "We all pooled together."
Campbell was being held on $20,000 bail for the SDSU incident, the supporters raised $1,500 for a bail bond.
Campbell is, however, once again in jail.
At Campbell's readiness hearing for the SDSU case Friday, Sept. 30, Judge Kelly Mok said the bond money will be refunded.
"Bail was set at $20,000 for his new case when arraigned in El Cajon," Medina wrote in an e-mail. "Today, his previous bond on the SDSU case was exonerated and set at $25,000 and another $2,000 on his probation case."
It was confirmed at the readiness hearing that trial hearings for both the SDSU and El Cajon incidents will begin on Oct. 6.
Campbell's public defender, Pedro Garcia, had attempted to move the trial date for the El Cajon incident to Oct. 26, but was unsuccessful.
Although both cases will be tried on the same day, they will remain separate cases.
Medina said Campbell's maximum exposure is three years, six months on the new case, and two years on the prior case.
Perez said he knew little about the El Cajon case. He said he only received video evidence relating to that case the night before the readiness hearing. He said he was hopeful about the trial for the SDSU case, although he did express caution.
"I usually have certain feelings about trials, one way or the other, going in," Garcia said. "I am hopeful as to this one. That being said, it's always up to twelve members of the community to decide what the facts of the case are and what really happened. So am I hopeful? Yes. Can I say for sure, one way or the other? No."