International Coffee Hour allows students to showcase different cultures at SDSU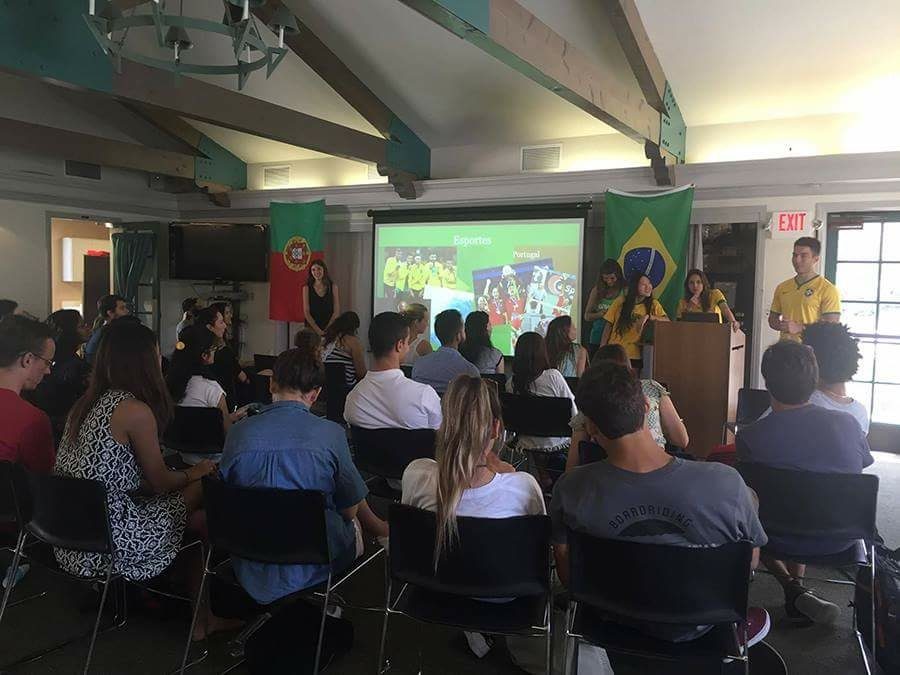 by Caitlynne Leary, Staff Writer
October 11, 2016
Every Friday from noon to 1 p.m., the International Student Center hosts International Coffee Hour where students present about their different countries and cultures.  
Laurelle McVicker, International Coffee Hour coordinator for ISC, said the program is a cultural display the students put on.
"It's a good promotion of peace and understanding and a way for students to learn about other cultures," McVicker said.  
While the event is open to the entire student body, the majority of those who attend are international students, McVicker said.
On average, between 70 to 130 students come to International Coffee Hour.  During these presentations, the students describe and show pictures of what life is like in their country– including sports, food, pastimes and tourist destinations.
"You never know what the students are going to present about," McVicker said. "Japan had a section on Japanese toilets, which was very interesting. It's always different."
Fernando Alejandre, a junior political science and anthropology double major, said the coffee hour is something to look forward to when going to work at the center on Fridays.
"Sometimes (the students) will do performances," he said. "Last week, when India came, they did a Bollywood style dance."
The presentations are typically put together by students, but the one on Oct. 7 was held by the department of Spanish and Portuguese Languages and Literatures. The department highlighted  its new minor in Portuguese and Brazilian studies, previously known as the minor in Portuguese.  
Professor Ricardo Vasconcelos said the revamped minor now focuses on more than just the language. The department added classes in cinema and culture and a third-year language requirement.
He also mentioned professor Cassia De Abreu, who plays a key role for students early on in their major or minor courses.
"Professor Cassia De Abreu does a great job on retaining students in the department," Vasconcelos said. "She keeps them on the pipeline to advance to the upper division courses."
Students who recently studied abroad in both Portugal and Brazil spoke about their experiences in the countries and urged others to take part in the study abroad programs.
They set up the two flags on either side of the projector screen and showed pictures of their travels. There were also pre-wrapped pastries for audience members.
It is not a requirement for students with the Portuguese and Brazilian studies minor to study abroad, but most students want to, Vasconcelos said.
Many students travel to Brazil, especially with the new program in Rio Grande do Sul in the South of Brazil, and Lisbon, Portugal over breaks or for an entire semester.
About 80 people attended the coffee hour for Brazil and Portugal.
McVicker said that these presentations have been a tradition at ISC for about 20 to 30 years. Other than International Peace Village, which takes place during International Education Week in November, they are the biggest events for the center.
The center is located north of Viejas Arena on Canyon Crest Drive in the same pavilion as the study abroad office and San Diego State's passport office.