Trigger warnings caution students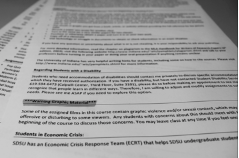 Some professors at San Diego State are printing warnings on their syllabi about potentially disturbing topics discussed in their courses.
Two years ago, the University of California, Santa Barbara student senate voted on a resolution that would require professors to include mandatory trigger warnings in classrooms,warning students of traumatic material that would cause emotional or physical stress.
Women's Resource Center Coordinator Jessica Nare said trigger warnings are beneficial to students.
"I think that trigger warnings can be really helpful for students who have experienced trauma," Nare said. "Advance notice that sensitive subjects will be discussed in class can really help to mediate the impact that these topics can have on students."
Junior journalism major Liza Stephanian said she agrees with Nare.
"I think it is a good idea to have trigger warnings," Stephanian said.  "I know some people who have unfortunately experienced rape and it is an extremely traumatizing experience. I think it is important to be sensitive to people who have gone through something so horrible and be courteous and considerate."
Nare shared the same sentiment and thinks improving the way students and teachers communicate would improve the overall student environment.
"As educators, I believe it is our job to create spaces where students can explore issues and think critically. It is difficult to have meaningful conversations when participants feel unsafe," Nare said. "I'd love to see us continue to facilitate conversations that are meaningful and impactful, without doing damage."
One of the biggest arguments against trigger warnings in the classroom is the theory they will stifle freedom of speech and the learning environment by default.
In 2016, a dean at the University of Chicago addressed the freshman class of 2020 in a letter that said the school does not support trigger warnings and that students will be encouraged to speak freely without censorship.
"I hear a lot of rhetoric about how trigger warnings can limit freedom of speech and thought. I don't, however, agree with this," Nare said. "I think it is important to recognize that we work with really diverse students on campus who have a range of experiences."
Nare also expressed that students are not the only benefactors of potential trigger warnings.
"Many folks on campus  have experienced trauma.," Nare said. "I think trigger warnings can create a culture of respect, where we honor the experiences of others. It doesn't have to come in an extreme "trigger warning" format. It is more about preparing folks to have conversations about topics that might be upsetting."
Stephanian said warning students about sensitive subjects is better than nothing.
"Chances are maybe most people would stay in the class if they would contribute to the discussion but it is nice to receive a warning or disclaimer so they at least have time to stay in that class, leave early, talk to the professor or what ever may be," Stephanian said. "I think we owe it to them to have that kind of protection."
Angie Peralta, communication junior said it is upsetting that sexual assault is such a problem that there needs to be warnings when those topics are discussed in class.
"I think it's nencessary for victims of sexual assault that may be suffering from PTSD to have a warning," Peralta said. "I feel like it would make people feel safer."