Marquis Campbell convicted of drug charge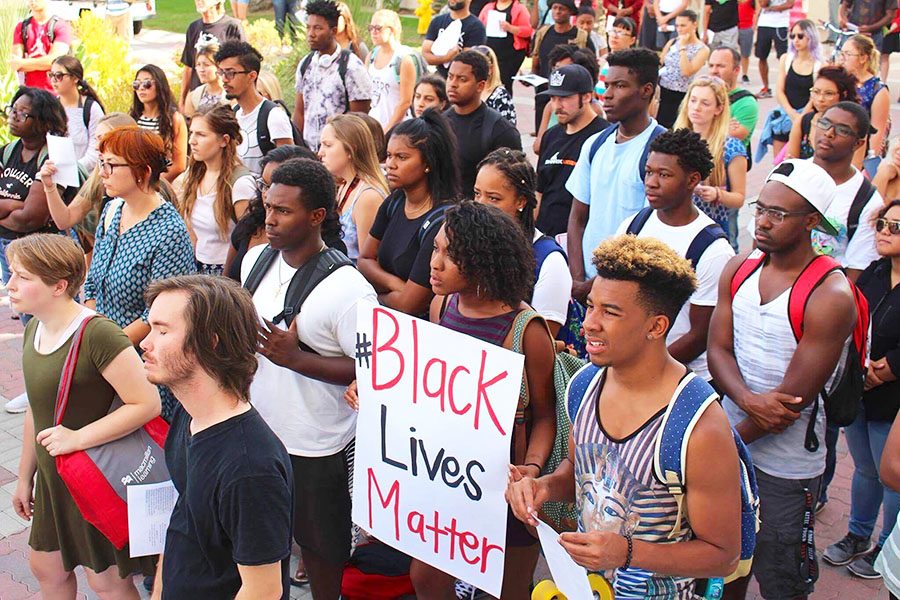 by Will Fritz, Senior Staff Writer
October 19, 2016
A jury found Marquis Campbell guilty of being under the influence of a controlled substance during his Sept. 15 arrest at San Diego State, but deadlocked on his four remaining charges of resisting arrest.
Jurors reached their decision late on Friday, Oct. 14, Judge Yvonne E. Campos said in a status conference on the morning of Monday, Oct. 17.
The jury was deadlocked 11-1 in favor of conviction for the two charges of resisting an officer and 9-3 in favor of acquittal for the two charges of resisting an executive officer, media specialist for the San Diego County District Attorney's office Barbara Medina said.
He was initially only charged with resisting arrest, but the San Diego County District Attorney's office filed an amended complaint on Thursday, Oct. 6 with an additional misdemeanor charge of being under the influence of a controlled substance, specifically methamphetamine. A toxicology report showed Campbell had 118 nanograms of methamphetamine per milliliter in his system.
Campbell was on probation at the time of his SDSU arrest, and so was found in violation of his probation as a result of being found guilty of being under the influence.
Resisting an officer is less of a charge than resisting an executive officer. Campbell could not have been convicted of both because it would have meant charging him twice for the same offense.
Judge Campos declared a mistrial on the resisting arrest charges and continued the case until 9 a.m. on Friday Oct. 21.
Campbell, 20, is also still awaiting trial for a separate incident in which he was arrested by the El Cajon Police Department for petty theft and resisting arrest on Monday, Sept. 26. 
Sentencing for his charge of being under the influence will be postponed to follow the resolution of the El Cajon case."
The deputy public defender representing Campbell, Pedro Garcia, said on Monday the defense would attempt to reach a settlement with the prosecution.
"We are negotiating, because they have the option of re-trying the other four charges, and they are indicating that they want to," Garcia said. "Because of that, we are negotiating and seeing if we can get some sort of resolution to not only this case, but [also] the trailing case."
Garcia said he hopes on Friday they will be able to present to the court a resolution beneficial to everyone.
Campbell was arrested last month on campus for appearing to be under the influence of narcotics after he was reported for trespassing in the Cal Coast Open Air Theatre, SDSU Interim Chief of Police Joshua Mays said.
His arrest, which was filmed and posted online, started protests on campus as some considered it an example of police brutality.
Bridget Weisz, a graduate bar clerk working on Campbell's defense team, argued in the defense's opening statement that Campbell was distraught on the day of his arrest, as he had recently become homeless.
She said Campbell, a non-SDSU student, decided he needed to take a walk through SDSU's open campus.
He did not want to talk to anyone and "decided he needed to keep moving" when confronted for trespassing in the Open Air Theatre, which he entered through an unlocked gate.
Eric Sanchez, a building technician for Aztec Shops, said he was passing the Open Air Theatre on a golf cart when he noticed Campbell entering through the unlocked gate.
Sanchez said he thought Campbell was lost so he approached him and told him to stop.
He said Campbell's face was covered in mucus and snot when Campbell turned to face him.
"He appeared to be high on drugs, definitely disoriented," Sanchez said.
His interaction with Campbell concerned him, and led him to call campus police.
Nancy Craig, a security guard for Elite Services who was working at the open air theatre on Sept. 15, said she asked Campbell to come out of the gate after hearing Sanchez tell Campbell to stop.
"I was a little concerned because he didn't seem quite normal," she said. "I mean, it was either like he was on something or he had a medical condition."
Craig said Campbell was "kind of fidgety" and that he "kept repeating" he was not there to hurt anyone, but was just looking around.
"Then he took off and he ran around me and he went over towards the Starbucks," she said.
Craig said she followed him to the Conrad Prebys Aztec Student Union Starbucks, where she saw him walk up the stairs. She said he made no threatening moves and was not hurting anyone during her interaction with him.
Campbell was standing near Starbucks for approximately 15 minutes before SDSUPD officers made contact with him.
Timothy Ripke, interim director of Viejas Arena and the Open Air Theatre, said he saw Campbell trespassing in the theatre on a security camera recording, although he said he did not actually witness him trespassing in person.
Ripke also said he saw two police officers attempting to negotiate with Campbell, but did not witness the physical altercation itself because he turned his attention to prevent the growing crowd from "injecting themselves into the situation."
SDSUPD officer Jason Sieckman, who responded to the call about Campbell, testified he has had contact with individuals he believed to be high on methamphetamine "100 to 200 times" in his 14-year career as a police officer, and believed Campbell was under the influence of methamphetamine when he was arrested.
He also said Campbell was agitated and had an elevated heart rate and rapid eyelid flutter when he was being detained by police, all of which led him to believe Campbell was under the influence.
However, when questioned by Garcia, Sieckman said it was possible these symptoms were related to the physical altercation that had just occurred, rather than the small amount of methamphetamine in Campbell's system.
On an audio recording of Campbell's arrest from a police body recording device, Sieckman can be heard first asking Campbell to sit down, then ordering him to do so, before Campbell was tackled by officers when he tried to turn away.
Civil engineering sophomore Verne Patrick told jurors he was on his way to the student union when he saw officers confronting Campbell.
Patrick was the only witness for the defense; the rest were all witnesses for the prosecution. He filmed the video of Campbell's arrest that was posted online and led to protests on campus against police later that day.
"I pulled out my phone and I started taking a video recording of whatever was taking place," Patrick said. "Then I saw the police officers talking to Mr. Campbell and I proceeded to see police officers just asking him questions and then moving on to tackling him to the ground and skipping the whole detaining process.
"And while I was witnessing this, I was questioning what was going on in my head and it just didn't seem right."
Campbell can be heard in the video telling officers he had done nothing wrong.
In the prosecution's closing argument, Hagstrom said officers could have responded to Campbell with much more force than they did by wrestling him to the ground.
"I don't think that's the bar we should set," Garcia said in response during the defense's closing argument. "I don't think we should sit here and say, 'Well, at least they didn't shoot him. At least they didn't beat him. They just took him hard to the ground, that's it.' That's not the bar we should be happy with. Too much force was used here."