SDSU installs portable charging stations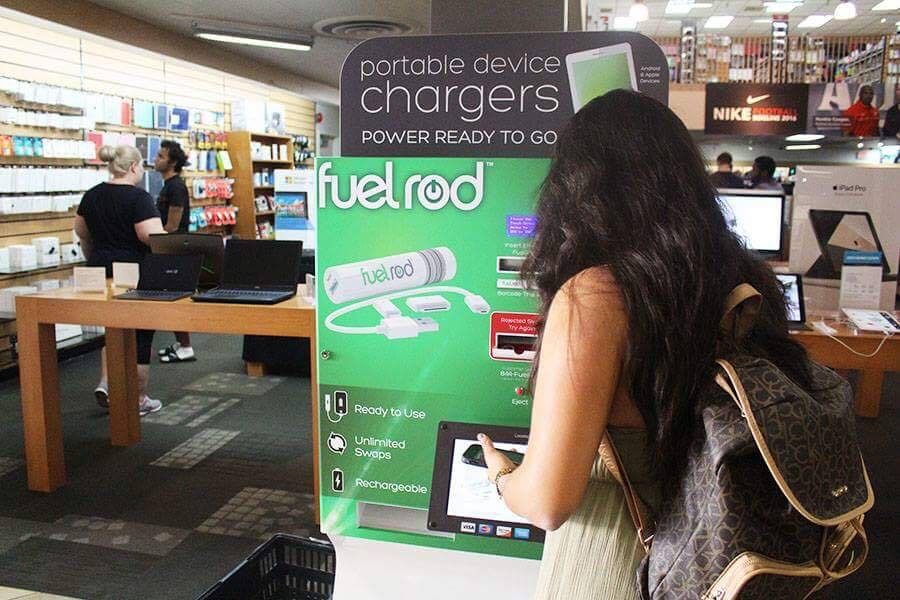 by Will Fritz, Senior Staff Writer
October 31, 2016
Three FuelRod SwapBox kiosks have been installed at various locations throughout campus since the Spring 2016 semester.
The kiosks are located in The Garden dining hall at Cuicacalli Suites, University Towers Kitchen and the SDSU Bookstore.. Additional kiosks are located in some Westfield malls, the San Diego Convention Center and the San Diego International Airport, as reported in  a FuelRod press release.
The SwapBoxes sell FuelRod portable chargers, which come with adapters for both Android and Apple devices.
The portable chargers can be re-charged in a standard wall outlet by the user, or swapped out at any FuelRod SwapBox kiosk for another identical, fully-charged FuelRod.
Greg Hall, a senior political science major who works at the SDSU Bookstore, said the kiosk in the bookstore was installed during the Spring 2016 semester.
"It's nice that you're able to return it when it's low on battery and just get a new one," Hall said. "They're really cool. It's convenient, because you don't have to worry about charging it. When it's out of battery, you just come into the bookstore, pop it in (and) take one out."
However, Hall said many students entering the bookstore do not notice the kiosks, and are not aware of what they are.
Freshman English major Cassidy Stokes said she is one of those people.
"Didn't know what it was, and I didn't care," she said. "You could just charge your phone, and then you don't need a portable charger that costs money."
Criminal justice freshman Hamdy Masri said the cost of the FuelRods was too high for them to be worth purchasing.
"My phone has pretty good battery, and I'm not paying $20," he said.
On the other hand, business management junior Antwane Collier thought a $20 FuelRod would be a good investment.
"I think it's a good idea because there are a lot of people walking around with phones and sometimes if you have to charge them up, and if it's convenient where you can just turn it in, you don't have to worry about the time of charging it." Collier said. "I think it would eliminate a lot of time that's needed."
Collier, too, has not previously noticed the FuelRod kiosks around campus.
"I think more advertisement would be better," he said.
Whether students notice them or not, FuelRod is expanding its kiosks to locations across the country.
The kiosks are mainly located in the San Diego area, but they are also scattered located in the Sacramento International Airport and the Sheraton Philadelphia Downtown Hotel, according to the company's website.