District 9 candidates debate at State and discuss affordable housing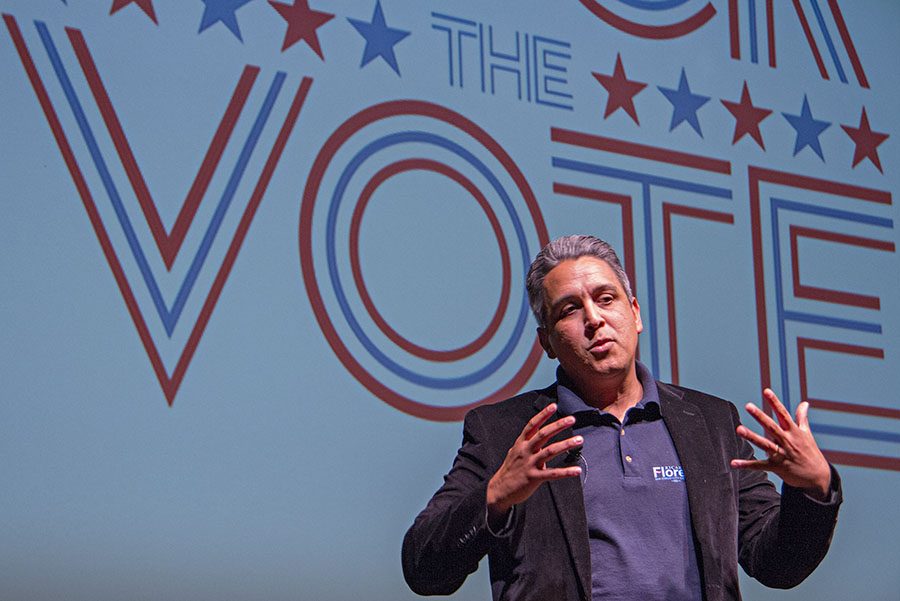 by Will Fritz, Senior Staff Writer
November 2, 2016
San Diego City Council District 9 candidates Ricardo Flores and Georgette Gomez faced each other in a town hall debate at the Conrad Prebys Aztec Student Union Theatre at San Diego State on Oct. 24.
Flores is chief of staff to current District 9, Council President Pro Tem Marti Emerald. Gomez, who has the endorsement of the San Diego County Democratic Party, is a community organizer.
Both candidates discussed the Community Assisted Party Program (CAPP), "mini-dorms" and affordable housing.
They also discussed two ordinances the city council will be voting on at its Nov. 14 meeting.
One ordinance, the College Area Community Character Preservation Ordinance, would limit houses with lot sizes less than 10,000-square-feet to five bedrooms, with bedrooms being limited to 60 percent of total floor space.
The other, the Increased Code Enforcement Civil Penalties Ordinance, would raise the maximum fine per violation from $2,500 to $10,000 per violation. It would also allow the fine for a structure to range from $250,000 to $400,000 per day.
According to collegearea.org, in order to be cited under CAPP, a dwelling must be reported for a noise violation twice in one month, receive a citation for a minor in possession of alcohol, receive a "keg violation" citation, or be reported by neighbors for a recurring problem and investigated by police.
Although the vote on both ordinances will take place before either candidate is sworn in, students at the debate wanted to know whether the candidates would support the continuation of these ordinances once in office.
These two ordinances are a response to complaints from non-student residents of the College Area, many of whom have said "mini-dorms" and partying are  negatively impacting the community.
"Mini-dorms," as reported in the City of San Diego website, are "single-dwelling units occupied by multiple adults."
CBS San Diego reported in April that of  the approximately 4,000 homes in the College Area, 813 are considered "mini-dorms."
Gomez addressed the conflict between "mini-dorm" residents in her opening remarks.
"There's a lot of opportunities we have here in the community to really develop for you, but also for the neighborhood, ensuring that there's a healthy bridge between the residents in the community and also the students," Gomez said.
Flores said the new "mini-dorm" restrictions would help students and asked the crowd if anyone knew people who were sleeping on couches.
"That's illegal, and that's what we're preventing," Flores said. "You cannot have people living in a garage. You cannot have people paying rent to live on a couch. What we're merely saying is we're protecting individuals. If you're going to pay rent, you should have a room."
He said the purpose of the regulations is to maintain the suburban nature of the College Area.
"What's happening is homes are being purchased and being developed and being chopped up, the living rooms are being changed, in some cases being eliminated, and we're trying to at least keep some of the character of these communities," he said.
Both candidates advocated rezoning areas like El Cajon Boulevard and Montezuma Road, for higher density developments, such as apartment complexes, to prevent the proliferation of students into residential neighborhoods.
College Area resident Daryll Peña said this concerned him.
"When San Diego State's in session, we can't handle the traffic jam as we have now," Peña  said. "Now, you bring in that density of additional multi-family units, our community can't handle that."
Gomez said one of the issues is the growth of the university.
"That's an actual issue that we need to start talking about and we need to get ahead of it because it's bleeding into the community," she said.
Gomez said she considered the ordinances a step forward, although she said she was uncertain of its future effects.
"Is it going to be supporting the community? Is it going to be supporting the students? I'm not sure," She said. "But I want to make sure that we're moving forward implementing it, and seeing if it works. And if it doesn't, let's bring it back to the table."
Gomez said the city has to react to the concerns of the residents, but that she understood the feelings of students.
However, Gomez said students need to focus on the cause of the fine increases, rather than the fines themselves.
"If you're not violating something, you're not going to get fined," she said.
Flores, echoing previous statements from Council President Marti Emerald, said he agreed with Gomez on this issue.
"I think Georgette's right in a lot of ways," he said. "If you're focusing on the fine, why don't you focus on the behavior first? I think if you don't want the fines, don't party, honestly."
Business management senior Scott Semel disagreed with this.
"I know a lot of residents of the College Area, I'm a resident of the College Area myself," Semel said. "And I know personal friends who have been placed onto the CAPP program or given noise violations for something as simple as having five guys over."
Semel said he thinks issues like these should be addressed between neighbors, rather than having the police called.
He said he is undecided as to which candidate he will be voting for because he believes neither have addressed these issues adequately.
Gomez said although students may feel there are few differences between her and Flores, her experience as a community organizer would be a big change from Flores' experience working for a current city councilmember.
"He's been an insider," she said. "He's been working city hall for a very long time. This race is about the status quo versus change, so that's the difference."
Flores's campaign manager said he was unavailable to be interviewed after the debate.
Andrew Dyer, Opinion Editor, contributed to this article.