Aztecs topple CSUSM in final dress rehearsal, 80-42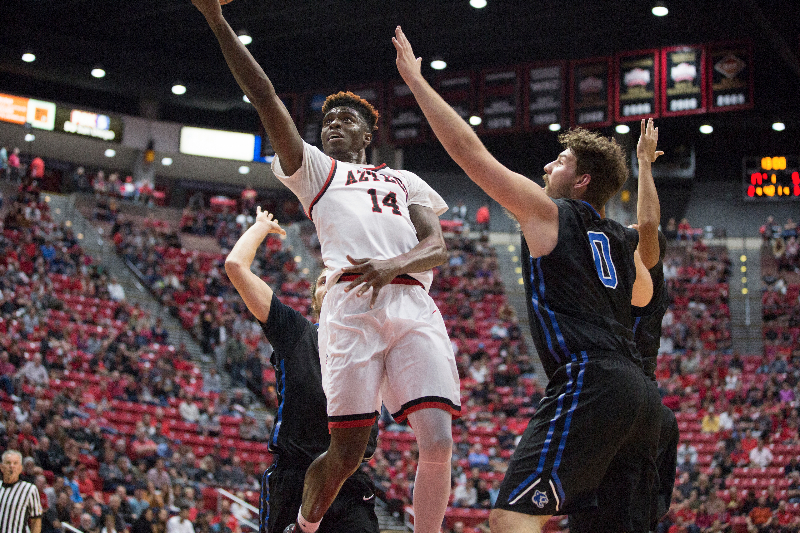 by Anthony Reclusado, Sports Editor
November 7, 2016
On the eve of one of the most contentious elections in modern history, the roughly 9,000 fans that occupied Viejas Arena were given a 40-minute breather of certainty from the months of presidential campaigning that was riddled with doubt.
The San Diego State men's basketball team handily beat California State University, San Marcos to the tune of 80-42 Monday night.
While the first exhibition against UC San Diego raised eyebrows for a porous defensive effort, as the Tritons shot 47.3 percent, SDSU assured the crowd it was an anomaly. From the get-go, the Aztecs stuck to their man, fought through screens and used their superior length to alter shots at the rim and forced shooters out of rhythm.
"That's what we really expect to happen when we play defense and that's something we work for to hold an opponent under a certain percentage," sophomore guard Jeremy Hemsley said.
The specific percentage wasn't discuss, but the Cougars 20.6 percent shooting was perhaps better than even Hemsley knew. CSUSM shot 14-for-68  from the floor and couldn't crack the defensive puzzle of head coach Steve Fisher.
SDSU was also able to force 22 turnovers, brought down 36 defensive rebounds and allowed 10 points in the paint.
The superior defensive effort was highlighted, as the Aztecs were once again without three frontcourt players. Fifth-year transfer center Valentine Izundu, who is battling an ankle injury, sophomore forward Max Hoetzel and junior forward Malik Pope, who suited up but did not play, were relegated to the bench for the second straight game.
"I'm not sure what Malik did," Fisher said. "He was warming up and feeling, then all of a sudden his knee started to bother him. He saw two doctors and our head trainer and decided not to play him."
"We erred on the side of caution."
The absence of the three big men led to an obvious hole for the Aztecs in the paint on the offensive end and the numbers reflected it.
SDSU took 29 3-pointers and struggled to control the offensive glass and put up second-chance points.
But the deficiencies the three frontcourt players left were made up by a more fluid Aztec offense, led by junior guard Trey Kell, who had a team-high 18 points and seven assists in 26 minutes.
"Trey played like Trey was suppose to play: smart," Fisher said. "He made every one a little bit better and that is what he is going to have to do for every game that we play."
The men from the Mesa dished out 19 assists, 11 in the first half, which was more than the team's 10.7 average of last season. That number should only rise as they bring in an all-around scorer in Pope and Valentine, who will be a big body on the low block.
Hemsley followed up last Friday's solid performance with another stellar outing. The Rancho Cucamonga native finished with 13 points on 5 of 9 shooting, including 2 of 4 from beyond the arc.
True freshman Jalen McDaniels built upon the last exhibition, where he scored two points, and gave fans in attendance something to look forward to. He finished with 13 points and five rebounds.
However, no dress rehearsal is without its kinks, and sometimes wrenches thrown into the mix.
The most notable was the loss of senior forward Matt Shrigley, who injured his right ankle after attempting to collect a rebound. He was immediately taken to the locker room and was unable to return to the court.
"Matt Shrigley's ankle is a pretty significant sprain," Fisher said. "He will see a doctor tomorrow."
Shrigley battled back from a torn ACL injury last offseason and didn't make his debut until January 2016.
The new additions for the Aztecs also struggled in their second outing in an SDSU uniform.
Sophomore transfer guard Montaque "Teki" Gill-Caesar, who was brought in as a scorer and natural shooter, finished the night 5-for-14 from the field and 1-for-7 from beyond the arc. Redshirt freshman Nolan Narain similarly struggled to find his stroke and finished 2-for-6 from the floor – he is now 3-for-11 combined in the two exhibition games.
While not a presence scoring, Narain grabbed a team-high 12 rebounds.
SDSU also went 12-20 from the free throw line. Hemsley was the main culprit for the poor night, as he went 1-for-5 from the field.
But the sophomore guard and the new additions, as well as the rest of the team, will need to pick up their play as they head into the regular season this Friday against the University of San Diego with limited bodies.
The severity of Shrigley's injury is unknown, Pope will need time to reacclimate to game speed and Hoetzel will continue to miss time. Izundu has the best possibility of playing Friday, but has yet to play a a single minute in the red and black.
"(Izundu) told me he was going to give me time on Friday," Fisher said. "So that is what we are building. His ankle still has significant sweeping, but is a little bit better everyday. So I would anticipate that he would be able to play a little bit on Friday."
Friday's match against USD will tip-off at 8 p.m. in Viejas Arena.