Aztecs drop the ball against the Bulldogs, 69-48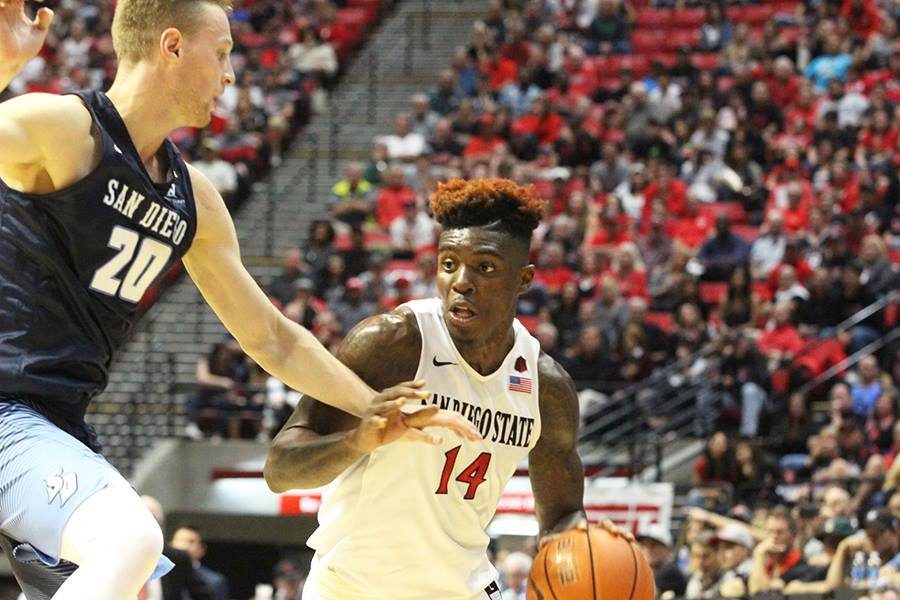 by Anthony Reclusado, Sports Editor
November 15, 2016
Almost 6 years to the day, a nationally unknown San Diego State men's basketball team busted onto the national stage with a road win over No. 11-ranked Gonzaga University. Those Aztecs ultimately went 34-3 and made the program's first Sweet 16 appearance.
Fast-forward to tonight and SDSU found itself in a similar position to re-legitimize themselves, after missing the NCAA tournament last year, as they returned to Spokane, Wash. However, the Aztecs couldn't muzzle the Bulldogs twice and were chased out of "The Kennel," as No. 14 Gonzaga dominated an underman SDSU squad, 69-48.
After a 3:33 minute stretch to begin the match without a single point highlighted on the scoreboard, SDSU ran out to a 6-2 lead in less than a minute. However, after three easy layups in the paint, Gonzaga switched to a 2-3 zone and the Aztecs' porous shooting night began.
With length that rivals any Aztec squad under head coach Steve Fisher, the Bulldogs closed driving and interior passing lanes. But that didn't mean SDSU didn't try its luck.
The Aztecs shot 16-for-56, including 5-for-21 on 3-pointers, and had 15 turnovers.
Sophomore guard Jeremy Hemsley and junior guard Trey Kell, who combined for 48 points against University of San Diego, finished with 28 points on 9 of 29 shooting and had seven turnovers between them.
The guard duo, and the rest of the team, showed flashbacks to last season's squad that made routine stretches of scoring droughts. The Bulldogs held SDSU without a field goal for six-minutes to end the half on an 11-4 run.
Gonzaga took a 36-21 lead into halftime.
The second half was more of the same for SDSU, as it continued to struggle to find a rhythm against the 2-3 zone of the Bulldogs. Defensively, the Aztecs had to contend with Gonzaga's senior transfer guard Jordan Mathews, who started his second half with three straight 3-pointers.
His scoring outburst ended any thoughts of an SDSU run, which cut the lead to 10 to begin the second frame. The big men of the Bulldogs also had easy work against an undersized frontcourt of the Aztecs.
Senior transfer center Valentine Izundu and sophomore forward Zylan Cheatham struggled to contain the 7-footers of Gonzaga. The 7-foot-1 center from Poland, senior Przemek Karnowski, and 7-foot freshman forward Zach Collins combined for 23 points on 10 of 14 shooting, with most of their damage coming in the second half.
Despite being undersized on the front lines, the Aztecs were only out rebounded 45-40.
In that solidifying match 6 years ago, the Aztecs bench outscored the Bulldogs 22-9, however, with a short list of reserves, SDSU tallied nine points. That is compared to the 28 points Gonzaga's squad were able to muster.
Transfer sophomore guard Montaque "Teki" Gill-Caesar had six points off the bench, but he finished with another underwhelming shooting night. To go along with his 1-for-6 night against USD, Teki fired at a clip of 2-for-7, including 1-for-4 from beyond the arc.
Junior forward Malik Pope once again did not play due to a knee injury that has sidelined him for both regular and exhibition games.
Senior forward Matt Shrigley, who left last week's exhibition match against California State University San Marcos with a "severe" ankle sprain, totaled 14 minutes, but only contributed three rebounds.
SDSU returns to the court against San Diego Christian College this Wednesday in Viejas Arena at 7 p.m.