Faculty and staff express support for student imprisoned in Iran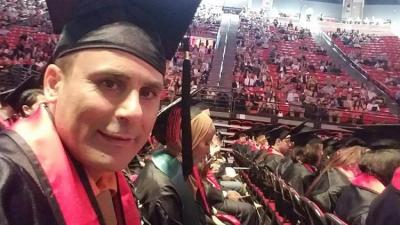 by Will Fritz, Senior Staff Writer
November 16, 2016
Faculty and staff at San Diego State signed a letter affirming support for SDSU graduate Gholamrez "Robin" Shahini, although a friend of Shahini's, Sevil Suleymani, said she was unhappy university administration had not previously stated their support for him.
Shahini is a dual Iranian-American citizen and a 2016 international security and conflict resolution graduate of SDSU. He was arrested in Iran in July and sentenced to 18 years in prison by an Iranian judge on charges relating to espionage, collaboration with a hostile government and blasphemy on Oct. 22.
Sevil Suleymani, who is an SDSU student, said she has not heard from Shahini since he left her a voicemail from prison after he was sentenced.
In the voicemail, he said he would go on a hunger strike to facilitate his release from prison.
The letter of support for Shahini was the idea of political science professor Madeline Baer, who previously taught him.
"Robin's detention and harsh sentence are of great concern to members of our campus community, particularly the students and faculty who have shared a classroom with him," the letter read.
Shahini took classes in ISCOR, Political Science, Women's Studies, and Religious Studies while at SDS
The letter also stated concern for Shahini's health because he suffers from asthma that requires medication. 
"The purpose of the letter is in part spread the word about Robin to faculty and staff that maybe aren't aware, of what's going on and to give them an opportunity to learn about it and to show their support," Baer said.
She said the letter was  supposed to  bring attention to Shahini's situation.
Baer said in the past, this kind of awareness has helped  speed up the release of dual-national citizens imprisoned abroad like Shahini.
"My understanding is that their release has come, in pretty much every case, in part as the result of pressure," Baer said. "My goal is to show support and show it publicly because we know that in the [cases where] other dual nationals have been released, they did have a lot of public support."
Baer said by Friday, Nov. 4, the letter had received 78 signatures in four days.
Suleymani said she was happy  Baer and other faculty were supporting Shahini, but was critical of campus administrators, including President Hirshman, for not commenting on Shahini's situation.
"This is the first support we are getting from the university, because (the) President's office did not release anything," Suleymani said.
She called administration's response to Shahini's imprisonment very disappointing.
"At least they can comment on it," Suleymani said. "Robin was a student, and he graduated from here and was going to do his master's here, so he's one of our community members at SDSU."
Shahini planned to attend graduate school at SDSU in the Fall 2016 semester.
Suleymani said Shahini hoped to eventually work for a non-profit to promote peace in the Middle East. She said he was a very recognizable student.
"If he had a class with any of the professors, for sure they remember him," she said. "He was kind of the black sheep of the class. No  way to forget him, with his questions and active(ly) participating in class and getting involved in a lot of discussions."
Dr. G. Allen Greb, the program advisor and coordinator for the international security and conflict resolution major, confirmed this.
"He was always in my office," he said. "We were always talking about international issues, whether they related to the middle east and Iran or other parts of the world. So he was an excellent student."
Greb, who signed the letter and assisted Baer in formulating it, said it was "devastating" when he learned Shahini was arrested.
"Many of us had advised him not to go back," he said. "That doesn't negate the fact that all of these charges are, as far as I'm concerned false, and we're hoping that the government comes to its senses."
"Whatever behind-the-scenes negotiations might be going on, get him released sooner rather than later, so he can continue with his life."
Suleymani said she thinks President Hirshman should have made a clear declaration of solidarity with Shahini.
"At least I was thinking SDSU, as a liberal university, can involve or give a statement, or comment on it, but unfortunately they didn't," she said.
SDSU Chief Communications Officer Greg Block said the university is "very concerned" about Shahini's welfare.
"We appreciate the efforts of the State Department to secure his release and we stand ready to support the State Department's efforts in any way we can," Block said in an email.