SDSU student believed to be detained in Iran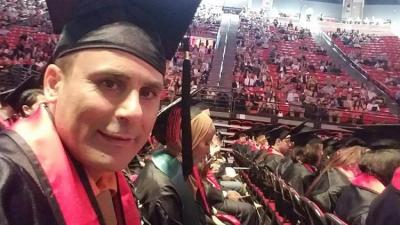 by Will Fritz, Senior Staff Writer
September 8, 2016
San Diego State graduate Gholamrez "Reza" Shahini, also known as "Robin," has been held in Iran for more than a month after his July 11 arrest in his hometown of Gorgan, Iran, according to his friend Denera Ragoonanan.
Shahini, 46, traveled to Gorgan, Iran to visit family including his mother, who has medical issues.
Shahini was born in Iran and spent time in Germany in the late 1990s, before moving to the United States in 2000. According to his classmate Sevil Suleymani, he has been a U.S. citizen since 2009.
At SDSU, Shahini studied International Security and Conflict Resolution. He graduated in May, leaving for Iran shortly thereafter.
He purchased a plane ticket to return home July 25. He was set to begin studying for a master's degree in Homeland Security at SDSU for the fall 2016 semester.
According to Suleymani, he was supposed to send her some documents so she could help him register for classes, but he could not send them because of his arrest.
"I was waiting for his text, which I never received," Suleymani said in a phone interview. "After five days I was so worried so I connected with his family, and they told me he had been taken."
Ragoonanan met Shahini when he was a student in Istanbul and she was a researcher.
"Authorities said they needed to speak to him, but they didn't have any discernible reason to," Ragoonanan said. "They said they needed to explain a few things to him, and then they never brought him back."
Both Ragoonanan and Suleymani said his arrest could be due to his activism online. Shahini's English social media accounts appear to have been taken down, but his Facebook page in the Farsi language was still up as of Aug. 18.
Both also speculate that the Iranian government has forced Shahini to take down his social media accounts.
Suleymani said he was arrested by the Islamic Revolutionary Guard Corps, a paramilitary organization in Iran that is tasked with maintaining internal security but controls many other aspects of Iranian life.
According to the New York Times, the IRGC was seen by many analysts as having rigged the 2009 re-election of Iranian then-President Mahmoud Ahmadinejad in a military coup of sorts. Ahmadinejad is a former IRGC member. The controversy surrounding the elections sparked a number of protests against the Iranian government, which the IRGC attempted to suppress.
Shahini was visiting family in Iran in 2009 and participated in some of these protests.
The International Campaign for Human Rights in Iran says that an informed source who requested anonymity reported that Shahini is being charged with acting against national security participating in protest gatherings in 2009, collaborating with Voice of America television and insulting the sacred on Facebook.
In addition to participating in the 2009 protests, he gave an interview to Voice of America, according to Ragoonanan.
Voice of America is a multimedia broadcast funded by the U.S. Government that broadcasts accurate, balanced and comprehensive news and information to an international audience. It is directed at non-U.S. audiences and is sometimes seen as an American propaganda tool.
The anonymous source said Shahini's lawyer has not been allowed to review the evidence against him.
On Aug. 16, a State Department official said that the safety and security of U.S. citizens remains their top priority. The same official also said the department is aware of reports of a U.S. citizen detained in Iran, but cannot comment any further due to privacy reasons.
Suleymani said she contacted the State Department and wrote a letter to Secretary of State John Kerry, and received similar responses.
"I'm not getting anything from them," she said. "Sometimes they don't even answer my calls."
SDSU officials declined to comment. The Interests Section of the Islamic Republic of Iran in Washington, DC. and the Iranian Foreign Ministry failed to respond to requests for comment.