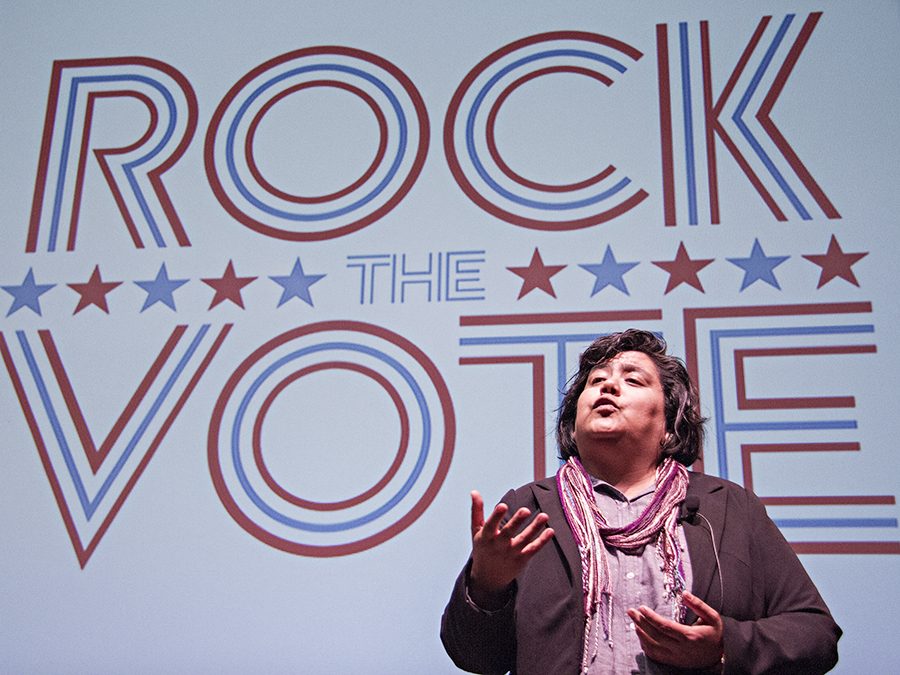 Andrew Dyer
District 9 Councilmember Georgette Gomez, who will represent San Diego State and the College Area, and other San Diego city elected officials were sworn into office in a ceremony at the Balboa Theater downtown on Monday, Dec. 12.
Councilmembers Barbara Bry and Chris Ward, as well as City Attorney Mara Elliot were inaugurated for the first time. Mayor Kevin Faulconer and Councilmen Mark Kersey and Scott Sherman were sworn in for their second terms.
Gomez replaced District 9 Councilwoman Marti Emerald, whose chief of staff, Ricardo Flores, was Gomez's opponent in the race for the District 9 council seat.
In her inaugural speech, Gomez thanked Emerald for her help in the changeover between the two officials.
"You have been a professional in teaching my team and ensuring we have a smooth transition and ensuring the residents of District 9 have the best representation they deserve," she said.
Gomez, the district's first LGBTQ and Latina council member, had her oath of office administered by Isabel Sanchez, the wife of the late Ramon "Chunky" Sanchez, a leader and musician in San Diego's Chicano community.
"Asi sea," Isabel Sanchez said to conclude Gomez's oath of office. The phrase is Spanish for "so be it."
Gomez, who during her campaign said the city government's priorities were "big downtown special interests" rather than neighborhoods, announced she would be opening the first-ever city council district office. She also said she would continue to make an effort to connect and communicate with her constituents.
"Although the campaign might be over, my staff, they might not know this, but they're going to be continuing going door-to-door and connecting with the community to ensure that they have a strong listening ear," she said. "And they're given direction of the issues that we need to tackle."
Gomez named a number of issues she would tackle as councilwoman, including infrastructure improvement, trust between neighborhoods and police, climate change, affordable housing and poverty.
"We need city leaders to understand that it's important and it's not acceptable that one in six San Diegans live in poverty," she said. "The city's economic development plan should help lift people out of poverty by creating well-paying jobs."
Gomez said our neighbors deserve better and city hall needs to start listening.
SDSU political science senior Christopher Vallejo and Gomez campaign worker said it was surreal to see her on stage with the mayor and the other council members.
"It was really rewarding to finally see her up there, you know, defying all of the odds, going against the status quo, going against career politicians," Vallejo said.
Gomez came in second to Flores in the June 7 primary, and trailed him in early returns from mail-in ballots.
In an election where voters seemed to want to reject staying the course in favor of bucking the existing state of affairs, environmental activist Gomez, whose campaign signs bore the slogan, "Shake Up City Hall!" ultimately prevailed over Flores, a City Hall insider.
"If the openly queer daughter of Mexican immigrants can be elected as your city councilwoman, the American dream is still alive and thriving," Gomez said.