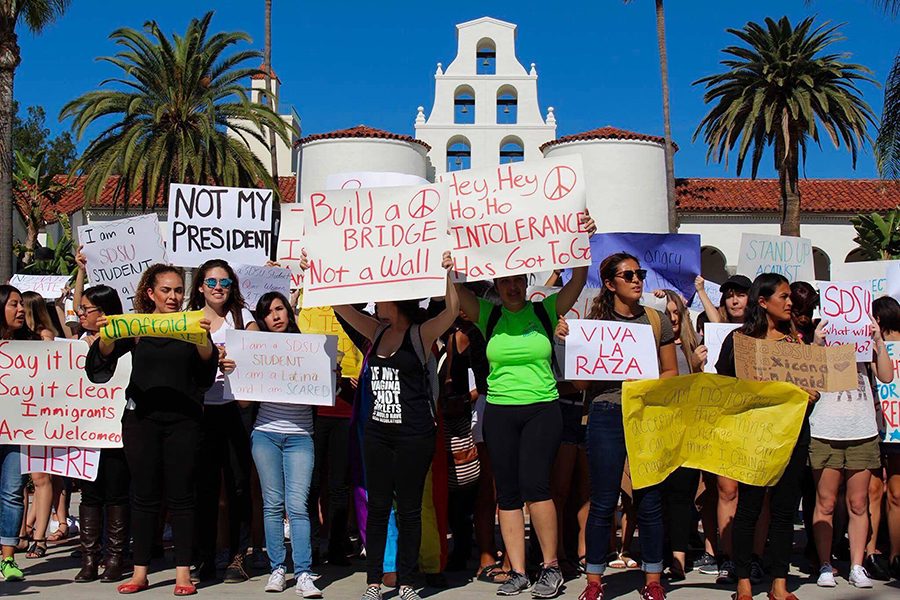 Kelly Smiley, Photo Editor
2016 was a noteworthy year at The Daily Aztec. We covered several demonstrations ranging from Black Lives Matter demonstrations after the arrest of Marquis Campbell on campus, to a protest following Donald Trump's election. In spring, we covered the possibility of a faculty strike and the controversial administration response to posters on campus that accused students of being allied with Palestinian terrorists. Our sports reporters were there for all the ups and downs in men's basketball, from losing to Fresno State in the MW Tournament final to advancing to the quarterfinals of NIT after beating Washington.
We're excited to see what 2017 holds. In the meantime, here are our top 10 most-read stories of 2016.
SDSU student died at Hard Summer Music Festival
Our most-read story of 2016: San Diego State student Alyssa Dominguez was one of three people who died at Hard Summer Music Festival in Los Angeles this past summer. She was reportedly a member of AB Samahan, a Filipino organization at SDSU.
Video of SDSUPD forcefully detaining man sparks campus demonstrations
A video of SDSUPD officers forcefully arresting Marquis Campbell, a non-SDSU student, sparked a large demonstration on campus led by members of the African Student Union. Students expressed shock that what they considered "police brutality" could happen on their campus.
KB Books closing its doors after 32 years in business
KB Books CEO and Founder Ken Appel spoke to The Daily Aztec about why increased rent, property taxes and online textbooks providers were forcing him to close his small business. The story also includes one of the top-viewed videos of the spring semester.
Proposed ordinances could mean hefty fines and less housing for SDSU students
Several SDSU students expressed concern over proposed ordinances which targeted "mini-dorms" in the College Area. Many students found the proposed ordinances confusing and unfair, though members of the community say the fines aren't meant to be a punishment for students.
Student protest erupts at SDSU after Trump's election
One day after a Muslim woman reported being attacked on campus by two suspects saying pro-Trump slogans, SDSU students held a demonstration on campus to express solidarity with the student, and to protest Trump's election.
SDSU men's basketball advances to quarterfinals of NIT with 93-78 win over Washington
A rocking, sold-out Viejas Arena aided the second-seeded Aztecs as they defeated University of Washington 93-78  in the second round of the NIT. The point total set the school's Division I record for most points scored in a postseason contest, topping the 83 scored against Indiana University in 2006.
SDSU basketball defeated by Fresno State, 68-63, in MW Tournament final
The San Diego State men's basketball team came to Las Vegas for the Mountain West Tournament needing three wins to assure itself a spot in the other tournament in March. It came up just one short.
SDSU basketball looks to punch its ticket to NCAA tournament against Fresno State
"I don't think there's any doubt (SDSU is) NCAA-worthy," said Nevada head coach Eric Musselman. "I think when a program is able to sustain success over time, I know they talk about it's only this year, but they have a veteran-laden team that knows how to win close games. And I don't even think that they're just a tournament team, but I also think they can win games in the NCAA tournament."
SDSU men's basketball off to the Big Apple, defeats Georgia Tech 72-56 in NIT quarterfinals
Not making the NCAA tournament was a tough pill to swallow for the San Diego State men's basketball team after making it the past six seasons. There was one silver lining, though: making it to at least the NIT semifinals and getting a chance to play at Madison Square Garden.
Winston Shepard records SDSU men's basketball's first triple-double in 79-55 win over IPFW in NIT
The San Diego State men's basketball team swarmed and in quick, efficient runs were able to put down Indiana University – Purdue University Fort Wayne, 79-55. Senior guard Winston Shepard would pace the Aztecs all night and found himself atop the mountain as he recorded the first triple-double in SDSU history.