Rain leaks cause water damage in PSFA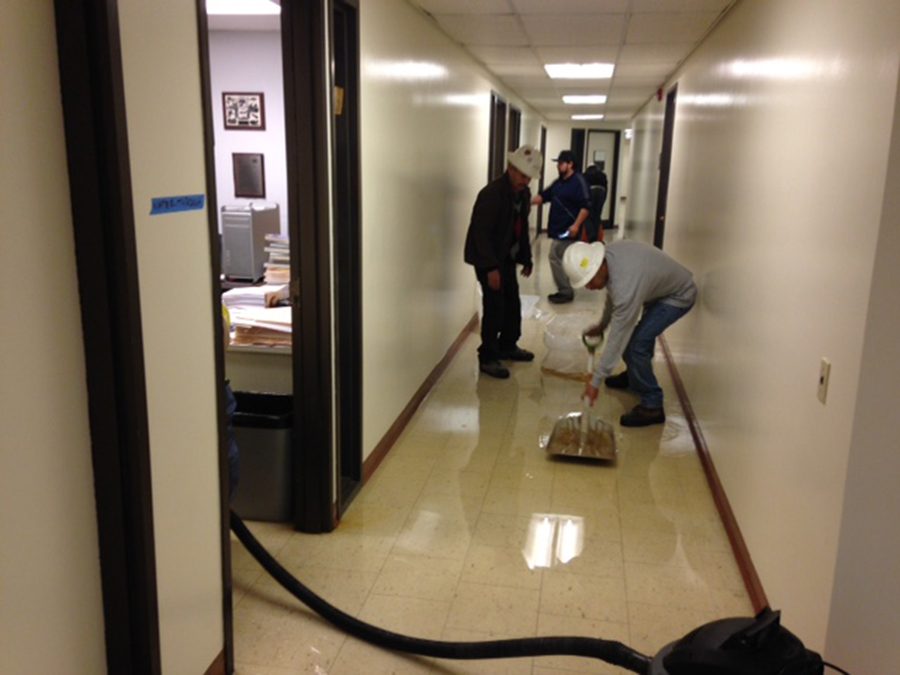 by Will Fritz, Senior Staff Writer
February 1, 2017
Much of Southern California was caught in a series of powerful storms in January, and San Diego State was not left untouched.
Campus Facilities Services counted over 40 rain leaks and other storm-related issues in places all across campus, including the Communication building, where flooding in the basement contributed to a power outage in the building on Jan. 24. The Arts and Letters building, the Exercise and Nutritional Sciences building and many others were also affected.
Senior associate director for facilities services Brad Songhurst said the Little Theater was closed off for a period of time while crews attempted to clear out water and replace some electrical components
The cleanup of the theater was expected to be completed by the end of day on Jan. 27, Songhurst said.
Some of the most extensive damage occurred in the Professional Studies and Fine Arts building, where several classrooms and offices used by the School of Journalism and Media Studies were inundated.
Rainwater poured into the third floor through newly-installed windows the evening of Friday, Jan. 20, after classes were no longer in session, according to Dr. Bey-Ling Sha, director of the School of Journalism and Media Studies.
"Whether the actual cause was from improper sealing, I can't say," Sha said. "As a layperson observing the entrance of the water, it was coming in through the brand new windows."
PSFA safety coordinator Giancarlo Taylor said an inch or two of water was on the floor.
Media studies senior Daisy Santana, who works in the PSFA dean's office, said she was working on the second floor when the flooding occurred.
She said people within the building at the time of the flood tried to figure out how to save the labs filled with expensive media equipment.
"It's the third floor, so of course everyone ran downstairs to the first floor to see what the status of that was, and there was no flooding on the first floor," she said.
Sha said drywall and carpeting were damaged in hallways, five faculty offices, two classrooms and a digital media lab in PSFA 326.
Contractors came in later that night to vacuum up water and blow-dry the floors and classes were temporarily moved from the media lab.
"We went ahead and moved all our classes through next Friday to give the contractors time to clean things up properly," Sha said.
Nine classes had to be moved from their usual rooms due to the Jan. 20 flood,  said JMS events and alumni coordinator Michelle Peterson.
Santana said although none of her classes were affected, one of her professors was forced to move from his office because of the water damage.
"His office hours are now no longer available for the time being because he doesn't have an office," she said.