Festival de cine trata temas políticos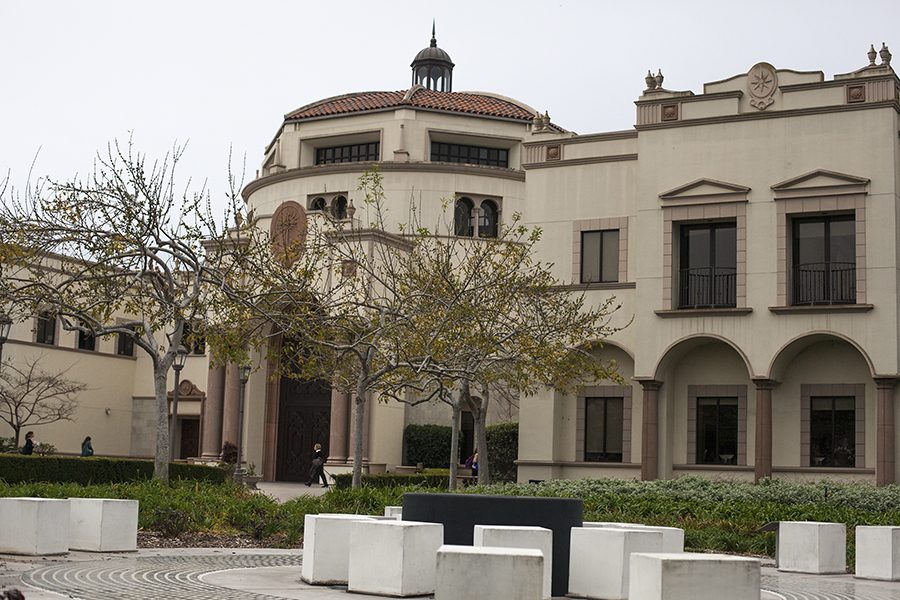 by Andrea Lopez-Villafaña, Editora de Mundo Azteca
February 8, 2017
El Instituto de Paz y Justicia de Joan B. Kroc en la Universidad de San Diego, sigue con la exposición "Border Film Week 2017" hasta el 10 de febrero.
Todo comenzó el 7 de febrero con varios documentales como la de Rodrigo Imaz llamada "Juan Perros",  "La Esquina del Mundo" por Mariano Rentería Garnica y "The Weekend Sailor".
Este undécimo festival es patrocinado por el Trans-Border Institute de USD y el POEN Audiovisual colección de arte en Tijuana.
Everard Meade, director del Trans-Border Institute, dijo que el instituto se enfoca en investigaciones y la difusión del estudio de la frontera de México y los Estados Unidos.
La exhibición consiste en la proyección de varias películas, arte, imagines y también habrá discusiones sobre Tijuana y México.
"Estamos en un momento muy difícil entre México y EE.UU", dijo Meade. "Hay un sentido generalizado de incertidumbre".
Meade dijo que por una parte esa incertidumbre viene por el estado político de los EE.UU y por la violencia en México con la guerra del narco.
"Tenemos una crisis de doble filo", dijo Meade. "La idea del festival es que por medio del arte y los documentales de alta calidad, empiece una discusión un poco más complicada y más rica y a un nivel más alto que el discurso político".
Los documentales son seleccionados por el instituto por medio de consultar con directores que han sido parte del festival en año anteriores, documentalistas de Tijuana y también seleccionan ganadores de festivales del cine Mexicano.
El resto de la semana los documentales se enfocarán en diferentes temas de la frontera. Para finalizar la semana la exhibición del viernes será en el Cine Tonalá en Tijuana.
Miércoles
Dos películas serán presentadas bajo la categoría de "Belleza Mexicana: Reflexiones sobre la belleza y muerte en el cinema Mexicano".
"María Candelaria" por Emilio Fernández a las 5:00 p.m. y "Los Reyes del pueblo que no existe" por Betzabé García a las 7:30 p.m. Una recepción patrocinada por el Consulado General de México en San Diego comenzará a las 6:30 p.m.
Jueves
Las tres películas que serán presentadas son parte de la categoría "El Sueño Mexicano y la Pesadilla Mexicana".
"Soy el Número 16" por Rafael Pineda y Leopoldo Hernández a las 5:00 p.m., "Unsilenced" por Betzabé García, "Undocumented" por Chris Cashman y "Las hijas de violencia".
"Through the Wall" por Tim Nackashi a las 7:00 p.m. y "Sueño Mexicano" por Jon Wetterau y Alex Ruiz Euler.
Una discusión y foro público sobre la política de inmigración con panelistas Pedro Ríos, director de American Friends Service Committee, Tom Wong, profesor de ciencias políticas en la Universidad de California San Diego y Eileen Truax periodista y quien forma parte  de National Association of Hispanic Journalists, esto comenzará a las 8 p.m.
Viernes
La categoría del viernes, "Noche Tijuana: Tráfico de Seres Humanos y el terror"  es la final de la semana de películas.
"Nestora-Eva", "Aquí nuestro presente", "Transmisión Desencuadre" a las 5:30 y "Tempestad" por Tatiana Huezo a las 6:00 p.m.
Las películas serán seguidas por un panel y ceremonia patrocinada por el Consulado de EE.UU General en Tijuana.
El evento es gratis para el público pero Meade recomienda que los interesados se registren.