Israel's first Arab newscaster presents at SDSU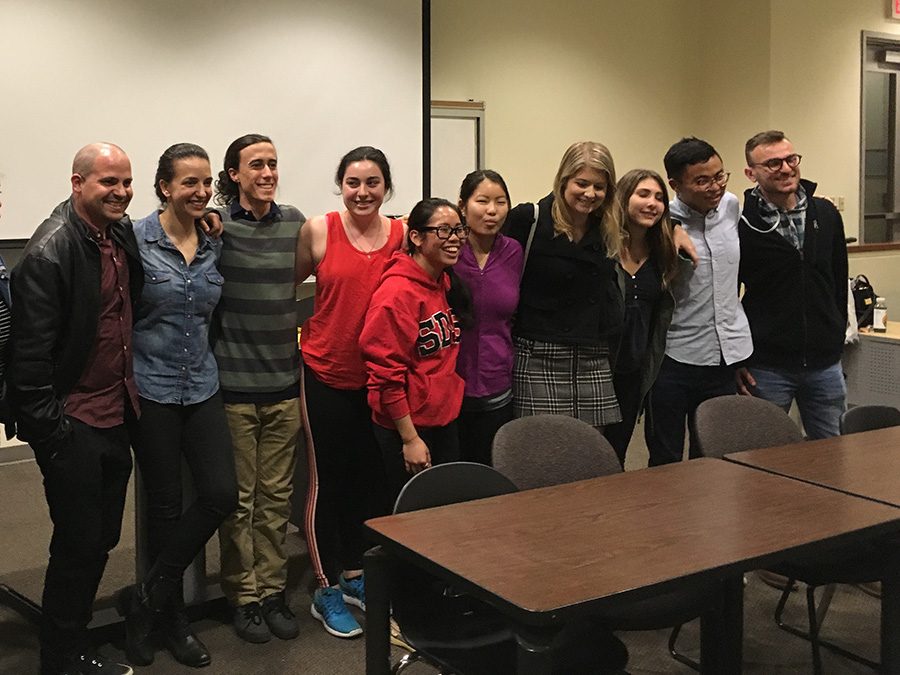 by Will Fritz, Senior Staff Writer
February 21, 2017
Lucy Aharish, Israel's first Arab newscaster, came to San Diego State on Feb. 7 to share her personal views and experiences as an Arab-Israeli.
The talk was hosted by the SDSU chapters of Students Supporting Israel, Christians United for Israel and the Society of Professional Journalists.
Aharish has covered a number of military operations in Israel, including Operation Protective Edge in 2014. She was selected to light a torch during Israel's 67th Independence Day in 2015.
Aharish started her talk by describing a recent trip to Greece for a documentary about the Syrian refugee crisis.
"I can definitely tell you that I was in a place where there is no God," she said.
She described the refugee crisis as a "holocaust," though said she understood the weight and importance of the word "holocaust," and drew a distinction between a "holocaust" and "the Holocaust."
"It's a holocaust that is happening in 2017 and we are not doing anything about," Aharish said. "It's happening in front of our eyes and we are not doing anything to prevent it. And in the same week where I see a person telling me the story that he lost his four children and his wife in one bombing, I hear the president of the United States banning Muslims from seven countries where they are suffering from terror or suffering from wars."
As the talk continued, Aharish told personal stories about her life as a Muslim citizen of Israel.
She said as a minority in her hometown of Dimona, Israel, she was bullied by some of her classmates from a young age.
Before her first day of school, Aharish said her mother sat her down to make her promise "to always be proud of the fact that you're Arab, that you're Muslim and that you're Israeli."
Aharish said, being five years old, she could not understand the meaning of this talk.
So, she said, on her first day of school she announced to the whole class exactly what her mother said– that she was Arab, Muslim, Israeli and proud.
"And on the fourth day, I started getting beaten up," Aharish said.
It took a long time for her to be able to comprehend why this was happening, she said.
"I used to say that kids are mean, that kids are bad," Aharish said. "Kids are not mean. We are educating kids to be mean. We are educating kids to hate. There is no such thing as a kid who is born and says to himself, 'oh, I hate Palestinians.' Or there is no such thing as a Palestinian kid that is born and says to himself, 'oh, I hate Jews.' It doesn't work like that."
But this did not cause her to disassociate herself with her identity as an Israeli.
Rather, she made it her mission to excel.
"I participated in every single thing in school," she said. "And I was the best in every single thing in school."
She related a story of a trip she took as a child with her family in 1987 to the Gaza Strip. During this trip, she said her family's car, which bore Israeli license plates, was attacked with two Molotov cocktails.
For a long time after that day, "I hated Palestinians," Aharish said.
She said her extended family grew concerned with what they saw as hatred of her own identity.
As she grew older, however, she said she learned the conflict between Israel and Palestine is much more complicated.
"The day after a terror attack, I hated going to school," Aharish said. "I hated going to school because I knew what I'm about to see and hear. And I used to beg my parents not to go to school a day after a terror attack. And I remember my parents coming and telling me if you won't be able to face the world now, you won't be able to face the world in the future."
She said she would often come to school to find her friends advocating for killing Arabs.
"And these were my best friends," she said. "And then they looked at me and they remembered, so they said: 'Well, Lucy, we don't mean you. You and your parents are OK.'"
She said she did not reconcile her feelings about Palestinians until, as an 18-year-old college student, a Palestinian co-worker took her for a drive to a wall separating the West Bank from Israel.
"And then I understood that I had no idea," she said. "Who are these Palestinians? I understood that I have no idea what is happening on the other side."
Aharish said she has encountered frequent racism throughout her life and career, and that one employer was hesitant to hire her because of her Arab background, at least until she threatened to publicly complain about this discrimination in the press.
Aharish later discussed the possible solutions to the Israeli-Palestinian conflict. She said a one-state solution would be difficult for those who want a majority-Jewish state.
"The Arabs are more politically motivated, especially after 50 years of occupation," Aharish said. "They will go to the polls, and the next prime minister will be an Arab prime minister, a Palestinian prime minister. But if you want to be Jewish, then you are going to be an apartheid country."
She said at the moment, she does not believe she can call what is occurring in Israel "apartheid."
"It's a country who is occupying another people, yes," Aharish said. "I cannot say that it's an apartheid country, because there's a huge difference between what happened in the apartheid and what's happening in the West Bank."
Gal Winrebe, agent to Israel for SDSU Hillel, said he wanted to bring Aharish to campus for a long time because to him she is an example of a way to be a civil critic.
"She's a symbol of a person who can criticize something without completely destroying it, erasing it, or taking the right of it to exist," Winrebe said.
"She says yes there's a lot of complexity, there's a lot of problems, but there's no problem that cannot be solved."
Winrebe said after a number of students took a "fact finders" trip to Israel and Palestine, the students were interested into bringing a balanced conversation about the Israeli-Palestinian conflict to campus, and that he believed Aharish was the answer to that.
Students Supporting Israel member Lauren Gutin, who participated in planning Aharish's visit to campus, said she was "an amazing speaker."
"I was honestly mesmerized the whole time," Gutin said. "And I thought that her opinion, based on her background, is very valid and very knowledgeable."
Gutin said she does not think Aharish's visit changed any of her pre-existing views, but was valuable nonetheless.
"Some questions that I might have had about the conflict, she helped to maybe answer them," Gutin said. "Not completely of course, but (she) helped me to be more knowledgeable on everything that I already know and to help form my opinion as an individual."