Professor researches black liberation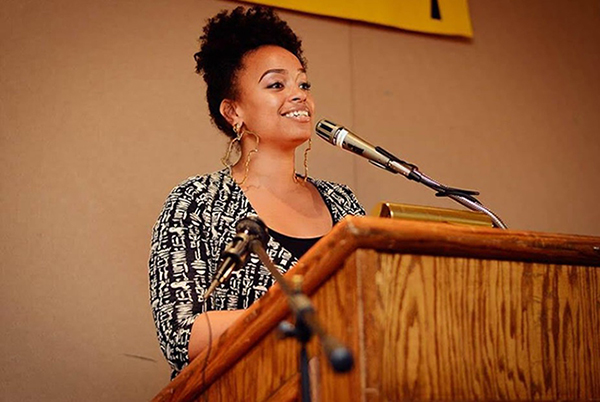 From research and teaching to speaking at panels and events, San Diego State assistant professor Antwanisha Alameen-Shavers actively participates in activism against the oppression of other people.
On Feb. 15, Alameen-Shavers spoke to students in the Center of Intercultural Relations as part of "Untold Stories" about key parts of her life that have shaped who she is.
"When I think about who I am, I think about a strong, outspoken, resilient person who is black, who is a woman," Alameen-Shavers said. "Someone who is really against the bullying of other human beings."
English and Communications senior Arnelle Sambile said every month, depending on the heritage that corresponds with it, the Center of Intercultural Relations brings a faculty member to tell their story. Alameen-Shavers was invited as part of Black History Month.
"I asked students from the community about different role models they have," Sambile said. "I looked at the list of people that are faculty members, and she was highly talked about."
Alameen-Shavers graduated from SDSU with a Bachelor of Arts degree in Africana Studies. She then earned her Master of Arts at Ohio State University and Ph.D. in African American Studies from Temple University.
Alameen-Shavers said when she was applying to college, she didn't see anything that interested her until she saw Africana Studies.
"It was like a light," she said. "OK, I'm gonna major in that."
Alameen-Shavers was born and raised in Richmond, California. She said she characterizes her elementary school self  as "a very sweet, loving girl."
"I was under the impression that the world was good. Not to say it's not, but it's also bad," she said. "That triggers me because you want the world to be good, but it's not."
Alameen-Shavers said she was bullied throughout elementary school. She said there was a girl in her class who would try to belittle her and put her in her place.
"I had a fear in my heart against (the bully). She's similar to me but had a bigger mouth," she said. "Think about the fear we all have in our hearts to stand up against something."
She said she experienced a moment in the sixth grade that changed her life.
Alameen-Shavers' best friend stood up against the bully and defended her.
"If my best friend took out this bully, I can take up for myself," she said. "My mind just changed. I refuse to be bullied and let stuff happen in front of me that is problematic."
She said God put her here for a reason: to speak against hate.
"Stop sitting back and allowing people to put their hate into action. Put your love into action. If I would have remained quiet, I would have been bullied all my life."
Alameen-Shavers' research covers topics such as the role of African-American women in liberation movements in the U.S., the role of African women in African civilizations and black female and male embodiment.
In addition to her research, she spends a lot of her time doing service by having conversations with students about her experiences and the issues going on around them.
"I see (service) as activism because you talk to people to change minds and hearts," Alameen-Shavers said. "That's my job. I feel like that's my calling."
She said she feels she has had so much spiritual growth in the last two years and is beginning to understand how people internalize systems of oppression, and how all people contribute to the oppression of each other.
Center for Intercultural Relations Diversity Peer Educator Brie Hornig said events like these are significant because it is important to listen to people with different perspectives.
"Different experiences completely shape how someone views the world," Hornig said. "By talking with people who have different experiences, you're able to expand your perspective."
Alameen-Shavers said in order to change people's minds, one has to get to their heart, and the only way to do that is to be fueled by love.
Alameen-Shavers said she's trying to shape the minds of students so that there isn't simply diversity and random bodies walking around but there's appreciation for that diversity.
She said her ending message is to do what's right.
"You can't be dictated by the social parameters that are created. If you do that, you're gonna be stuck. You're gonna be silent," she said.
"You only got one life. You might as well make it good. Being silent is not doing good. For me, I am going to continue to resist. Being fearless is one of my mottos."
Sambile said she felt students of color needed to better identify faculty allies and see faculty of color who were succeeding at the university.
"I think the biggest thing I took away from it is she trusts students to back her," she said. "We need to develop a sense of trust or find faculty we can trust. That relationship is really important."
Sambile said the next speaker will relate to Women's History Month.