TEDxSDSU event counts down inspiration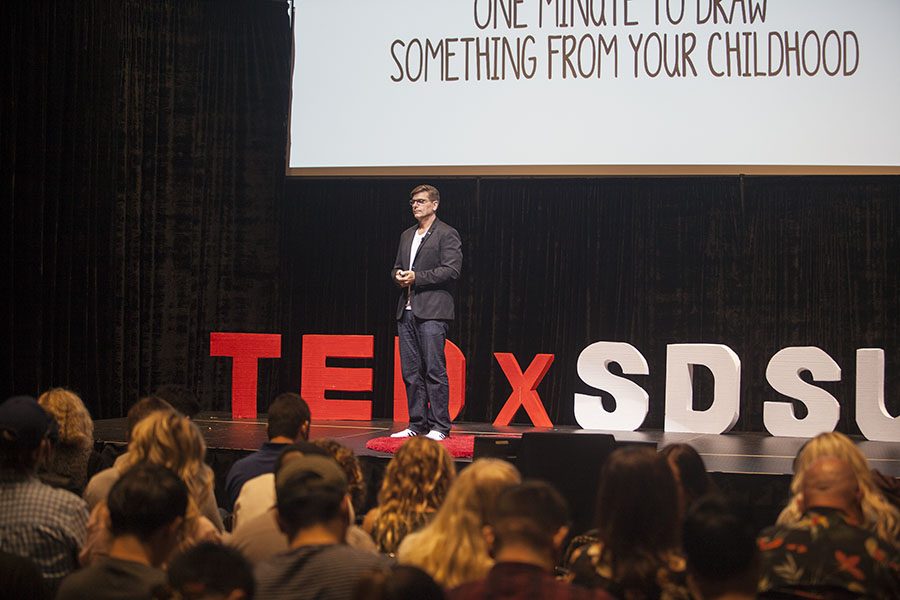 TEDxSDSU invited five speakers to speak to San Diego State community members on April 9 in Montezuma Hall to represent the theme of a countdown.
In addition to the speakers, the TEDxSDSUs presentation included two performances and two past TED talk videos that dealt with sexual violence and hate crimes.
International business sophomore Lauren Gardner was on the planning committee for TEDxSDSU and said the "countdown" represented the seconds or minutes that lead up to a pivotal point in life, a new idea or a change in perspective.
"I think the most important thing is that people feel like they're having the TED experience because that's irreplaceable," she said.
Kevin Popović, Inaugural Director of ZIP Idea Lab
Inaugural Director of the ZIP Idea Lab at SDSU Kevin Popović spoke about the importance of creativity.
He told the audience to look at their neighbor and draw a picture of them in one minute.
When they were done, Popović asked who had apologized before even beginning to draw, and most people raised their hand.
"It's no surprise because most people are not confident in their creativity," he said.
Popović told the crowd to draw what they would usually draw when they were five.
He said at age five, children have confidence because of recognition and positive reinforcement that occurs when parents would put their drawings on their fridges.
However, once they started school, there were directions and criteria, and then grades and scoring.
"It's getting a lot harder and harder," Popović said. "Now, there are consequences with your creativity, and all of a sudden, it's not as fun to be in the pony-business as it used to be."
Popović compared creativity to a muscle, and said the creativity they had at age five can be regained.
He encouraged the audience to sketch whenever they could and said one bad drawing can change the world.
"When can you do this?" he said. "Count down with me. 10, nine, eight, seven, six, five, four, three, two one. Please begin."
Diana Pastora, consultant and trainer on diversity
Diana Pastora, a consultant and trainer on diversity, told the story of her brother Joaquin who has autism.
Pastora said it took three years to get him out of an institution.
"We have this institutionalized mindset, and it says there's us, and there's them," Pastora said. "There are the normal people and the special people. There are those who belong and those who do not belong. "
She said institutionalization happens when people judge others as not belonging.
She said it happens not only with disability, but with religion, race, sexual orientation and gender identity.
"When we stop judging, we start appreciating," she said.
Pastora said for the three years Joaquin Carson was in the institution, he repeatedly said he wanted steak because it was his metaphor for what he knew he needed and deserved.
She said tolerance is to put up with someone and acceptance is to believe one is superior to the other, but appreciation is leveling the playing field.
"When we appreciate someone, we are saying 'I am me, and you are you,'" Pastora said. "We are both part of humanity. We are beautiful. I esteem you. I value you. We have different journeys and experiences. That's appreciation, and that is what has made a difference in Joaquin's life."
Joaquin Carson currently attends SDSU, and Pastora said not only does he learn, but the people around him learn as well.
"This walk with Joaquin causes me to reflect a lot about whether or not I'm bringing steak into the world," Pastora said. "You see, the walk that we live, it can either bring about steak or institutionalization for the Joaquin's that we know."
Mike Place, CEO of Placenhope Inc.
Mike Place, CEO of Placenhope Inc., analyzed the ways fear overcomes one's life and how to overcome it.
Place said fear is an unpleasant emotion, and it keeps people from making decisions.
"We have to learn to take back control of fear and master it," he said. "Your emotions are slaves to your thoughts, and you are the slave to your emotions."
Place said to master fear, the roots to the thoughts that initiated the fear must be traced, so thoughts must be mastered to check emotions.
"Every time we ask a question, (the brain) must search and find the answer, and this is the premise of 'fearlosophy,'" he said. "We can and will master fear by mastering the questions we ask ourselves."
He said the way someone can master fear is the same way fear can master them.
"From the moment we're born to the moment we take our last breath, our life is on countdown," Place said. "Master the questions, and you master your thoughts. Master your thoughts, and you master fear. Master fear, and you become the master of your life."
Karyn Buxman, neurohumorist
Karyn Buxman, an author and neurohumorist, spoke about the power of humor.
"Humor has the power to heal, influence, connect and enlighten," Buxman said. "Humor is power."
She said it is more important to see funny that to be funny .
"If you intentionally raise your awareness and start listening for humor, you'll find it," Buxman said.
Buxman said her interest in humor is not only professional, but personal as well because of her son who was diagnosed with cancer.
She said through that devastating time, laughter and humor empowered him.
"Humor helped him cope and improved the quality of his life," she said. "It's not wishful thinking. It's not just a dream, it's real."
She said her son has been cancer-free for the past 10 years.
Buxman spoke to the audience and said "with great power comes great responsibility, and they have the great responsibility because they now know how powerful humor is."
"It's time we take humor seriously," she said. "It's time to take action because humor is power."
Kevin Corcoran Jr., SDSU Communication professor
SDSU communication professor Kevin Corcoran Jr. encouraged the crowd to say the word "yes."
"This one word, one behavior, one action can lead to infinite, unpredictable and unexpected opportunity," he said.
Corcoran said he decided to recruit students for a study that involved engaging in comfort challenges, like saying yes to something they normally would say no to.
He presented several examples of his students who were able to overcome their fears through this study.
Corcoran said his student named Sasha was afraid of heights and could not even stand up on a curb without feeling fearful. After practicing using the word yes, she was able to jump out of a plane.
Corcoran explained how he fell in love, and he said it all started with him saying yes to a text message.
"I'm here to propose that in every moment, every decision, there's a countdown, and that countdown is right to our decision where we decide 'do we want the rest of our life to stay the same or do we want our life to change in a positive way?'" he said. "One word can drastically, unpredictably and infinitely change our lives."
Gardner said she thought the message of the speakers is to challenge the norm and fight for what people think is important.
Communication senior Andrea Luce said she decided to go to TEDxSDSU because Corcoran, one of her professors, would be speaking.
"I learned not to be stuck in your comfort zone and to not be afraid to take a chance because it can end up changing your whole perspective of the world," she said.