The errors continue to pile for men's tennis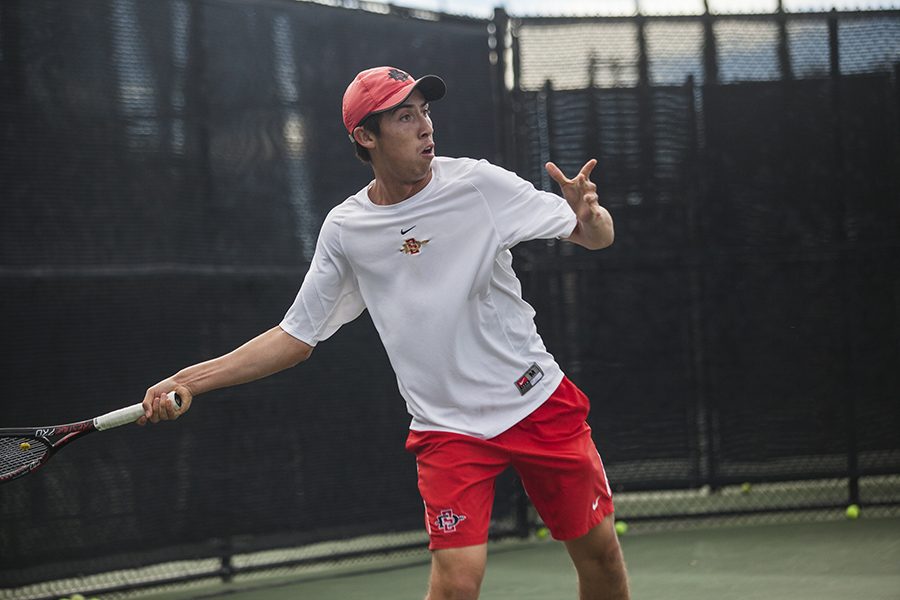 by Deagan Loewe-Pollock, Staff Writer
April 12, 2017
San Diego State men's tennis lost their last two matches to Fresno State (13-10, 3-0 MW), 4-0, and the University of Nevada, Reno (7-9, 2-2 MW), 4-3.
The Aztecs were looking for some positive momentum coming out of spring break. Just after the San Diego Spring Break Invite, where they went winless, the Aztecs dropped two more to No. 42 Utah State and No. 22 Stanford, bringing their losing streak to seven matches in a row.
Their first attempt to end that losing streak came against the Bulldogs. Fresno State was on a streak of its own, in the opposite direction, as winners of  its last three.
Doubles play began with the Bulldogs' junior Youssef Hassan and freshman Zdenek Derkas ousting sophomore Sander Gjoels-Andersen and freshman Joel Popov, 6-3.
It was then a two-match race to the doubles point. Both matches came down to the wire.
Fresno State junior Xander Veys and sophomore Mantas Bugailiskis won a nail-biter against SDSU junior Santiago Cevallos and freshman Nicholas Mitchell, 7-5. Fresno State went into singles play with a 1-0 advantage.
With the doubles point secure, SDSU's co-captains seniors Marko Goles-Babic and Milen Ianakiev's match against sophomore Patrick Pech and senior Euan McIntosh did not finish.
The woes didn't end there for the Scarlet and Black as teams transitioned into singles play. On Court No. 5, SDSU dropped into a bigger hole when Bugailiskis crushed Cevallos, 6-1, 6-1. Then, it felt like nothing could stop the Bulldogs when Ianakiev lost in the second position to McIntosh, 6-2, 6-3.
Fresno State then brought out the brooms to complete the sweep and send the Aztecs home without a score. On Court No. 3, Derkas bested Gjoels-Andersen, 6-4, 6-3, completing the match in Fresno State's favor, 4-0.
The three other matches resulted in a Did Not Finish.
Next up for the Aztecs was the Wolf Pack (7-9, 2-2 MW).
Nevada was in a similar position as the Aztecs. Both teams were looking to end their respective losing streaks. SDSU was sitting at eight games in-a-row, while the Wolf Pack was at three in-a-row.
The doubles play against Nevada was almost identical to the doubles play against Fresno State. SDSU lost the first two matches missing out on the early 1-0 advantage.
Once again, as it was against Fresno State, senior co-captains Goles-Babic and Ianakiev were knotted up against their opponents, freshman Julien Evrard and junior Peter O'Donovan, 6-6 when the match resulted in a DNF.
Singles play was more encouraging for SDSU. After not earning a single point against Fresno State, the Aztecs went out and won three.
The Scarlet and Black definitely had their backs against a wall. They fell into a 0-3 hole immediately.  
Margitfalvi served Gjoels-Andersen a loss, 6-3, 6-2. Then, O'Donovan vanquished Hough, 6-3, 6-3.
It was a moment of truth for the Aztecs. Start winning, or go home with nine losses in a row.
SDSU gave their best showing. Ianakiev won his match against Nesterenko, 7-6(6), 6-3. After a nail-biter of a first set, Ianakiev cruised to victory in the second set. Goles-Babic then kept the comeback alive by winning in the three sets against Evrard, 6-3, 3-6, 6-3.
The Aztecs then tied the score 3-3 when Popov booted Cilic, 7-6(4), 6-2.
It came down to the final match. SDSU freshman Rafael Gonzalez Almazan stood against sophomore Delahodde in the fifth position. Delahodde claimed the first set, 6-3, but Gonzalez Almazan fought back and took the second set 6-4.
The third and final set wasn't nearly as exciting as the two before it. Delahodde easily won the third set 6-1. The Wolf Pack sealed the deal, halting the Aztec comeback, 4-3. 
The Aztecs will go on the road to face Air Force and New Mexico. The men of the Mesa will look to stop the current losing streak before it reaches double digits. Currently at nine losses in-a-row, the Aztecs have an opportunity to end the streak, as the Falcons have lost five of their last six.