Timothy DeLaGhetto visits San Diego State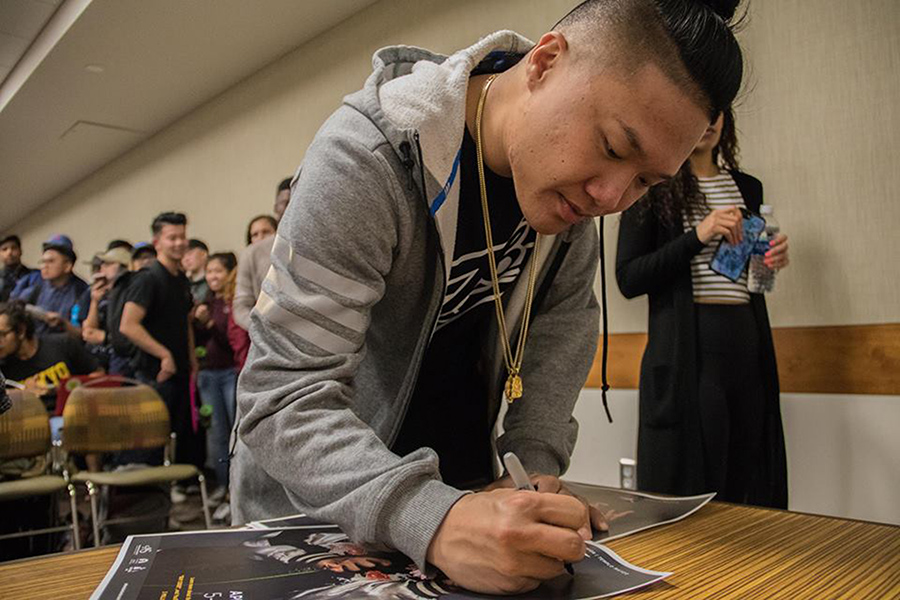 Timothy DeLaGhetto, known for Wild 'N Out on MTV and his YouTube videos, attracted students to the Templo Mayor room in the Conrad Prebys Aztec Student Union on April 24 to hear him speak about his journey  getting to his "destination."
DeLaGhetto said the name "DeLaGhetto" comes from "Raphael DeLaGhetto," the name Will Smith used in a poetry club to get girls in The Fresh Prince of Bel-Air.
"Growing up, I feel like The Fresh Prince raised me," DeLaGhetto said. "I remember seeing Will Smith and just feeling like 'I want to do everything Will Smith did.' I made a plan for my life when I was like 10. It was called the Fresh Prince Format."
He said he remembers watching an episode where an Asian guy is portrayed as a nerdy guy wearing a baby blue tuxedo.
"I remember thinking like 'man, that is the only Asian guy I've ever seen on TV, ever,'" he said. "And I remember thinking like, that's not me. I kind of felt like I needed to get out there and show the world there is more to Asian dudes than nerdy dudes or Kung fu dudes."
DeLaGhetto said he began making videos for his website and then on YouTube when it came out.
"YouTube was kind of the hub for Asian people at one point, before everyone caught on," he said. "Asian people were like 'finally, somebody that looks like me doing stuff that I like to do.'"
DeLaGhetto eventually auditioned for Wild 'N Out after Nick Cannon brought it back, and they just wrapped their fifth season.
He said he didn't look at where he wanted to be as a dream, rather a destination.
"I knew I wanted to act, so I was like 'I'm gonna go on auditions. I'm gonna make funny videos,'" he said. "I just kept making strides toward what I wanted to do."
DeLaGhetto said a dream is something that's not real or tangible, but a destination is something that can be reached.
"As long as you keep moving forward, you'll get there eventually, regardless of how long it will take or if you might not go the path you thought you were gonna go," he said. "You'll get there eventually because it's there. That's what I'm doing. That's what I did."
Aztec Music Group President Anthony Lee said getting DeLaGhetto to come to San Diego State was in the works for almost a year.
"He is one of the unique individuals who can touch on both ends, entertainment and music," Lee said. "He's well known. He's a special guy, special talent."
Lee said students can now know it's important to not quit or let someone else tell them they can't make it.
"If you really know Tim's story, it's really about 'I'm doing this, and I don't care what nobody else says, and I don't care about how many times I fail,'" Lee said. "He just kept doing it and doing it, and he made it."
Computer engineering senior Huy Tran said he's been watching DeLaGhetto since he was 12.
"He's the big bro Tim," Tran said. "He's someone you can relate to, going through the struggles as an Asian-American."
Tran said he attended the event because he wanted to seek guidance and apply DeLaGhetto's experiences to his own life.
"He just took increments, increments, step by step on a day-to-day basis," Tran said. "It means a lot to me."