NASCAR looks for SDSU football athletes to man pit crews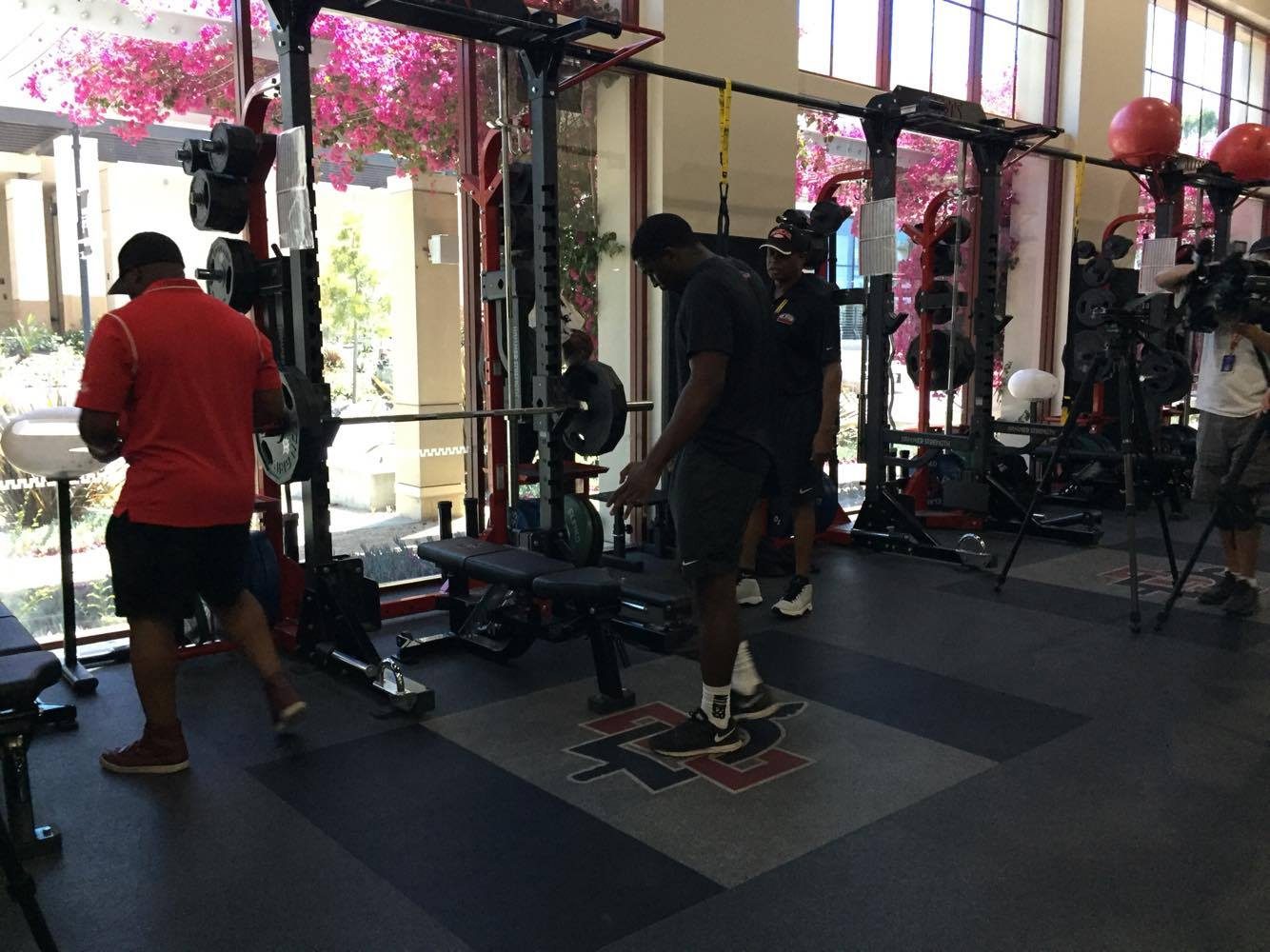 In football, it's the team's job to do everything in its power to prevent the other team from getting to the quarterback. They work in high stress situations that require them to make decisions within seconds during a play.
These athletes experience high levels of adrenaline and need to be physically and mentally capable of handling the pressure.
Their abilities make them ideal candidates for another sport.
Instead of protecting the quarterback while he makes the play, athletes prepare with drills to change the wheels and make adjustments to the race car in as few seconds to get the car back on the track.
NASCAR Drive for Diversity Pit Crew Combine seeks college athletes who are adapted to being in a competitive atmosphere that entails making quick decisions in front of thousands of people. Participants selected from the combine will be invited to join the national developmental combine in Charlotte, North Carolina this month.
Three San Diego State football players participated in the combine held in Peterson Gym's Aztec Court on May 3.
They included former All-Mountain West honorable mention receiver Ezell Ruffin, wide receiver Curtis Anderson and cornerback Kevin Walcott.
San Diego State Academic Adviser, Willie Judd, said the combine provides student athletes a different career path that permits them to still be a part of a team and compete.
The program seeks female and minority student athletes who do not get drafted into a professional team but can still use the skills they've acquired through playing sports.
Judd said this is SDSU's second year participating in the combine, and he hopes he can gain more interest from players for next year.The three Aztecs were tested on their strength, agility and power with push ups, footwork drills, jump-rope and the bench press.
"A lot of us might not be able to get a job as (quickly) as possible, so this is a good opportunity," Walcott said.
He said he didn't think about entering a career in NASCAR, but after attending the combine, he said he would take the opportunity if he got the call. Walcott played 19 career games for the Aztecs as a walk-on defensive back and also played on special team.  
NASCAR pit crew member Michael Hayden said SDSU is the only school in California they're visiting.
He said athletes who are interested in being part of the pit crew need to be big, fast and strong.
"They have to have a little bit of a killer instinct," Hayden said. "They kind of got to be a little crazy too. In every sport, you got to be a little bit crazy."
However, for female athletes, Hayden said they require more technique.
"The (female) athletes we do have, they play softball, gymnastics, and they have flexibility," he said. "They do have strength but a different kind of strength."
SDSU women's lacrosse defender Casey Taggart was supposed to participate as well, but she hurt her wrist in a recent game.
Taggart said she was interested because it was an opportunity that was different and that not many people do.
Hayden said NASCAR is looking to diversify its pit crew by having more female and minority athletes join. NASCAR Drive for Diversity seeks them for drivers and crew members.
"It doesn't matter what you do," Taggart said. "Girls can do whatever guys can do."
Hayden said because there are only a few athletes participating from SDSU, all of them will probably get the invite to North Carolina.
"Eighty five percent is the passion," Hayden said. "Fifteen percent is if you can do it."