Holder hoping for a strong senior season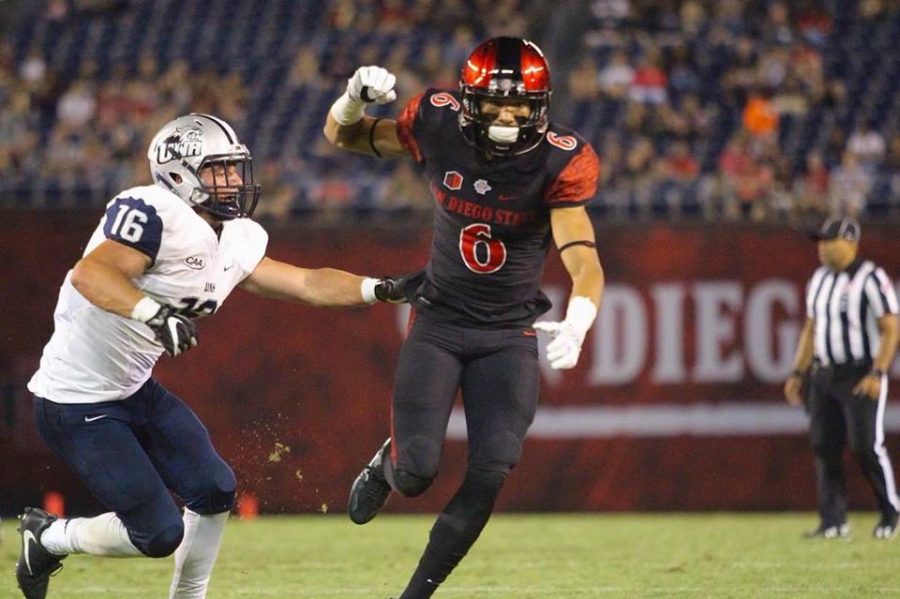 San Diego State football wide receiver Mikah Holder is coming into his senior season looking to make a big impact for a team with lofty expectations.
Holder, who led the Aztecs in receptions (27), receiving yards (581) and touchdowns (five) last season, may be in line for an even bigger workload as he begins the season as the no. 1 receiver in an offense that may be looking to redefine itself after the departure of the FBS all-time leading rusher, Donnel Pumphrey, to the NFL.
"I know that we're a run-based offense," Holder said, "but I hope that we can bring an aspect of throwing more to our offense. If we do need it I'm more than willing to step into that role and be that guy."
Holder's familiarity with redshirt junior quarterback Christian Chapman should help his and the team's development. Chapman will be entering his second year as the team's full-time starter after redshirting in 2014 and starting two games during his 2015 freshman campaign.
Holder and Chapman have a close relationship both on and off the field, having lived together since 2014.
"I've been with (Chapman) for the last four years knowing him and growing up with him for the last four years in the same household so I'm pretty well intact with that guy," Holder said.
Holder also has the confidence of his coaches, including third-year wide receivers coach Hunkie Cooper, who describes him as a team leader.
"Mikah leads by example. He does everything right, does what he needs to do and makes the room better," Cooper said. "He's a guy that keeps the room calm. He doesn't let these young guys panic."
Cooper said he believes that Holder is continuing to improve on the field and should be in line for another big year.
"With (Holder) he's just continuing to develop, every year he's gotten a little better … he should have a really really good season," Cooper said.
Consistency will be key if Holder is to recreate and build on his prior success. He said he recognizes that is an important aspect of his game he needs to improve for him to reach the high goals he has set for himself.
"In the beginning of (2016) I was really going off and doing well and then I kind of fell off in the middle of the year," Holder said.  "I aim for 1000 yards receiving this year and touchdowns wherever they may come … anything that can help us win games."
During the 2016 season, Holder had his best game in an Aztecs uniform in the team's home opener against New Hampshire. He finished the contest with 160 yards receiving and two touchdowns. Holder said he will be looking to get off to another fast start this year when the Aztecs take on UC Davis in the team's season opener on Sept. 2.
"The home opener is always a fun game," Holder said. "I expect (UC Davis) is going to come out with full force. We're a very formidable team, so they're gonna come at us with everything they have and I expect us to handle it pretty well."