Lugares para comer en campus como estudiante de primer año en SDSU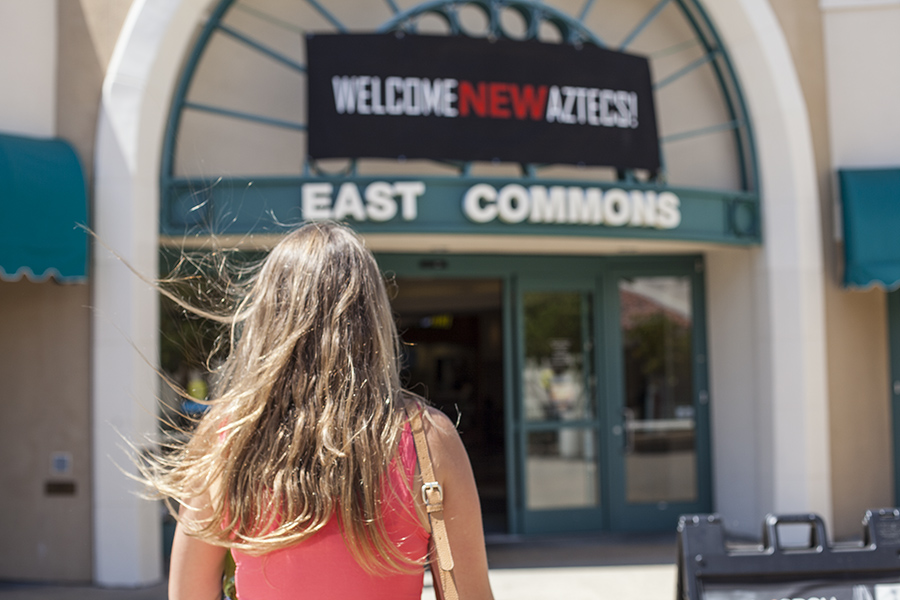 by Itzel Esparza, Escritora
August 23, 2017
Con el comienzo del nuevo año escolar, muchos restaurantes nuevos  y mercados se irán a inaugurar en South Campus Plaza, integrándose a San Diego State University.
Locales como Trader Joe's, Eureka!, Broken Yolk Cafe y Dickey's Barbecue Pit son los nuevos establecimientos donde estudiantes podrán reunirse durante la escuela.
Dentro de la universidad, hay una variedad de lugares donde estudiantes, visitantes y la facultad pueden comer saludable y rápido. Opciones como  Starbucks y B.C.B. están en la parte sur, este y noroeste de la escuela. Así, todos quienes se encuentren buscando un lugar donde estudiar podrán tener muchos lugares de escoger de y tener una taza de café a su alcance.
Si alguien busca un lugar donde comer rápido por tiempo limitado, está The Habit, Oggi's, Jack in the Box y So Cal Chicken, nomas por mencionar unos restaurantes. Aquí, podrán encontrar comida como hamburguesas o pollo frito. Los que buscan este estilo de comida verán que hay suficientes opciones.
Viviendo en los dormitorios el primer año en la universidad, fue de mucho provecho tener The Garden a solo unos pasos del dormitorio.
En caso de tener tiempo antes de ir a clase, o por si la primera clase del día fue cancelada, siempre fue una buena idea ir a este comedor. La barra de omelettes y ensaladas  mostraban las especiales del día. Ya si este comedor está muy lejos, cerca de University Towers, está University Towers Kitchen que nunca decepciona a los estudiantes en Sushi Night, o cerca de los dormitorios de Chapultepec, está Chappy Grill, donde estudiantes pueden pedir una variedad de quesadillas, burritos o sandwiches.
Cada jueves, viene un mercado sobre ruedas a la escuela en frente de la biblioteca Love. Allí, encontrarán delicias Brasileñas, Sudamericanas, Japoneses o Mexicanas. Aquí, lo único inconveniente es que nomas aceptan dinero en efectivo o tarjetas, ningún tipo de plan alimenticio de SDSU. Comida saludable y fritas están en cada uno de estos menús. Algo como burritos de sushi, pollo asado a las brasas y postres Argentinos serán algunas de los platos deliciosos que se puede encontrar. También, el público tendrá acceso a verduras y frutas frescas de gente que crece su propio cultivo para vender.
Vegano o vegetariano? Definitivamente, hay algo para todos. En el comedor de East Commons, se encuentra Salad Bistro y Juice It Up para poder crear tu propia ensalada y poder escoger dentro de una variedad de jugos frescos. En el Student Union, está Shakesmart, donde se puede pedir platos de acai o una malteada de proteína después de ir al gimnasio. Regresando a mi primer año, encontré que muchos les gustaba ordenar un plato ondo de pb&a, consintiendo en crema de manía, plátanos, acai, leche de almendra, granola y cacao. Ya si alguien busca comida más saludable y gourmet, está Olive Oil en West Commons, localizado por Storm Hall, donde hay un menú de sándwiches, pizzas vegetarianas y regulares y postres sin gluten.
Desde comida rápida y postres deliciosos a comida saludable y fresca, hay algo para todos.