SDSU suffers setback against Missouri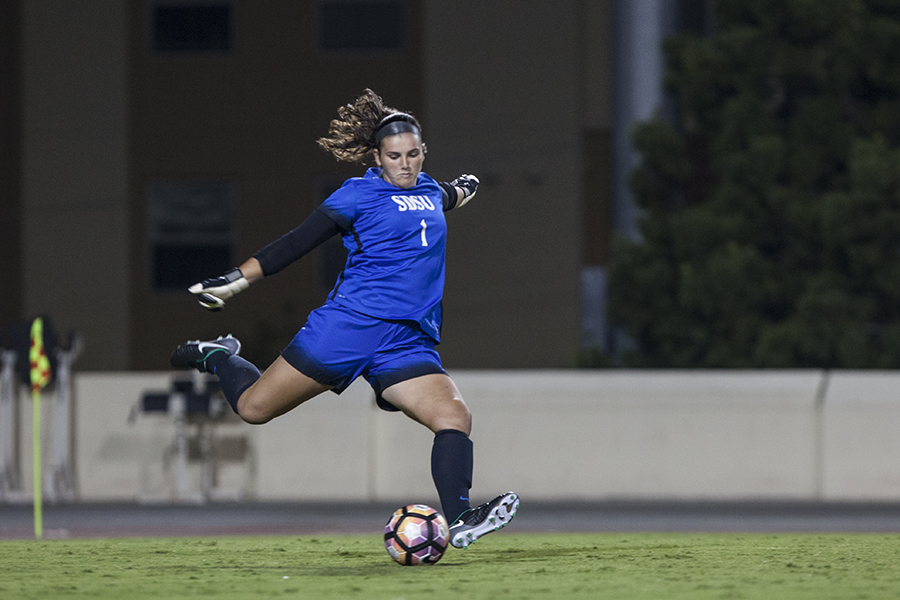 by Matthew Fierst, Staff Writer
September 11, 2017
After upsetting the University of Nebraska on Friday, the San Diego State women's soccer team wasn't able to keep that momentum going on Sunday night, losing 2-1 to the University of Missouri in Columbia.
With the loss, the Aztecs drop to 3-4 on the season.
The Scarlet and Black took an early lead over the Tigers in the sixth minute, when freshman forward Esther Arnarsdottir launched a shot that deflected off the goalpost and went straight to fellow freshman forward Mia Root, who scored her third goal of the season and third in the last three games. 
The Aztecs carried their one-goal lead into the 36th minute, when Missouri freshman forward Tess Rellihan fired a shot into the upper right corner of the net to even the score at 1-1. 
In the 2nd half, the Tigers took the lead in the 69th minute behind a shot from freshman forward Lindsey Whitmore, which found the back of an open-faced net off an Aztecs miscue.
After surrendering the lead, SDSU searched for the game-tying goal for the final 21 minutes, but came up empty.
The Aztecs held an 11-7 advantage in shots in the first half over the Tigers, and ended the game with a 19-15 advantage.
Junior midfielder Nikolina Musto led the Aztecs with five shots, with three shots on goal. Senior forward Aliyah Utush was able to get off four shots and redshirt sophomore goalkeeper Gabby English made two net saves.
SDSU finished their road trip with a 1-1 record.
The Aztecs face their next road test on Friday, Sept. 15, when they head to Lubbock, Texas to face Texas Tech University.