Scene at State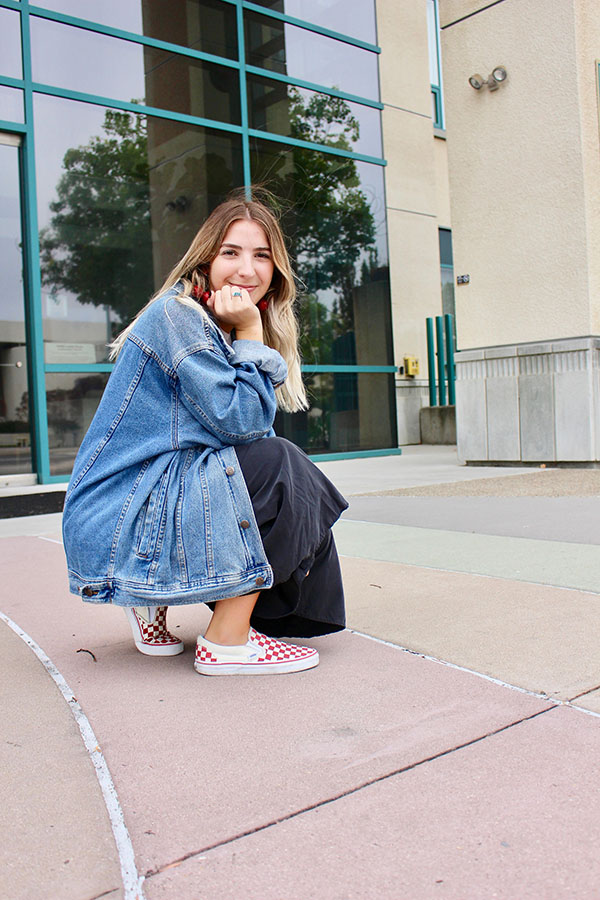 by Madeleine Schwarz, Contributer
September 13, 2017
As the semester blazes on, the San Diego sun follows suit, making any sane student wary of what they choose to wear to class.
Ninety degrees can definitely limit one's wardrobe, and when trekking to Peterson Gym from Hepner Hall with a backpack full of textbooks, 90 degrees quickly feels closer to 100.
For many, dressing for school becomes more of a hassle than an exciting addition to a morning routine.
Amidst the sea of gym shorts and bro tanks, a few lone fashionistas brave the heat. Why should a little sweat stop students from expressing themselves?
Lex Millias, a junior majoring in journalism with an emphasis in advertising and a minor in women's studies, floated across Campanile in a simple black jumpsuit layered over a white baby tee.
Her checkered Vans matched her literal cherry red earrings, accented by a dainty silver tooth hanging on a chain around her neck.
Lindsey O'Brien, Lex's roommate and fellow student, giggled next to her friend — it appeared as though this wasn't the first time Lex had been stopped for a photo of her outfit of the day.
"She has the best style," O'Brien said. "She owns just copious amounts of amazing vintage denim."
How do you define your style?
"Eclectic. Always changing. A lot depends on the color of my hair, especially – it definitely influences the way I dress."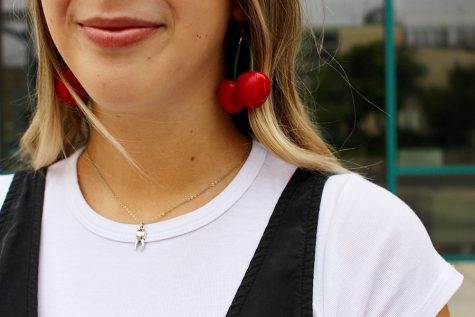 Where do you draw your inspiration from?
"I draw inspiration from vintage photographs, a lot of the time. I really, really admire Jemima Kirke because she's kind of the same way (as me), she was super bohemian and dressed a certain way when she had long hair, but once she chopped it off and dyed it, that influenced how she dressed. I also draw a lot of inspiration from moms, very trendy moms, because I love clogs and jeans, and a good piece of vintage denim is my THING."
What do you reach for first when crafting an outfit?
"Pants. I love pants. I always pick my pants first before I pick out anything else."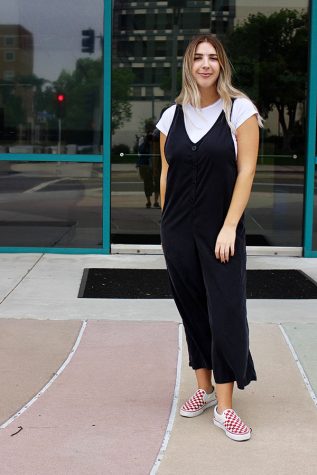 Where are your favorite places to shop?
"I like to thrift and I work at Free People, so obviously I like to shop there because I'm surrounded by their clothing. I get to help style other people in it, which gives me ideas for styling myself. I also really like Etsy. It's a little different thrifting-wise because it's online, but once you know your measurements you can find such good pieces, ones you couldn't find anywhere else."
What trends are you excited about for fall?
"Oh! I have a ton of coats. Down here I can't wear them that much, but at home ( in the Bay Area) it gets pretty cold, so I'm excited to break them out! I also love cropped wide-leg pants and I'm excited for when it gets a little chillier to break some of those out."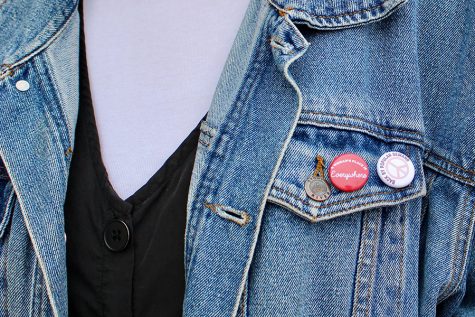 Go to outfit for walking to class?
"Levi's and a tee, and sunglasses always."