Escritoras se reúnen para celebrar el libro dedicado a la comunidad Chicana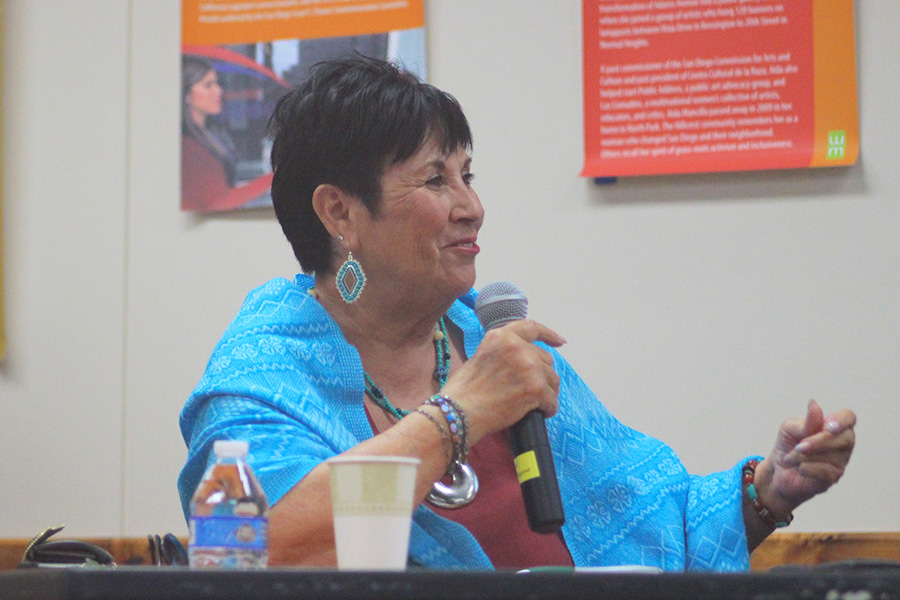 by Marcela Camargo, Contribuidora
September 20, 2017
El 12 de septiembre fue una tarde llena de relatos, poesía y canto con motivo del lanzamiento del libro Chicana Tributes: Activist Women of the Civil Rights Movement, editado por Sonia Lopez y Rita Sanchez, en la biblioteca Love Library.
Este libro, en el cual contribuyeron 61 escritoras, relata las historias y experiencias de la vida de estas 61 mujeres quienes tuvieron que enfrentar obstáculos diversos a lo largo de su vida. Entre estos obstáculos, se encuentran la desigualdad de género, el racismo y la opresión que han vivido en los Estados Unidos, especialmente en la época de los sesentas. Además, hablan sobre sus esfuerzos y activismo como mujeres dentro de la comunidad Chicana.
"Con este libro, nosotras esperamos que la historia de la comunidad Chicana se transmita de generación en generación", dijo Sanchez.
Zoe Jarocki, encargada del departamento de Chicana y Chicano Studies de la biblioteca, fue la anfitriona de la noche. quien Comenzó por agradecer a todos los asistentes.
Coral MacFarland-Thuet, docente del departamento de Chicano y Chicana Studies, deleitó al público con una canción llamada "Como Pájaros En El Aire".
Antes de comenzar con las experiencias y narraciones de las panelistas y escritoras invitadas, Jarocki cedió el micrófono a Zerina Zermeño, quien recitó dos poesías, una de ellas en inglés llamada "The Threat" y otra en español llamada "Viva".
La segunda parte del evento consistió en escuchar las experiencias de las panelistas Enriqueta Chavez, Irene Lara, María Figueroa, María Ibarra y María Nieto Senour quienes forman parte de las 61 activistas y escritoras del nuevo libro Chicana Tributes.
Primeramente, le cedieron el micrófono a Enriqueta "Queta" Chavez quien compartió los obstáculos que enfrentó en su juventud, especialmente cuando decidió estudiar una carrera universitaria en San Diego State University.
"Mi papá se oponía a que yo me fuera de mi casa a estudiar una carrera", dijo Chavez. "Él me decía que una mexicana no debía irse de su casa hasta que se casara".
Por otro lado, María Figueroa recalcó la importancia de aprender de nuestros errores para así poder seguir adelante.
"Este trabajo no ha terminado", dijo Figueroa. "Este trabajo necesita continuar".
María Ibarra, jefa del departamento de Chicana y Chicano Studies, también formó parte de las panelistas quienes compartieron sus experiencias de vida. Ibarra mencionó que el departamento que ella dirige es un lugar en donde los estudiantes y la comunidad pueden visualizar un mundo mejor para así crearlo.
La última panelista de la noche fue María Nieto, quien dijo haber sido víctima del racismo y la desigualdad de género que se vivía en esa época. Nieto también mencionó que actualmente se encuentra luchando contra las irregularidades y maltratos de varios policías contra personas de color.  A su vez, alentó a los asistentes a unirse a la causa.
"De chica nunca tuve modelos a quien seguir", dijo Nieto. "Es por eso que yo quería convertirme en una".
La tarde culminó con unas palabras de Rita Sanchez quien agradeció a todas las personas que contribuyeron al lanzamiento de este libro. Posteriormente, varias personas del público tomaron el micrófono, la mayoría con lágrimas en sus ojos, para agradecer a las panelistas y escritoras por servir de gran inspiración para la comunidad Chicana y Latina.
Al final del evento, los asistentes tuvieron la oportunidad de acercarse con las escritoras para poder firmar su libro mientras disfrutaban de botanas y bebidas.