Aztecs and Spartans duel to double overtime draw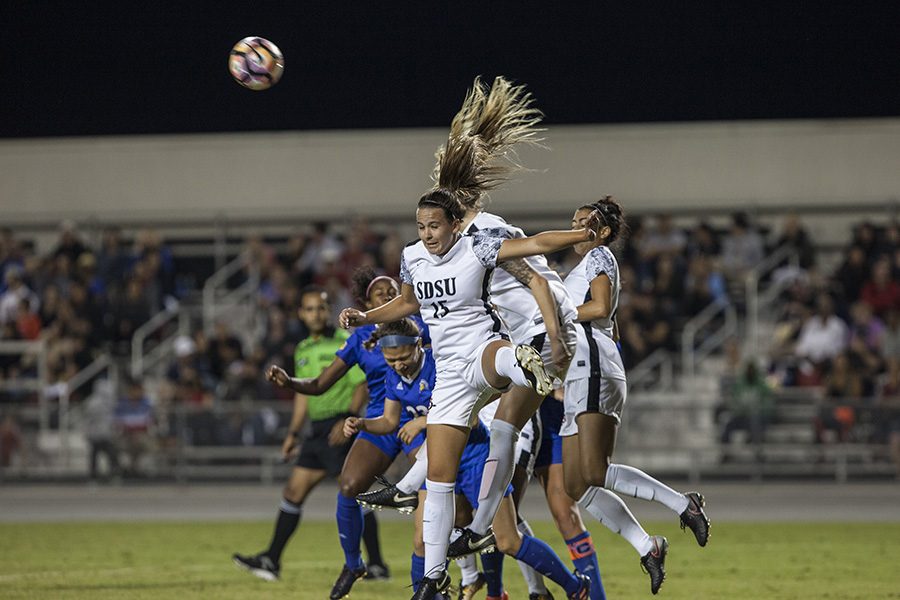 by Matthew Fierst, Staff Writer
October 7, 2017
One word is all you need to describe the San Diego State women's soccer team's 0-0 overtime draw against San Jose State University: resilience.
On a night when the Aztec offense couldn't take advantage of opportunities, the defense stood strong throughout regulation and overtime to ensure a shutout of the Spartans.
The Aztecs now stand at 6-6-1 overall on the season after the tie and 3-3-1 in Mountain West Conference play, which is tied for third place in the conference with San Jose.
"I'm a little disappointed we didn't get all three points tonight, but pretty happy that we got the shutout and at least got a point out of the game," SDSU head coach Mike Friesen said.
The Aztecs managed just two shots in the first half while holding San Jose State to two of its own.
"I thought we didn't play our best in the first half," Friesen said.
Coming out of halftime, both the Aztecs and Spartans had opportunities to get ahead on the scoreboard with penalty shots in the first seven minutes.
First, San Jose State senior midfielder Yaritza Arista attempted a kick in the 51st minute. Her attempted was stopped by SDSU sophomore goalkeeper Gabby English, who made three saves on the night.
A mere two minutes later, SDSU freshman forward Mia Root's penalty kick was saved by Spartans' junior goalkeeper Paige Simoneau, who recorded eight saves in the shutout.
"We had our chances and their goalkeeper came up big," Friesen said. "But both teams missed penalties so it was an extremely exciting game from a fan's perspective."
In the 58th minute, senior forward Aliyah Utush got herself past two Spartan defenders and in a one-on-one matchup with Simoneau. Her shot was off-target, and scooted outside the post.
The offense once again had an opportunity to get on the scoreboard in the 71st minute, when a loose ball in the box ended up with sophomore forward Darcy Weiser. Weiser's strike required a diving save from Simoneau to keep out of the goal.
For the remainder of regulation, both defenses kept each team down offensively, leading to a blank scoreboard at the end of regulation.
In overtime, the Aztecs attempted four shots, which were blocked by Simoneau. Utush's final attempt to put the Aztecs ahead in the final 10 minutes was saved, resulting in a scoreless draw.
"From our perspective, we want more out of that game," Friesen said. "But we're happy to be where we're at. We have to move on and get a result on Sunday."
The Aztecs continue their two-game home stand on Sunday Oct. 8, when they host Fresno State.