New library sci-fi collection brings the force to campus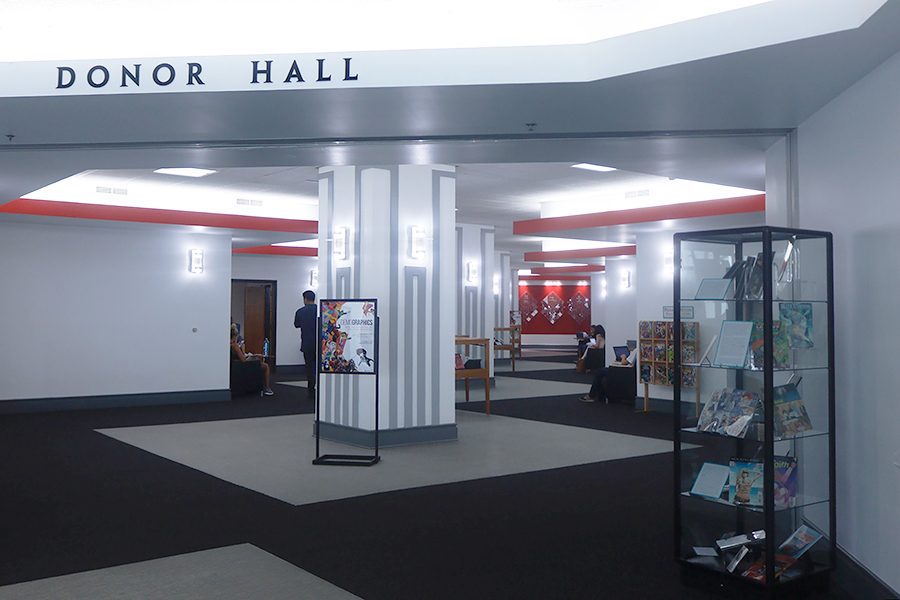 by Stephan Early, Contributor
October 12, 2017
Science fiction or comic book collections may be expected at a Barnes and Noble store or online at Amazon, but San Diego State's Malcom A. Love Library wants the world to know that the force is strong at this campus.
SDSU President Sally Roush, who has been promoting SDSU's 120 years of service to the community, spoke at the ribbon cutting ceremony on Sept. 28 for the Edward Marsh Golden Age of Science Fiction Room.
SDSU alumnus, Edward Marsh donated his collection of science fiction first editions and rare works worth more than $2.25 million to the library.
The Special Collections Department at the Love Library have been busy putting together exhibits, collection rooms, lectures, events and construction projects designed to recognize the art and literary works that usually receive little attention.
Marsh, Special Collections Head Robert Ray and his team of colleagues collaborated to give these titles a home.
"This collection will be here for the next 120 years of the university," Roush said at the ceremony.
The collection features many works from authors like H.G. Wells, Jules Verne, Ray Bradbury and Arthur C. Clarke.
One of these authors is scientology founder, L. Ron Hubbard.
"I love the new science fiction room and I love our friend Ed Marsh. I can't wait for him and for everyone to see what we plan to do now that this space is real and complete. The future is really exciting," Anna Culbertson, assistant head of Special Collections and University archives, said.
Another highlighted special collection at the library is the "DEMOGRAPHICS" exhibition located in the corridor of Donor Hall on the way to the new science fiction room.
The exhibit features SDSU alumni and Comic Con San Diego founders Greg Bear and the late Richard Alf.
The exhibit is still undergoing some construction, but it is currently open for viewing and reading thanks to the work of Culbertson and Pamela Jackson, SDSU's pop culture librarian.
Culbertson said there are over 50,000 floppy comics, a few thousand graphic novels and a collection of minicomics.
"Exhibits are the best way to reach the broadest audience possible in terms of outreach, and we knew a comics exhibit would draw popular interest," Culbertson said in an email. "We are working to establish our reputation as a center for popular culture and speculative fiction research."
Jackson said the Graphic Memoir case was one of her favorite displays because of her background in memoir writing.
"It allows just the average person to tell their story through a graphic narrative," Jackson said. "I think that comics are very diverse in general, because they have always from their roots covered issues of social justice."
Library Dean Gale Etschmaier also had some thoughts significant to the collection, exhibit and what they meant for the students of SDSU.
"There is an overarching theme of how both mediums are traditionally able to tackle social issues with commentary and style," Etschmaier said. "These areas are able draw inspiration from all disciplines making stories, that in some capacity, all disciplines of learning could reciprocate and draw from as well."
Both Culbertson and Jackson are hopeful for SDSU's future in research and future projects for the library when it comes to science fiction and sequential art.
"We have a lot of ideas and goals for promoting use of the collections within the greater research community, and we really just need to do whatever we can to enhance visibility. Up to this point, people have really had no idea how extensive our collective holdings are, but they will soon," Culbertson said.
These projects serve to have students, faculty and researchers to utilize the resources SDSU has. Boasting one of the largest comic books collections of universities the world over, one of the most unique science fiction collections ever assembled, talks and lectures given by award winning writers and artist, and more projects and construction possibly beginning very shortly, the Love Library at SDSU is set to become a hub of respected research and study for both science fiction and sequential art.
"The science fiction room is just another incarnation of how much San Diego and SDSU have been a player in defining and showing that science fiction, and pop culture, and comics are valid art forms," Jessica Savalla, marketing and communications specialist for the library, said. "It really does intersect with all majors, all kinds of people, and no matter what your major is here at SDSU there is a way to intersect what you're studying with art."